How a Wind Farm is Helping Save the Family Farm in Western Oklahoma
Source: BY JOE WERTZ, State Impact • Posted: Friday, October 10, 2014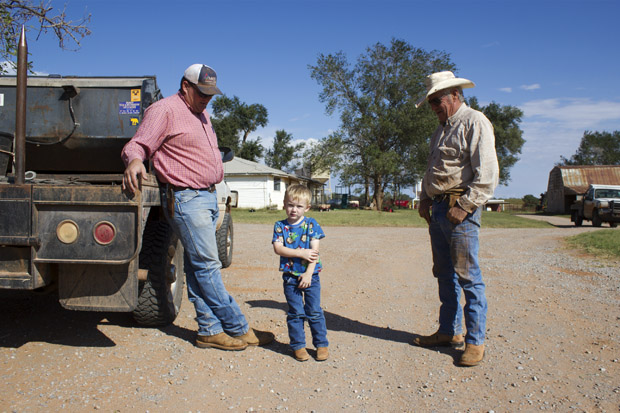 In the ongoing debate about Oklahoma's wind industry and whether it needs stricter regulation, two types of property owners have been the most vocal: those who hate the idea of turbines next door, and those eager to lease land to a wind company.
But there's a voice that's been largely absent from the discussion so far: Landowners who have wind farms and like them.
Family, Factory
For four generations, Monte Tucker's family has been squeezing life out of the land. Dead tree stumps become renewable winter energy sources. And if you have an excited 3-year-old boy with a hatchet, like Tucker's son Reid, the labor to harvest that energy comes with zero cost.
"For some reason, he's just been obsessed with chopping firewood lately," Tucker says as he watches his son drag a stump onto the gravel driveway of the family's home.
On the farm Tucker's family owns near Sweetwater in far-western Oklahoma, everything is used and reused. Wheat is grown to feed the cattle. And cattle is raised and sold to feed the family. Tucker says it's a tough business, especially when the weather is working against you.
"We've been in a record drought the last four years," Tucker says. "Started October of 2010. We sold off 40 percent of our cow herd. To put that in terms, we lost 40 percent of our factory."
'Fill in a Gap'
But Tucker says his family is doing well despite the drought. One big reason: Sections of the Tucker farm are now part of a wind farm.
The Tuckers leased land to Florida-based Nextera Energy Resources, which installed about 90 turbines on two sites. Tucker says the timing was ideal. They leased out land for four turbines. At the same time the drought moved in, the turbines came online and started generating power — and paychecks.
"We had no grass, we had no wheat, water was getting tough. So, yes, income from wind generation did help fill in a gap to help us get to this point today."
At the state capitol and agency offices 150 miles away, state regulators are hosting meetings on turbine rules, and lawmakers are holding hearings on the wind industry's economics. Members of a state House committee convened last week for an interim study conducted, in part, to consider continued tax incentives for wind farms.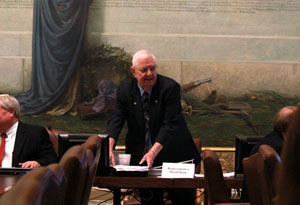 "We pay Roger Mills County over $6 million dollars a year to the local entities for a property tax reimbursement," Rep. David Dank, one of the committee members, said at the hearing.
Dank has crusaded against tax credits and economic incentives in the past, and he questions whether taxpayers from around the state should help pay wind companies' local tax bills if they're not creating lots of jobs, especially in a rural county that has a population of about 3,700.
"That's $1,700 for every man, woman and child that we're paying those local entities," Dank said.
Dank's district is in Oklahoma City, but the other members of the interim study committee all represent districts in northeastern Oklahoma, a relatively turbine-free region. Wind companies would like to build wind farms in northeastern Oklahoma, both for the availability of wind and the region's proximity to electrical infrastructure, one of the bottlenecks that has limited wind energy expansion elsewhere.
When wind companies started negotiating leases northeastern Oklahoma, prominent property owners complained. In Osage County, the Osage Nation and the Nature Conservancy, which operates the Tallgrass Prairie Preserve, protested proposed wind farm projects.
Lawmakers listened and filed moratorium legislation, which was eventually shelved during the 2014 legislative session. But Senate President Pro Tempore Brian Bingman, R-Sapulpa, asked the Corporation Commission to consider whether the wind industry needs new rules. The agency, whose oversight includes oil and gas drilling and the decommissioning of wind turbines, held one public meeting on the issue in September; a second meeting will be held Oct. 15.
'Trade-off'
"What bothers me is a group of people in Tulsa, Oklahoma, can dictate my property rights in Roger Mills County," he says. "If you're going to take my right — take one of the sticks out of my bundle — you better compensate me for it."The meetings, hearings and proposed legislation have frustrated Tucker, the farmer.
The wind industry has met vocal oppistion in other parts of the state, including Candadian County. Opponents complain about turbine noise and the shadow, turbine's effects on wildlife, and the visual impact on the landscape. Tucker agrees: Wind turbines are a nuisance.
"What bothers me more than anything is else is at night, there's all these red lights that blink in unison," he says. "That really changed our night sky."
But Tucker says he also doesn't want to look out his window and see a drilling rig or an oil well, or hear the whir of a natural gas compressor station, which are common sights in an area with booming petroleum production.
It's always a trade-off, Tucker says.