Historic Eclipse Puts U.S. Power Grid Under the Microscope
Source: By Mark Chediak, Bloomberg • Posted: Wednesday, August 23, 2017
The Great Solar Eclipse of 2017 came and went and California kept the lights on despite losing about half of its solar energy during the darkest moments.
At the command center of the state's grid operator, the California Independent System Operator, in Folsom, the mood was more festive than fraught. Employees wore commemorative pins and got special eclipse glasses (the earlier order was recalled after it was discovered they were knockoffs).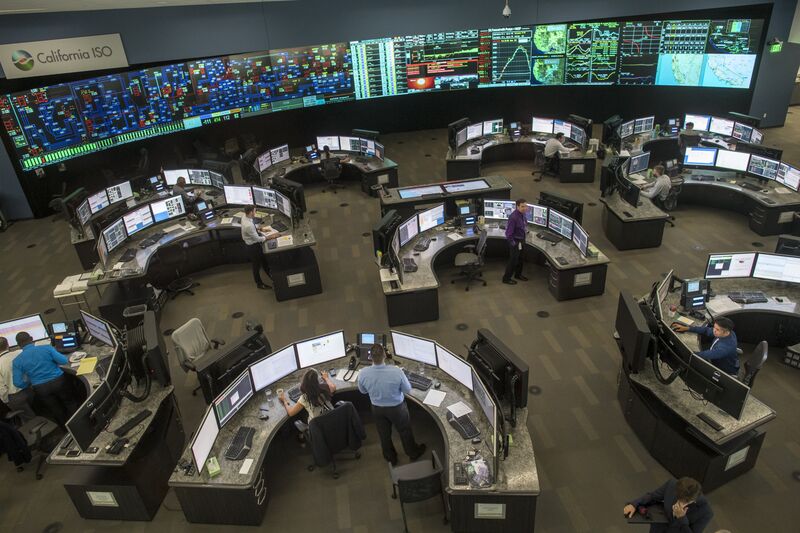 As the moon began to cast its shadow here, California ISO Chief Executive Officer Stephen Berberich looked over his control room that features an 80-foot wide wall of video screens, and said: "We've got this." Outside in the courtyard, dozens of employees gathered, some with young children in their arms, to stare up into the heavens, as colleagues inside made sure nothing went wrong.
"This is it! This is the sweet spot," one worker was overheard saying.
The first total solar eclipse to sweep the U.S. from coast to coast in 99 years plunged broad swaths of the nation into darkness, putting more than 12,000 megawatts of solar power at risk. The grid faced its first major test since America started adding large amounts of solar and wind resources and looks to have passed with flying colors.
"It's been smooth sailing," said David Shepheard, managing director at consultant Accenture Plc. "Everyone I talked to so far said there were no unexpected impacts. "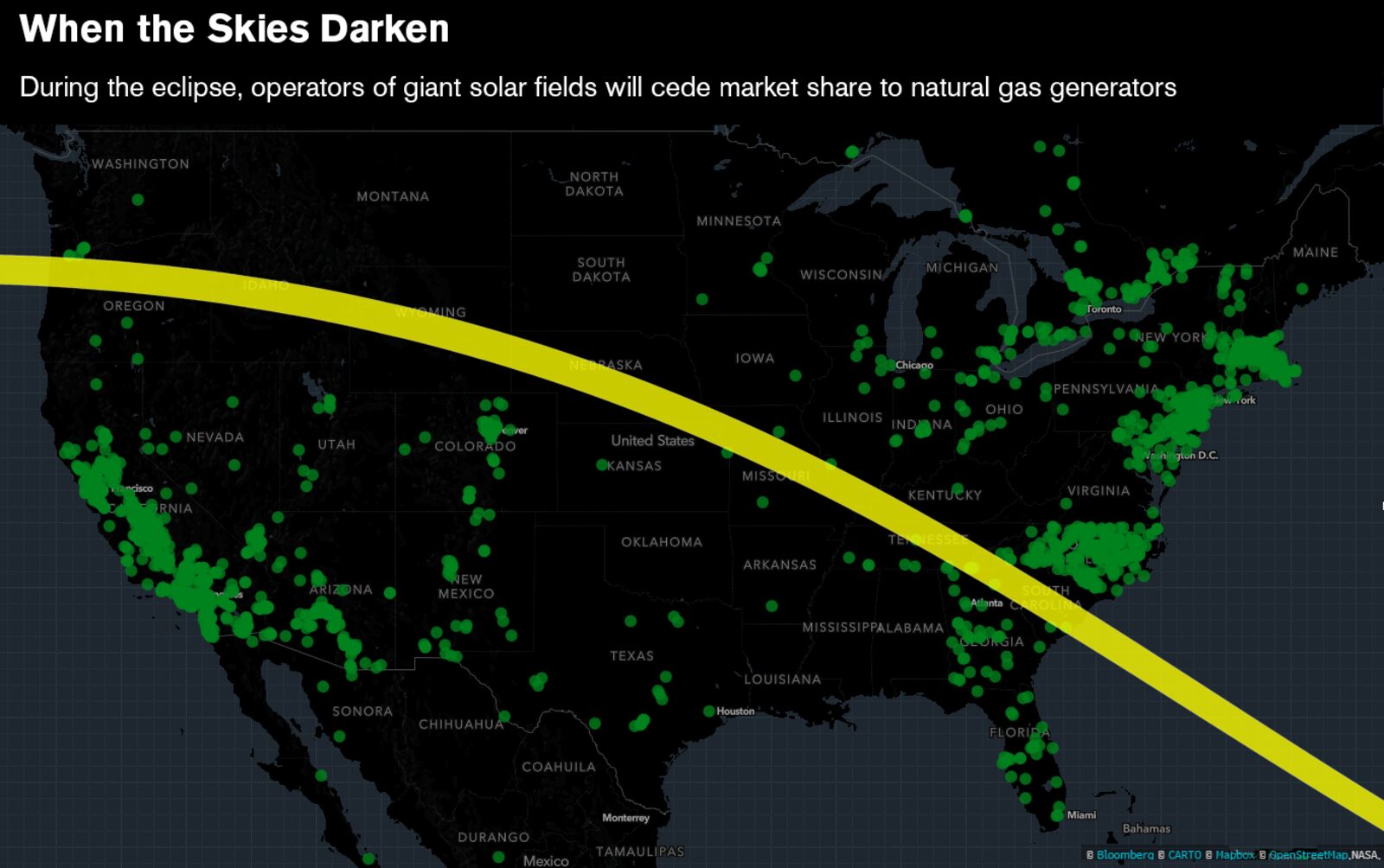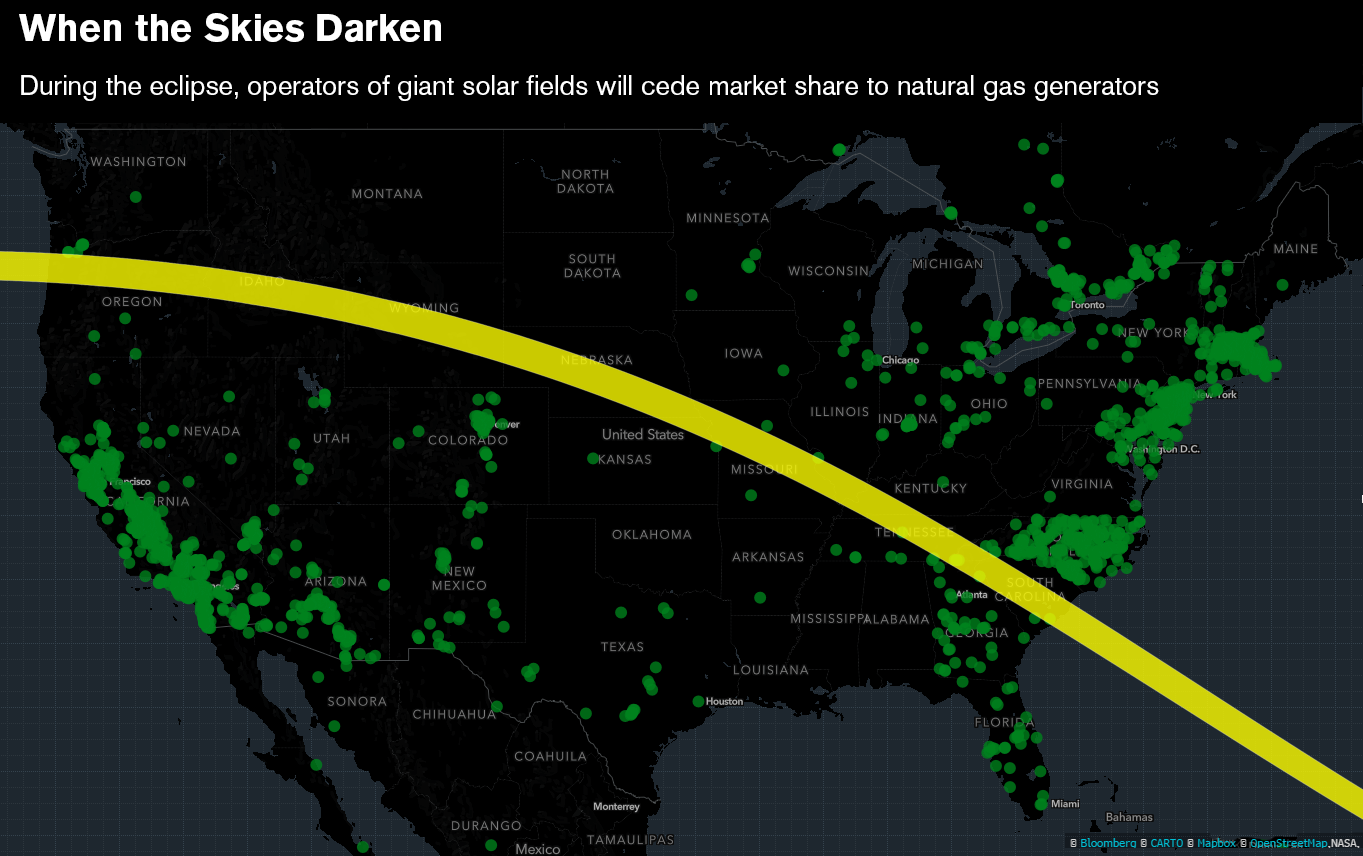 "It was similar to the fog coming into San Francisco," said Audrey Lee, vice president of grid services at Sunrun Inc., the largest independent U.S. residential solar company.
Regional grid operators from California to Pennsylvania provided real-time updates on how their networks handled fluctuating power flows as millions of Americans headed outside to gaze at the sky.
The celestial event provided an opportunity to test plants, software and markets refined in recent years in anticipation of the day when renewable energy becomes the dominant source of power. Bloomberg New Energy Finance has projected that renewables will supply more than half of the world's electricity in 2040.
California tapped into its network of hydropower generators and gas plants that can ramp up quickly. The state also embarked upon a public relations campaign to convince residents to conserve energy to minimize greenhouse-gas emissions while solar plants are down.
About 3,400 megawatts of large-scale solar came off the system during the eclipse, according to Nancy Traweek, executive director of system operations for the California grid operator. That was less than the forecast of 4,600 megawatts. "Things went really, really well," Eric Schmitt, vice president of operations, told a press briefing post-eclipse. "We're very pleased with the outcome."
Spot wholesale prices at Northern California's NP15 hub fell as the eclipse started and passed, touching a low of minus $15.84 a megawatt-hour at 11:35 a.m. local time as solar started coming back up, according to grid data compiled by Bloomberg.
For more on clean tech, check out the Decrypted podcast:
"They have too much generation in the marketplace and they are paying people to take electricity off of the wholesale market," Shepheard said.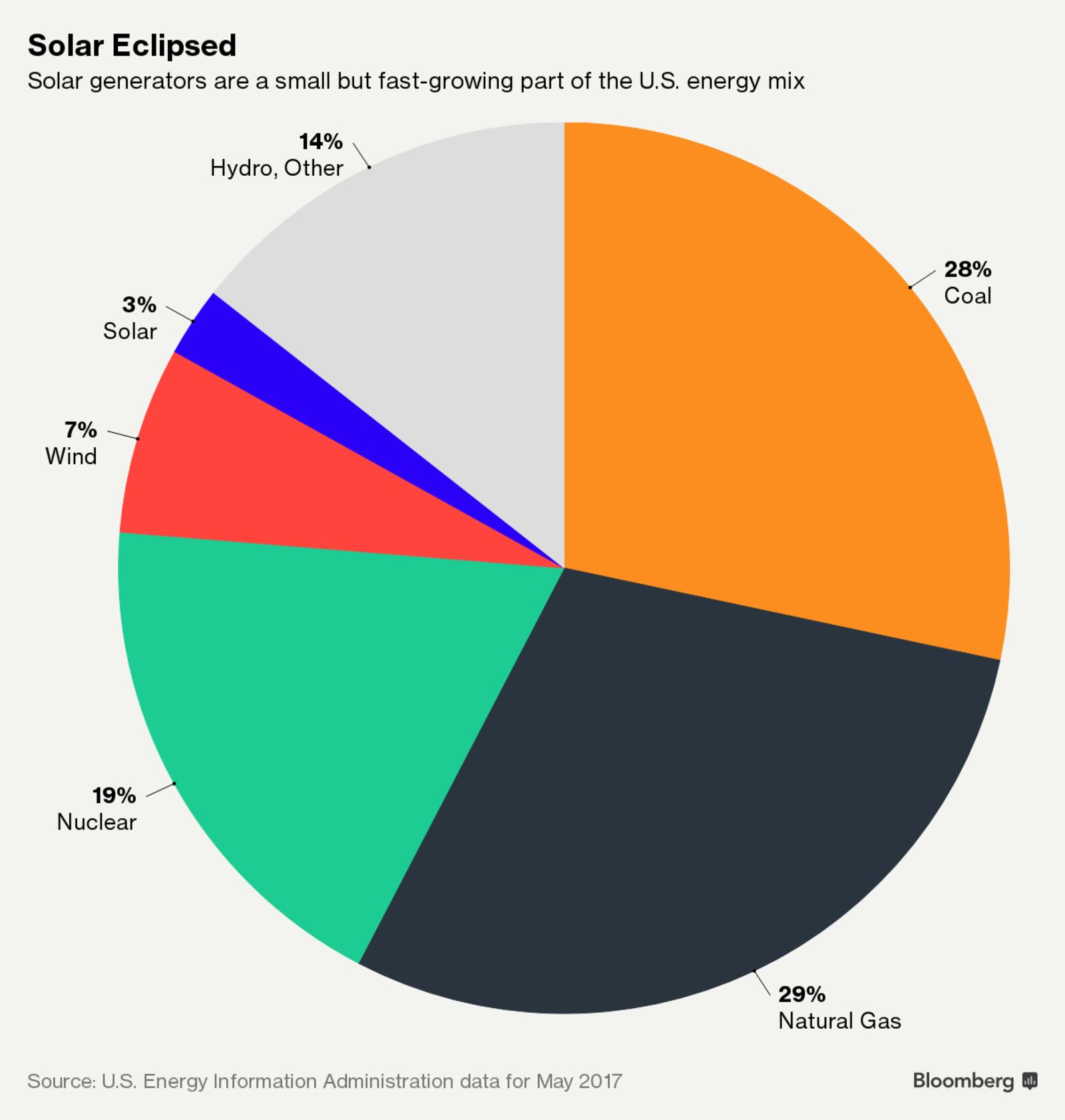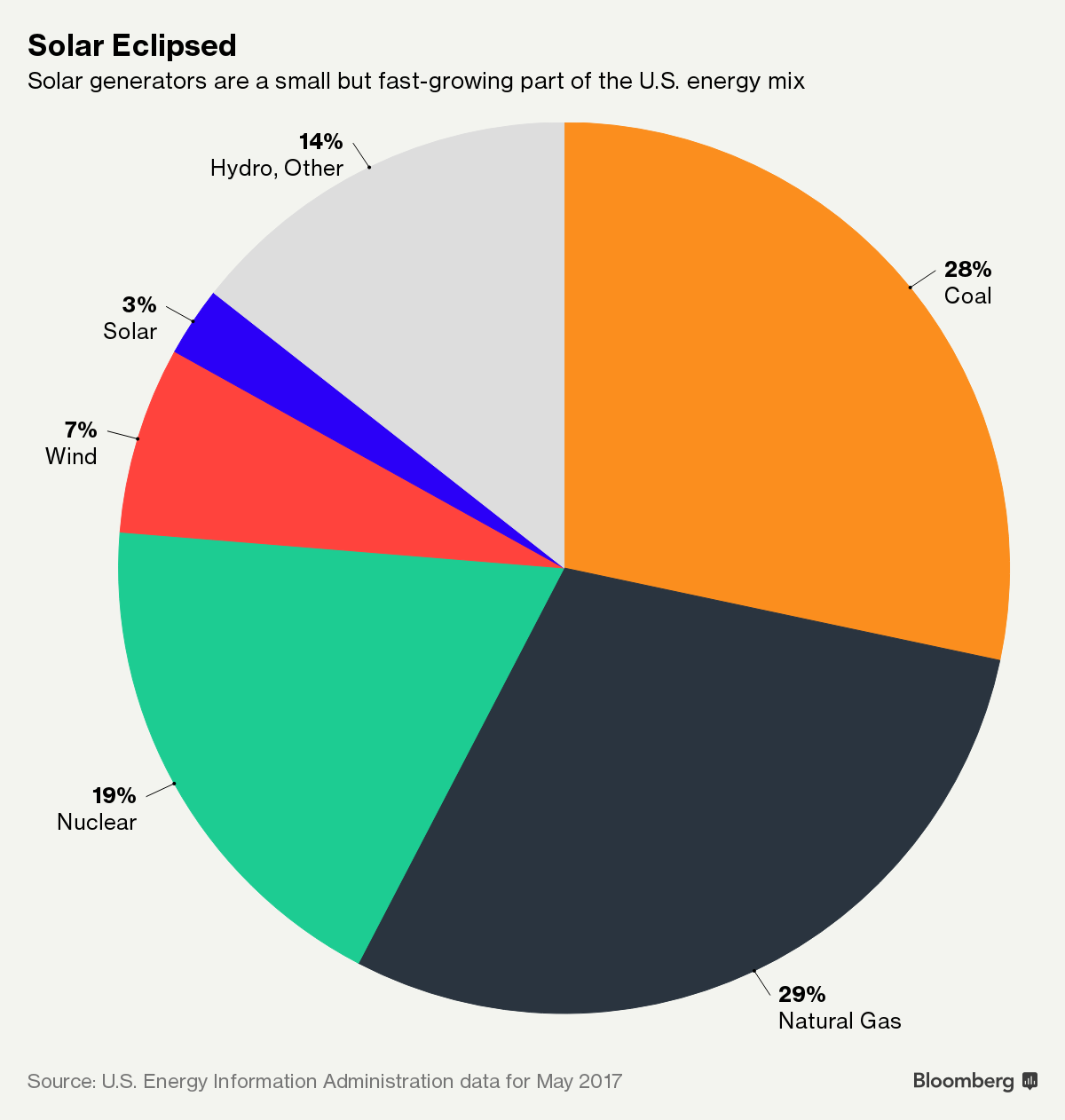 Most areas got a pretty good view for an eclipse in the middle of a summer's day, said Brendon Rubin-Oster, a meteorologist with the U.S. Weather Prediction Center in College Park, Maryland. Kansas City and parts of Missouri may have been the worst places to see the spectacle, as there was a lot of cloud cover.
In Folsom, California, things couldn't have looked better. "It was fun for us," said Traweek. "We were just as excited as everyone else."
Here's how other companies and grid operators coped during the eclipse:
PJM Interconnection LLC, the country's largest grid, lost 2,220MW of solar power and demand fell by 5,000MW. Solar represents about 1 percent of PJM's generating capacity and the grid operator is using Monday's event to prepare for the next total eclipse in 2024.
Duke Energy Corp. lost about 1,700 megawatts of solar in North Carolina at the height of the eclipse, leaving 109MW still online. The utility owner had expected as much as 2,000MW to be cut on a clear, sunny day.
Wind power in the region monitored by the Southwest Power Pool — which covers the area from North Dakota into Louisiana — rose by about 1,200 megawatts in the space of an hour. Demand dropped 2,500MW below forecast, in part because of "irregular human-behavior patterns" on a hot day.
Solar generation in the Ercot region in Texas fell by 461MW, compared to an earlier forecast of 600MW. A drop in air conditioning demand and cloud coverage were factors. Operator didn't experience any reliability concerns.
Spot power came in below day-ahead prices on the East Coast grids where lower demand and a push to secure extra supply in advance more than made up for the drop in solar, said Tom DiCapua, managing director at Con Edison Energy in Valhalla, New York.
— With assistance by Brian K Sullivan