Governors To Trump: Here's What We Need For Renewables Industry
Source: By Betsy Lillian, North American Wind Power • Posted: Wednesday, February 15, 2017
The Governors' Wind & Solar Energy Coalition, a renewable energy advocacy group headed by bipartisan Govs. Gina Raimondo, D-R.I., and Sam Brownback, R-Kan., is pleading with President Donald Trump and his administration to support and further grow the U.S.' renewables industry.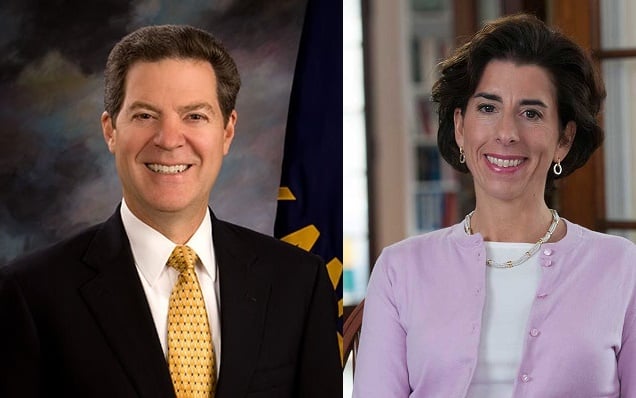 In a Feb. 13 letter to the administration, the group advocates for modernizing the grid and developing more transmission; establishing a bill for offshore wind development in the long term; boosting research and development (R&D) for wind and solar power; and improving the permitting process for wind and solar projects.
With the Trump administration's and Congress' support of the aforementioned initiatives, the group explains, "the boons of renewable energy can be virtually endless."
"Members of the coalition have seen the benefits of renewable energy firsthand and agree that expanding renewable energy production is one of the best ways to meet the country's growing demand for energy," the letter states.
The Governors' Wind & Solar Energy Coalition comprises bipartisan governors across the U.S.: Arkansas, California, Colorado, Delaware, Hawaii, Illinois, Iowa, Kansas, Maryland, Massachusetts, Minnesota, Montana, New York, North Dakota, Oregon, Pennsylvania, Rhode Island, South Dakota, Virginia and Washington.
Last fall, the group named Raimondo and Brownback chair and vice chair, respectively, for 2017. Notably, Raimondo's state is home to the U.S.' first operating offshore wind farm, and Brownback's wind-rich Kansas currently gets nearly one-quarter of its electricity from wind power.
The group further explains the four initiatives it has laid out:
Grid modernization: Citing the "complexity of the nation's aging, multi-state grid," the coalition says the U.S. should look further into the "electrical transmission challenges that a large expansion of renewable energy production will create." The group recommends the creation of a federal-state task force charged with developing ways to "modernize and streamline state and federal regulatory processes."
Offshore wind: Noting the "development challenges" of offshore wind power in comparison to onshore wind – including obtaining federal permits and overcoming "other logistic efforts" – the coalition is encouraging "specific federal policy foundations" to spur the industry. This includes a long-term extension of a 30% investment tax credit (as proposed by U.S. Sens. Ed Markey and Sheldon Whitehouse last year).
R&D: The group explains that both public and private research – including from the U.S. Department of Energy's labs – has helped spur the "extraordinary growth" of renewables in the U.S. Thus, it is essential that federal funding continue for R&D programs so that the country does not "cede leadership in these critical technologies to other nations," such as China, the letter states.
Permitting: Lastly, due to "unworkable wildlife regulations," it is often a struggle to develop wind and solar farms, the group says, adding that the administration should "direct assistant secretary-level appointees from key agencies to meet quarterly on progress and remaining barriers" to these permits. "Consistent, high-level attention, followed by White House questions," the letter says, "can deliver results."
The group adds, "The growth of the renewable energy industry is an American success story built on federal research and development, state policy leadership, private-sector investment, and ingenuity."