Gov. Cooper targets climate issue, orders NC agencies to reduce carbon emissions
Source: By John Downey, Charlotte Business Journal • Posted: Friday, November 2, 2018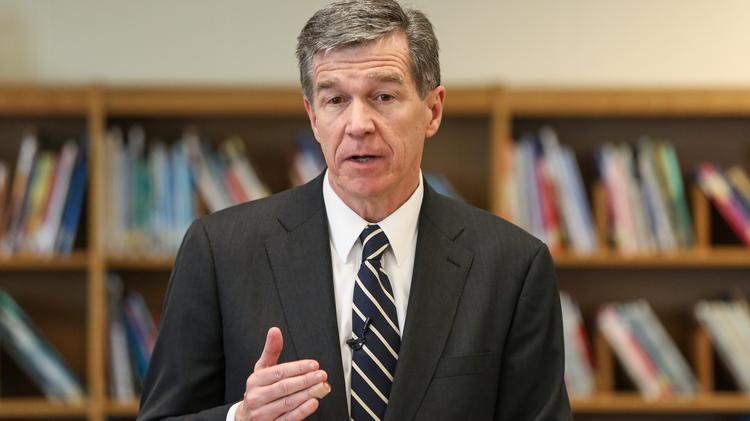 In signing his latest executive order, Gov. Roy Cooper touted clean energy as a way to reduce the impact of climate change and boost the North Carolina economy. Melissa Key
 Gov.
Roy Cooper
committed North Carolina to reducing energy consumption at government building 40% by 2025 and established a cabinet-wide task force to address climate change in an executive order issued Monday.
He also directed the Department of Environmental Quality to develop a North Carolina Clean Energy Plan to encourage the use of clean wind and solar power, energy efficiency and energy storage in the state.
"We have got to lead by example," Cooper said during the signing of the order and press conference, staged at a 2.3-megawatt solar farm at SAS Institute Inc. in Cary. "We have to make this a part of our tool box in state government.
He touted clean energy as a way to reduce the impact of climate change and boost the economy. "With historic storms lashing our state, we must combat climate change, make our state more resilient and lessen the impact of future natural disasters," he said. "When you talk to business leaders, this is one of their issues."
Broad targets
He also affirmed the goal of reducing greenhouse gas emissions 40% state wide from both public and private sources. That goal is in line with the state's continued commitment to the Paris climate accord, despite President Donald Trump's announcement that the United States will withdraw.
Executive orders are binding only on state agencies. Cooper hopes more intensive sustainability efforts by state government will encourage sustainability efforts by private businesses.
The order spoke of broad targets. Details on how those targets will be achieved were not provided Monday.
Still, Ivan Urlaub, executive director of the N.C. Sustainable Energy Association, said his group supports the measures Cooper announced. And he emphasized the role his group believes clean, renewable energy sources should play in those efforts.
"Clean energy has quickly become a very important sector of our state's thriving economy, and it's also a central part of addressing our changing climate and the extreme weather events such as the two '500-year floods' and devastating hurricanes that have hit North Carolina in the last two years," he said.
Private sector work
N.C. Department of Environmental Quality Secretary Michael Regan, also at the event, said his department would take the lead on the new N.C. Climate Change Interagency Council, tasked with finding the way to meet Cooper's goal of reducing state government carbon emissions to 40% below their 2005 levels. As part of the executive order, he said, the state will periodically make public reports on its progress of that goal.
The 40% target for reducing state building power consumption had been recommended by the state's Energy Policy Council and won wide support from business leaders.
Regan said the state also will work with private sector businesses to help them meet their own sustainability goals or develop individual targets.
Cooper also ordered the N.C. Department of Transportation to increase the use of all-electric vehicles, which eliminate tailpipe emissions of greenhouse gases, across state government. And he charged NCDOT with developing a plan to increase the number of such vehicles — both state and privately owned — registered in the state to 80,000.
The order also charges the North Carolina Department of Commerce to support the expansion of clean energy businesses and service providers as well as clean technology investment, in addition to assisting companies that commit to procuring renewable energy.
EO80- NC's Commitment to Address Climate Change & Transition to a Clean Energy Economy