Germany leads Europe in offshore wind energy growth
Source: By Arthur Neslen, The Guardian • Posted: Tuesday, February 2, 2016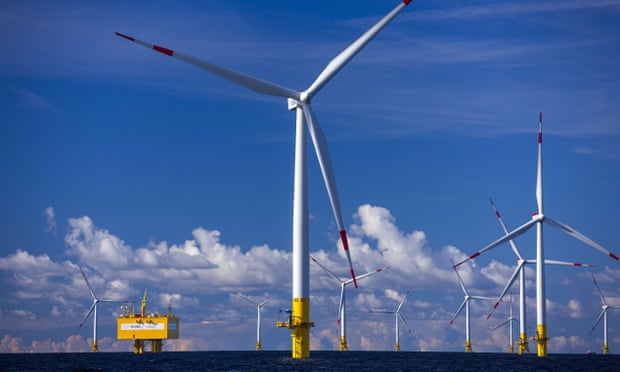 Germany has overtaken the UK in the rate at which it is installing wind turbines at sea, industry figures show.
Globally, wind installations grew by 25% in 2014, reaching a landmark 62,000 MW of capacity, according to a separate report by Bloomberg New Energy Finance (BNEF).
More than 3,000 megawatts (MW) of offshore wind power was connected to the European grid last year – twice as much as in 2014 – with the vast majority coming from Germany.
While Britain connected 556MW of offshore energy and the Netherlands 180MW, Germany added a massive 2,282MW. The UK still has the most installed offshore wind power in Europe, at 5,061MW to Germany's total of 3,295MW.
A spokesman for the European Wind Energy Association (EWEA), which published the figures, said that the UK had attracted more investment than Germany last year, but installed less capacity, as Germany cleared a backlog that had built up in 2014.
"Germany was the engine behind the record year in 2015 and we would expect it to continue its lead," he told the Guardian. "Germany will be a big offshore story towards 2020 certainly."
The offshore wind industry is generally positive towards the subsidy regime promised by UK energy secretary, Amber Rudd, of three more "contracts for difference" auctions before 2020. But the spokesman said: "clarity on the arrangement of these auctions is essential."
Overall offshore wind investment in Europe doubled to €13.3bn last year, in a record year for the budding green tech sector.
But a dip in grid connections is expected in 2016, with more capacity coming online towards the decade's end.
In a sign that the industry is fast developing, year-on-year wind turbine orders were up 75% last year. Offshore platforms were built further out to sea – 43km on average – and in deeper waters, typically around 27m.
Europe's three offshore leaders – Germany, the UK and the Netherlands – are still working on six offshore projects, whose grid connection should add another 15% of offshore capacity to Europe's power system.
"The financing is there, the order book is strong, now we need policymakers to come forward with a regulatory vision that will inspire confidence for investors and developers post-2020," the EWEA spokesman said.
E.ON was the industry's largest developer in 2014, with 17% of connections, followed closely by RWE and EnBW.
Offshore's rapid growth was not confined to Europe, with the number of global platforms growing by a factor of four to provide 4,000 MW of grid-connected electricity, twice the previous record set in 2013, according to BNEF.
China had the most eye-catching achievement, installing 29,000 MW, a 40% increase on its previous record and almost as much as the rest of the world combined.
"2015 was a fantastic year for the wind industry." said Amy Grace, head of Wind Insight for Bloomberg New Energy Finance. "China was by far the biggest surprise. While it's not atypical for China to lead in new energy installs, 29GW far exceeded our estimates."