EPA delays new air quality standards for ozone pollution until after 2024 election
Source: By The Associated Press • Posted: Wednesday, September 6, 2023
Decision on regulations for ground-level ozone – AKA smog – avoids election-year battle with industry groups and Republicans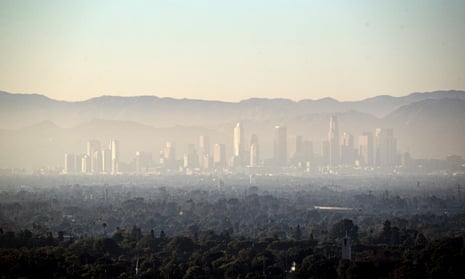 The Environmental Protection Agency is delaying plans to tighten air quality standards for ground-level ozone – better known as smog – despite a recommendation by a scientific advisory panel to lower air pollution limits to protect public health.
The decision by the EPA Administrator, Michael Regan, means that one of the agency's most important air quality regulations will not be updated until well after the 2024 presidential election.
"I have decided that the best path forward is to initiate a new statutory review of the ozone [standard] and the underlying air quality criteria,'' Regan wrote in a letter to the EPA advisory panel last month. The letter cites "several issues" raised by the panel in a recent report that "warrant additional evaluation and review''.
The review, which will last at least two years, will "ensure that air quality standards reflect the latest science in order to best protect people from pollution,", Regan said.
Regan's decision avoids an election-year battle with industry groups and Republicans who have complained about what they consider overly intrusive EPA rules on power plants, refineries, automobiles and other polluters.
The delay marks the second time in 12 years that a Democratic administration has put off a new ozone standard before an election year. Barack Obama shut down plans to tighten ozone standards in 2011, leading to a four-year delay before the standards were updated in 2015.
Paul Billings, senior vice-president of the American Lung Association, called the EPA's decision "profoundly disappointing" and a missed opportunity to protect public health and promote environmental justice. A recent report by the lung association showed that minority communities bear a disproportionate burden from ground-level ozone, which occurs when air pollution from cars, power plants and other sources mixes with sunlight. The problem is particularly acute in urban areas.
Billings called the ozone rule "the public health cornerstone of the Clean Air Act,", adding that "millions of people will breathe dirty air for many more years" as a result of the delay. An increased number of asthma attacks, sick days and even premature death are likely to occur, he and other public health advocates said.
Raul Garcia, vice-president of policy and legislation for Earthjustice, called the delay "shameful" and unjustified. "The science tells us we are long overdue," Garcia said.
Democratic lawmakers also were disappointed. "Inaction threatens public health and puts those with underlying conditions such as asthma or lung disease at an elevated risk,'' said the Rhode Island senator Sheldon Whitehouse. He and 51 other Democrats had urged swift action on a new rule.
"Unfortunately we've seen the process for updating the ozone standards repeatedly swept up in political games that risk lives,'' the lawmakers said in a 7 August letter to the EPA.
Conor Bernstein, a spokesman for the National Mining Association, applauded the EPA's decision "not to race ahead with an unnecessary revision of the ozone standards", which have not been changed since 2015. The current standard was reaffirmed in December 2020 under Donald Trump, a Republican.
The American Petroleum Institute, the top lobbying group for the oil and gas industry, said current ozone limits were among the most stringent in the world. "Any tightening of the standard could impact energy costs, threaten US energy security and impact businesses and American consumers," a spokeswoman, Andrea Woods, said in an email.
The EPA's decision comes after two advisory panels – the EPA's Clean Air Scientific Advisory Committee and the White House Environmental Justice Advisory Council – urged the agency to lower the current ozone standard of 70 parts per billion (ppb).
"Based on the scientific evidence currently available, it is concluded that the level of the current standard is not protective with an adequate margin of safety,'' the EPA panel said in a June report. A limit of 55 to 60ppb "is more likely to be protective and to provide an adequate margin of safety", the panel said.
Tomas Carbonell, a top official in the EPA's Office of Air and Radiation, said the report by the scientific panel left the EPA with little choice but to launch a comprehensive review even though all but one panel member supported a stricter ozone standard.
"When we're looking at our national air quality standards, there's really no way to cut corners around that process,'' Carbonell said in an interview.
The agency will convene workshops next spring to gather information and will release a review plan for action in late 2024, he said. A final decision could be years away.
You've read 17 articles in the last year
I hope you appreciated this article. Before you move on, I was hoping you would consider taking the step of supporting the Guardian's journalism. 
From Elon Musk to Rupert Murdoch, a small number of billionaire owners have a powerful hold on so much of the information that reaches the public about what's happening in the world. The Guardian is different. We have no billionaire owner or shareholders to consider. Our journalism is produced to serve the public interest – not profit motives.
And we avoid the trap that befalls much US media – the tendency, born of a desire to please all sides, to engage in false equivalence in the name of neutrality. While fairness guides everything we do, we know there is a right and a wrong position in the fight against racism and for reproductive justice. When we report on issues like the climate crisis, we're not afraid to name who is responsible. And as a global news organization, we're able to provide a fresh, outsider perspective on US politics – one so often missing from the insular American media bubble. 
Around the world, readers can access the Guardian's paywall-free journalism because of our unique reader-supported model. That's because of people like you. Our readers keep us independent, beholden to no outside influence and accessible to everyone – whether they can afford to pay for news, or not.