Electricity Prices in the U.S. Are Capping Their Worst Year Ever
Source: By Naureen Malik, Bloomberg • Posted: Thursday, January 5, 2017
Electricity prices from Boston to Dallas sank to their lowest levels ever in 2016, presenting new challenges for generators more than a decade after the industry was deregulated.
Power prices plunged this year as cheap natural gas cut fuel costs, and wind and solar alternatives came online. Consumers also used less electricity for the second straight year, despite a summer heat wave, amid an industrial slowdown and growing awareness among households and businesses of ways to boost energy efficiency, according to government estimates.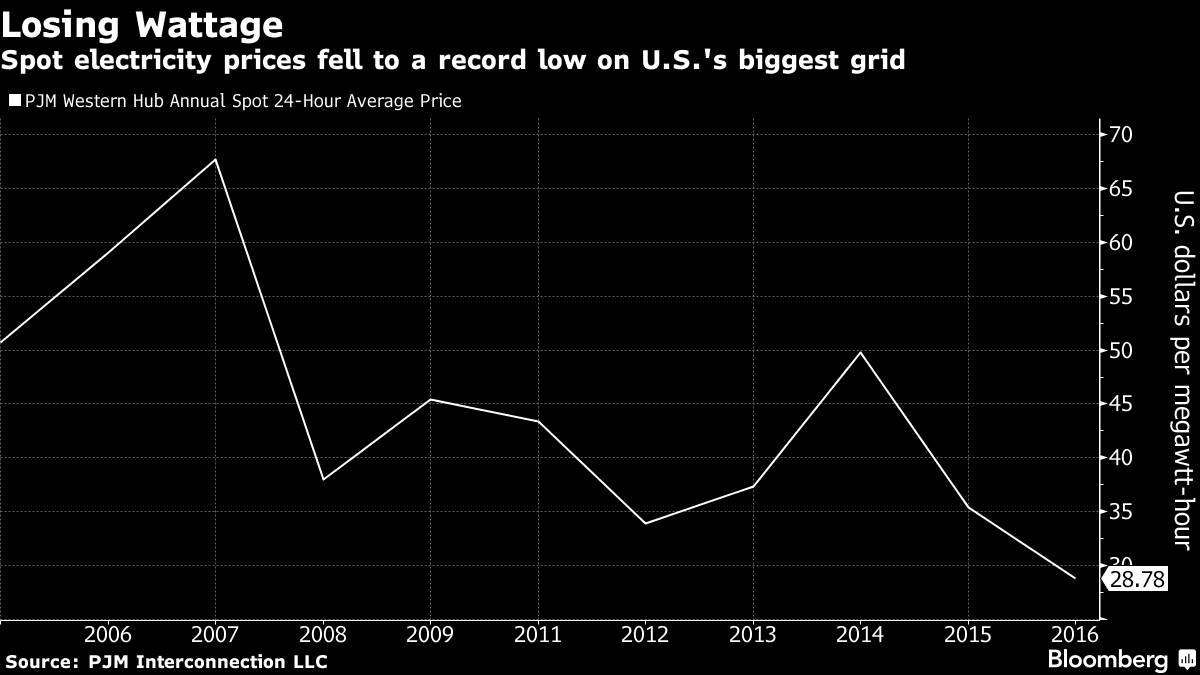 Deregulation targeted lower electricity costs by opening up competition among generators. The recent stress from sliding prices is forcing some companies to seek the protection afforded by regulation. FirstEnergy Corp. plans to become a fully regulated utility within two years and American Electric Power Co. may follow. At the same time, Exelon Corp. won subsidies to keep New York and Illinois nuclear plants running with consumers covering the costs.
"Low demand, low prices, subsidized or increased renewable generation and gas-fired generation, all of those are challenges the merchant power sector has been experiencing and will likely experience going forward," said Paul Patterson, an analyst with Glenrock Associates LLC, in an interview Friday.
The average around-the-clock spot price at PJM's Western hub, which includes Washington and is the most actively traded U.S. power location, tumbled 19 percent this year to $28.78 a megawatt-hour, the least in grid data going back to 2005.  New York City, Boston and Dallas area power prices are similarly trading at record lows this year.