Electric Vehicles May Get a Boost From OPEC Decision
Source: By Jessica Shankleman, Bloomberg • Posted: Friday, September 30, 2016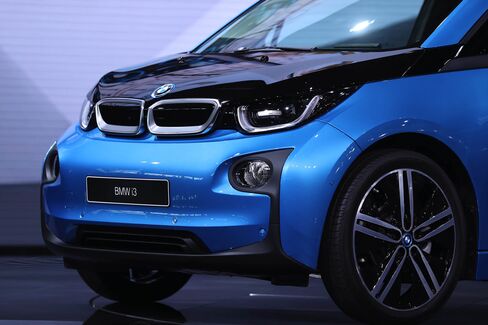 The BMW i3 electric car. Photographer: Jasper Juinen/Bloomberg
Electric car makers may breath a sigh of relief from OPEC's decision to curb oil output, which if it holds may help tilt the argument in favor of greener transport.
Electric car sales stalled in the U.S. last year as gasoline prices fell 5.8 percent on average and demand for the motor fuel rose for the first time in six years. Rising oil prices, or even signs that the cost of gasoline won't fall further, would help underpin the economic case for alternatives such as biofuels and electric cars, according to the International Energy Agency.
"At the margin, a higher oil price increases competitiveness of electric cars," said Laszlo Varro, chief economist for the Paris-based energy watchdog for industrial nations. "Certainly in the U.S., there was a very interesting correlation that as gasoline prices declined there was a measurable shift in the U.S. car market."
Oil prices jumped 5 percent after the Organization of Petroleum Exporting Countries agreed to cap supply on Wednesday, suggesting the two-year slide for crude prices may be over.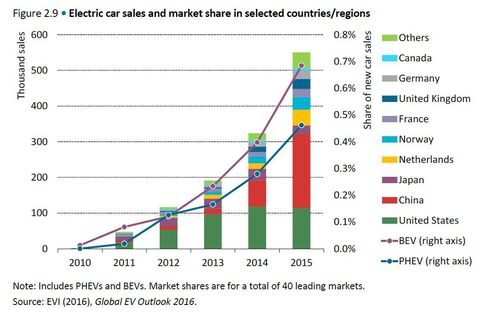 The OPEC's backing for the first output cut in eight years signaled a reversal in Saudi Arabia's policy to let market forces determine the price of crude. While oil doesn't compete directly with renewables or electric cars, the price of each barrel seeps into every segment of the energy industry and helps determine whether policy makers and consumers are complacent or anxious about having options other than fossil fuels.
Investment in clean energy reached a record $348.5 billion in 2015 even though oil prices fell, according to Bloomberg New Energy Finance. Biofuels lost funding, and in the U.S., where the cost of driving dropped, electric car sales fell 4.1 percent.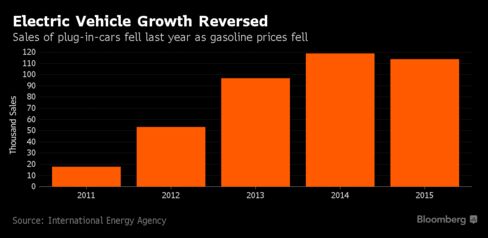 Low oil prices can encourage people to drive more and buy gas guzzling cars, reflected by the increase in gasoline demand in the U.S. last year. Prices at the pump averaged $2.39 a gallon last year, down from $3.34, according to data by the American Automobile Association. The IEA estimates demand rose 5 percent last year, reversing a six-year decline.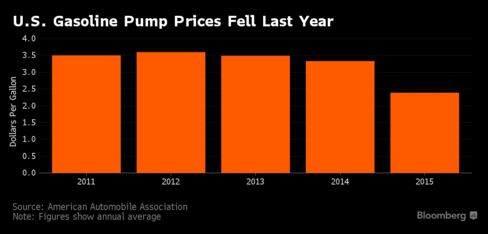 Electric car sales are likely to surge 44 percent this year to a record 647,000 units, according to Bloomberg New Energy Finance. While that will displace a fraction of 1 percent of global oil demand, their growth along with biofuels such as ethanol mean that consumers have more alternatives to gasoline than before and can switch to a greener alternative more easily, said Michael Liebreich, founder of the London-based research group.
A quarter of the world's cars will be an electric by 2040 according to BNEF. Manufacturers from Toyota Motor Corp. to General Motors Co. are joining Elon Musk's Tesla Motors Inc. in developing new models. At the Paris auto show this week, Volkswagen unveiled a prototype that can drive almost twice as far as Tesla Motors Inc.'s upcoming Model 3 sedan on a single charge.
"If you think the oil price is going to go up to $140 and sit there, then guess what, it's not possible, because the substitution now would pick up speed very rapidly because there are now scalable technologies that can do that," Liebreich said.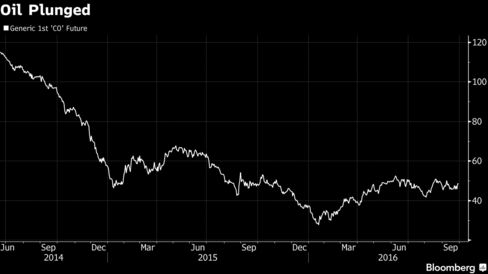 Outside the U.S., electric car sales are underpinned by generous subsidies from governments especially in Europe. Those policies are more likely to become resilient as oil prices rise.
"There's a very weak relationship between electric cars and the oil price outside the U.S.," said Varro.
Electric car manufacturers such as Renault SA, whose Zoe model is now the best selling EV in Europe, are more sensitive to those government policies than to prices, since it's the subsidies that drive sales. They're showcasing more models in anticipation that the technology gains support from consumers.
The oil price is "unpredictable, it's uncontrollable," said Carlos Ghosn, who runs both Renault and Nissan Motor Co., maker of the LEAF, the world's second-best selling EV model.
"What is predictable is that emissions constraints are going to become stricter and stricter," Ghosn said in an interview on Bloomberg TV. "That's why when we look at the mid and long term, we're betting on electric cars."