Developers Plan Wind Farms Off Jersey as Christie Era Ends
Source: By Joe Ryan, Bloomberg • Posted: Wednesday, October 25, 2017
After years of being sidelined by New Jersey Governor Chris Christie, wind farm developers are dusting off plans for massive offshore turbines that may someday generate more electricity than a nuclear reactor.
Christie, a Republican whose term ends in January, effectively blocked wind farms off his state's coast by never fully implementing a program that would subsidize the projects. Both of the leading candidates to replace him have pledged support for the industry, opening the door for developers to push toward construction.
The move presents a potentially rich market for offshore wind. New Jersey is the most densely populated U.S. state, and its power prices are among the highest in the nation. It's also geographically positioned midway between offshore wind development sites in New England and the Southeast, making the state a potential hub for ferrying supplies to build projects in other states.
"New Jersey has all the classic elements for offshore wind to work," said Paul Rich, director of project development for US Wind Inc., one of two developers with federal leases to build off New Jersey. "The time is right, and the market is ripe."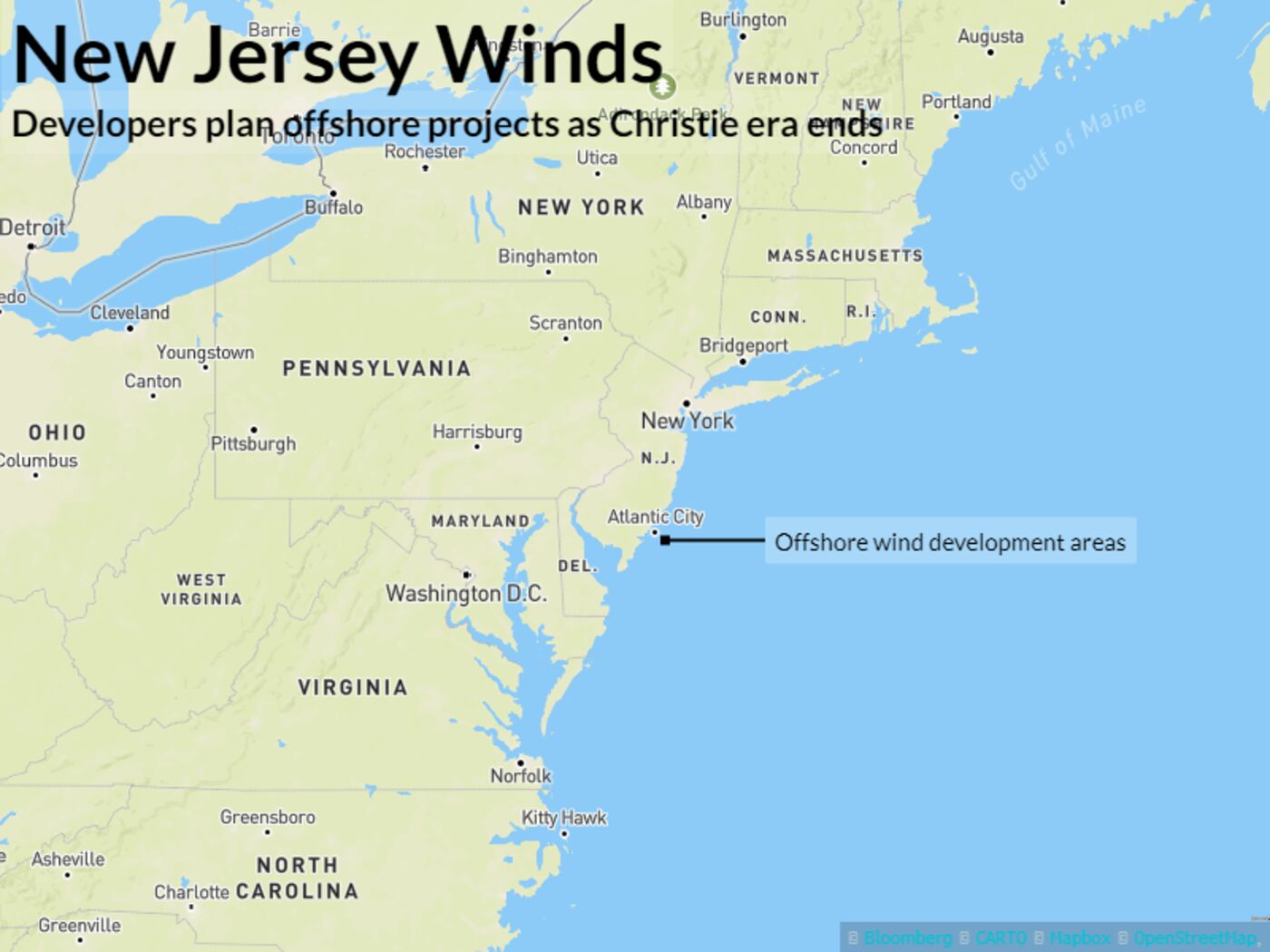 US Wind, a unit of the Italian developer Renexia SpA, is among dozens of companies gathering in New York this week at the American Wind Energy Association Offshore Windpower conference, including Siemens Gamesa Renewable Energy SA, Norway's Statoil ASA and Dong Energy AS. While it's thrived in Europe, offshore wind has lagged in the U.S. as policy makers have been reluctant to support subsidies to offset the high costs of building miles from shore.
Offshore wind farms are considerably more expensive than other energy sources, though prices are coming down. The U.S. benchmark for onshore wind power is $51 a megawatt-hour, according to Bloomberg New Energy Finance data from April. The offshore benchmark in Europe is $126 a megawatt-hour. The London-based research company doesn't have a U.S. offshore rate because there's only one project in operation.
Competition among developers, especially in the North Sea, has driven down costs. The first U.S. offshore wind farm — a 30-megawatt installation developed by Deepwater Wind LLC — began operations in December 3 miles (4.8 kilometers) southeast of Block Island in Rhode Island. Statoil, Dong, US Wind, Deepwater and others are pushing ahead with additional projects off the coasts of New York, Massachusetts, Maryland and elsewhere.
New Jersey may soon be on that list. Democratic gubernatorial candidate Phil Murphy, a former Goldman Sachs Group Inc. executive who leads by 15 points in polls, is calling for 3.5 gigawatts of offshore wind generation by 2030. That's enough to power 1.5 million homes. His Republican rival, Lieutenant Governor Kim Guadagno, has also pledged to support the industry, though has offered fewer specifics.
"Offshore wind is going to fare very well in the next administration almost regardless of which candidate gets elected," said former New Jersey governor James Florio, a Democrat who has long championed clean energy.
'First Mover'
Dong and US Wind are the companies positioned to benefit most. Both have federal leases to develop a 344,000-acre area in the Atlantic Ocean, off the coast of Atlantic City. There's enough room for about 3.4 gigawatts of turbines. A third company, Fishermen's Energy LLC, proposed using a nearby site in state waters for a project that the members of New Jersey's Board of Public Utilities have rejected three times.
New Jersey was an early leader in the industry. In 2010, the state legislature passed a bill to encourage the development of at least 1.1 gigawatts of offshore wind farms through a program requiring a percentage of electricity sold in the state to come from turbines at sea.
Christie signed the bill early in his first term. Seven years later, his administration has yet to finish designing the program, leaving developers without a guaranteed market for their electricity.
"New Jersey was kind of a first mover, but then it went very quiet," said Thomas Brostrom, general manager of North America for Denmark-based Dong, the world's largest offshore wind developer. "It's very important to us to have political support."
Primary Politics
After being elected to a second term, Christie embarked on an ill-fated run for the White House. Supporters of New Jersey's offshore wind say his stance toward the industry changed as he tried to appeal to conservative primary voters around the nation.
"Christie sacrificed offshore wind for his national political ambitions," said Jeff Tittel, Director of the New Jersey Sierra Club.
Christie's administration rejects that characterization. Gregory Reinert, a spokesman for the New Jersey Board of Public Utilities, said the state never finished designing the system because there were no viable offshore projects ready to move forward.
"The mechanism hasn't needed to be developed yet," Reinert said.
Tom Kean Jr., New Jersey's Republican Senate minority leader, said it's time the state got behind offshore wind once and for all.
"Offshore wind makes a lot of sense for New Jersey," said Kean, who was co-sponsored the 2010 legislation. "We have abundant wind. Costs are coming down. We need the electricity."
— With assistance by Chris Martin