Clean Power Is Too Hot for Even Trump to Cool
Source: By Matthew Philips, Bloomberg • Posted: Thursday, November 17, 2016
On Nov. 4, Walmart announced an 
aggressive plan
 to increase its investments in renewable energy, pledging to power half its operations from wind, solar, and other renewables by 2025 and to cut the carbon footprint of its operations by 18 percent over the same period. Ten days later, Microsoft made its 
largest wind-power purchase agreement
 ever, with a deal to buy 237 megawatts of electricity from turbines in Kansas and Wyoming to run data centers in Cheyenne.
In between those announcements, Donald Trump was elected president, in part by calling climate change a hoax and vowing to gut most of Obama's clean-energy policies and revive coal mining. If the actions of Walmart and Microsoft are any indication, a Trump administration will do little to dissuade companies from continuing to invest in renewables. "I think fears of a negative impact of Trump on renewable energy are really overblown," says Thomas Emmons, a partner at Pegasus Capital Advisors, a private asset management firm focused on sustainable and alternative investments.One reason is timing. The biggest economic incentives for clean energy are federal tax credits for solar and wind projects. Both were set to expire at the end of last year, prompting a surge in investments as companies raced to get in under the deadline. In December, Congress unexpectedly extended both credits (for solar until 2021 and for wind until 2019) as part of a deal to lift the 40-year-old ban on U.S. oil exports. It's not clear that Trump will try to persuade Congress to repeal the extensions. Wind power is especially popular across the Midwest, a Republican stronghold; in many cases it's become cheaper than other sources of grid power.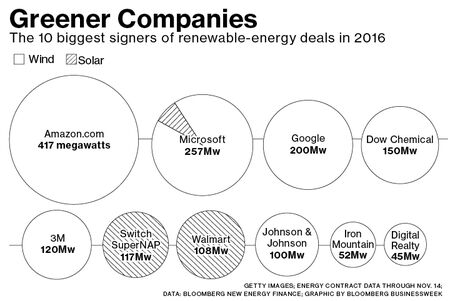 Sixty percent of Fortune 100 companies have renewable-electricity or climate change policies, and 81 companies globally have committed to get 100 percent of their energy from renewable sources, according to Bloomberg New Energy Finance. Companies tend to invest in renewable energy in one of three ways: sourcing clean power from wind and solar projects through long-term agreements; purchasing a stake in green power projects; or using renewable-energy credits to offset the dirtier power they consume.
Since 2008, U.S. companies have signed agreements to purchase more than $10 billion worth of wind and solar power— about 10Gw, enough to run almost 2 million U.S. households for a year. BNEF expects that pace to increase over the next decade, with at least 50 U.S. companies signing long-term agreements to buy an additional 22Gw of clean energy. "A Trump presidency does not lower our expectations for the growth of the corporate renewable-energy market," says Nathan Serota, a clean-energy analyst at BNEF. "If anything, a less ambitious stance on renewables at the federal level could encourage corporations to pick up the slack even further." With the government providing less support, more businesses may decide the best way to ensure clean-power projects get built is to sign long-term purchase agreements. That way, renewable developers have a guaranteed customer, ensuring they can finance new projects.
These agreements are emerging as the preferred way to invest in clean energy. Locking in electricity prices for up to 15 years, the deals let companies hedge exposure to volatile natural gas and coal prices, which have historically determined wholesale power prices in the U.S. As wind and solar get cheaper, companies are able to lock in renewable power for less than the average wholesale power price, says Swami Venkataraman, senior vice president at Moody's Investors Service.
"Companies are investing in sustainability, not because they're making a political statement, but because they have a fiduciary duty to protect shareholders and make money," says Mindy Lubber, president of Ceres, a nonprofit sustainability advocate. Even if Trump rolls back Obama's commitment to the Paris climate accord and his signature clean-energy initiative, the Clean Power Plan (CPP), which directs states to lower carbon emissions from power plants, it's unlikely to influence investment decisions. "Renewable developers weren't building a business model premised on the CPP," Serota says.
On Nov. 16, 300 U.S. businesses, including General Mills, EBay, and Intel, called on Trump to support the Paris accord. "The sustainable investing trend has global momentum and big players such as Goldman Sachs and Bill Gates," said Amy Myers Jaffe, executive director for energy and sustainability at the University of California at Davis, in an e-mail. "Corporate America has lots of millennial customers, and they want to buy from companies with sustainable supply chains and a commitment to renewable energy. I don't see that changing."The bottom line: Companies should continue investing in renewables despite Trump's promise to roll back clean-energy initiatives.