Clean Energy Won Big. So Where's the Party?
Source: By Eric Roston & Brian Eckhouse, Bloomberg • Posted: Monday, September 19, 2016
To the skeptic, it may look like a con.
The renewable-energy industry won lucrative U.S. subsidies and immediately snapped into inaction. Advocates had lobbied hard for the revival or extension of wind and solar federal tax credits that came in December. With victory in hand … very little followed. The industry's windfall hasn't spurred tremendous growth. In some cases, the renewal of the credits actually prompted a sudden slowdown in growth.
Without the context, it kinda looks like they won and now they're just sitting on their bums. One notable example is the number of long-term power-purchase agreements (PPAs) signed by corporations. The deals have slowed sharply, leading to a much slower addition of generating capacity this year.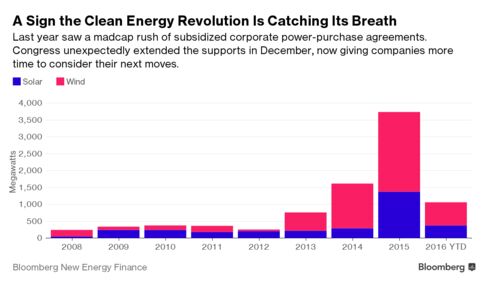 In 2015, the wind industry signed more than 2.3 gigawatts of contracts with corporate buyers, in 20 deals. This year through August, it had signed 631 megawatts, in nine deals. Solar, meanwhile, has slowed from 726 megawatts contracted across 11 deals last year to 163 megawatts across three deals, according to 2016 data through August from Bloomberg New Energy Finance.
"Many companies that signed those deals in 2015 were afraid that there wouldn't be a tax credit again," said Jacob Susman, vice president and head of origination at EDF Renewable Energy. "That's a big reason why 2015 was so big."
So why does 2016 look so small?
Incentives can be disincentives
With change in the tax credit regime believed to be imminent, developers and corporate clients treated 2015 as a race against time. Developers wanted to lock in long-term contracts so they could finish construction by the end of this year. Companies didn't want to lose a chance to manage their own clean power at the full subsidy level.
"There was such a flurry that people may be taking a breather," said Pete Dignan, CEO of Boulder, Colorado-based Renewable Choice Energy. "But there's significant activity ahead."
The new long-term subsidy period allows developers and potential corporate buyers to be more thoughtful in their planning and negotiations—to pace themselves. "A whole bunch of folks decided they just didn't have enough time and backed off," said Dignan, who said he had anticipated a slow start to this year. "They've re-started."
Dignan said Renewable Choice is talking to several hundred companies looking seriously at corporate PPAs.
Power prices are low
Companies sign renewable-power purchase agreements partly so they have a sense of what they'll be paying for clean electricity years ahead of time. There's always a risk, though, that market power prices will dip below their contracted level. At the moment, power is relatively inexpensive. Market prices have slid since mid-2014. That makes it much harder for would-be PPA customers to find a better deal.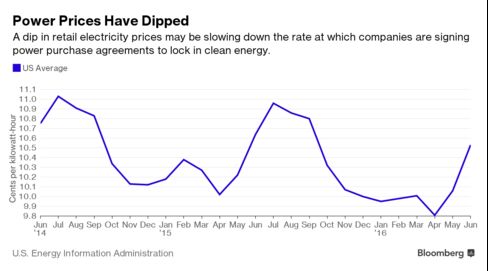 Executives antsy to boost their U.S. clean-energy portfolios probably did so last year, when the clock on subsidies was thought to be ticking. "Growth will have to come from new entrants or add-on deals from existing players," said Nathan Serota, a solar analyst at Bloomberg New Energy Finance. But they have less incentive at the moment, because "rock-bottom power prices" are making renewable PPAs less attractive today. When prices are low, the market is already giving companies a deal on power, so they hold off on taking advantage of tax credits until prices rise again.
'Sustainable' demand is waiting in the wings
The top 20 institutions—companies, governments, and universities—are pursuing these deals for reasons not limited to price, so a blip in activity this year may be masking pent demand. At least seven of the top 20 PPA signers this year have committed, on varying time scales, to sourcing 100 percent of their power from renewables: Google, Facebook, Wal-Mart Stores, Mars, Nestle, Steelcase, and Salesforce. Dow Chemical wants 750 MW of renewables by 2025. By 2020 Target wants to raise to 500 the number of its buildings that have rooftop solar power.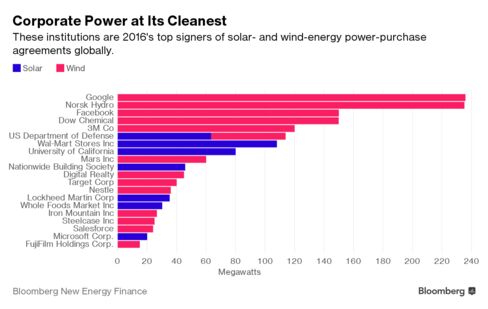 And the renewables sector isn't quite a ghost town. Amazon.com Inc. yesterday announced a 253MW facility planned for Texas that will produce enough electricity to power the equivalent of about 90,000 homes. That single play puts it ahead of where Google, which has been at it a while, and Norsk Hydro were at the end of August in this calendar year. In fact, it's the second-largest single U.S. corporate purchase to be announced, according to the American Wind Energy Association. Johnson & Johnson told Bloomberg News this morning it has committed to buying half the output from a 200-megawatt wind project being developed in Texas by EON SE.
The next big wave may be powered by smaller companies. "A lot of companies are looking for a dance partner," said John Carson, CEO of Vancouver, British Columbia-based Alterra Power Corp. "They see the Wal-Marts and the Googles."
Does the U.S. even need subsidies?
California solar and Texas wind may represent the most mature markets for renewable power. Wind farms stud the Midwest. Solar panels collect sunlight from the Mid-Atlantic states to New England.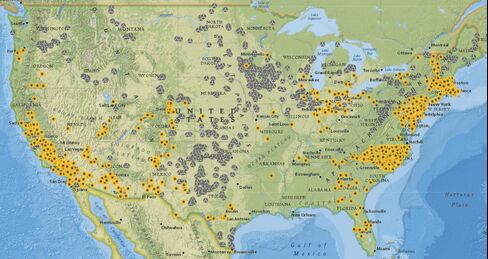 "Will it be 3.4 gigawatts in 2016? Probably not," EDF's Susman said. "Will it be 2 gigawatts or more annually for the foreseeable future? Probably so."
Hannah Hunt, a research analyst at AWEA, called it "a remarkable period of stability."
To meet President Barack Obama's ambitious 2050 climate goal, the U.S. will need all the clean gigawatts it can muster and, probably, new policies to encourage construction. A sustainable energy system can be yours for the low, low price of 1 percent of GDP.