China's Abandoned, Obsolete Electric Cars Are Piling Up in Cities
Source: By Bloomberg • Posted: Sunday, August 20, 2023
A subsidy-fueled boom helped build China into an electric-car giant but left weed-infested lots across the nation brimming with unwanted battery-powered vehicles.
On the outskirts of the Chinese city of Hangzhou, a small dilapidated temple overlooks a graveyard of sorts: a series of fields where hundreds upon hundreds of electric cars have been abandoned among weeds and garbage.
Similar pools of unwanted battery-powered vehicles have sprouted up in at least half a dozen cities across China, though a few have been cleaned up. In Hangzhou, some cars have been left for so long that plants are sprouting from their trunks. Others were discarded in such a hurry that fluffy toys still sit on their dashboards.
The scenes recall the aftermath of the nation's bike-sharing crash in 2018, when tens of millions of bicycles ended up in rivers, ditches and disused parking lots after the rise and fall of startups backed by big tech such as Ofo and Mobike.
This time, the cars were likely deserted after the ride-hailing companies that owned them failed, or because they were about to become obsolete as automakers rolled out EV after EV with better features and longer driving ranges. They're a striking representation of the excess and waste that can happen when capital floods into a burgeoning industry, and perhaps also an odd monument to the seismic progress in electric transportation over the last few years.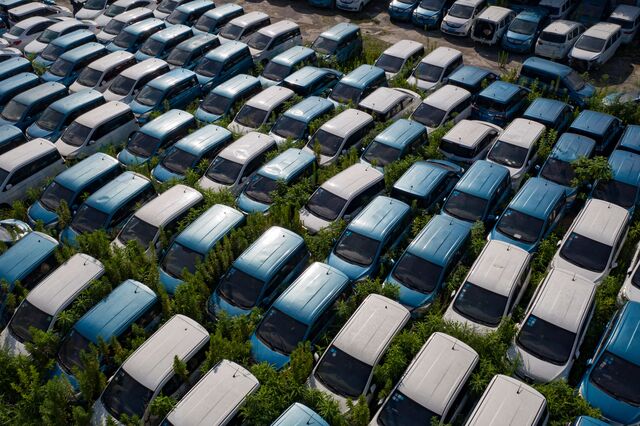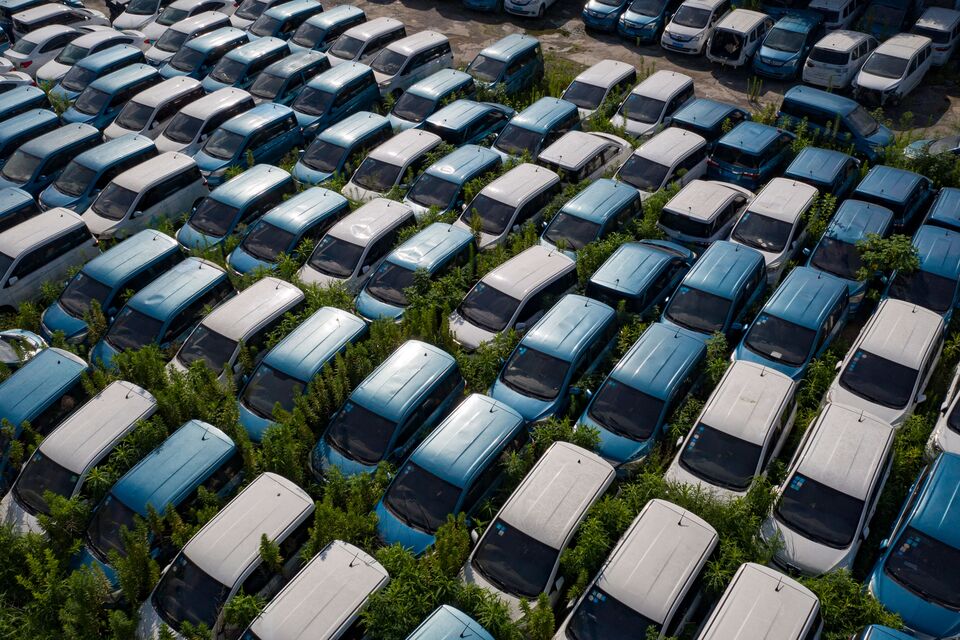 About a decade ago, encouraged by government subsidies, hundreds of automakers across China, both established players and startups, waded into electric-car manufacturing. They churned out huge numbers of early-stage EVs — relatively no-frills cars whose batteries in some instances could only run for around 100 kilometers (62 miles) on a charge.
Those vehicles were mostly bought by ride-hailing companies that leased them to drivers. "At the beginning of China's EV market, delivery numbers were driven by car-sharing fleets," said Young Huang, a senior analyst with JSC Automotive, a consultancy with offices in Shanghai and Stuttgart. "Only a few private customers chose to buy them."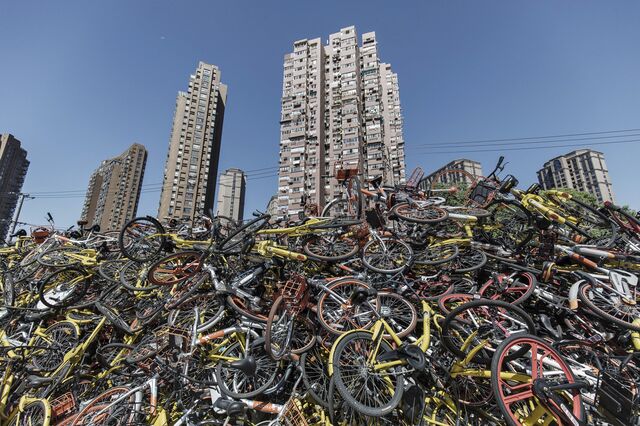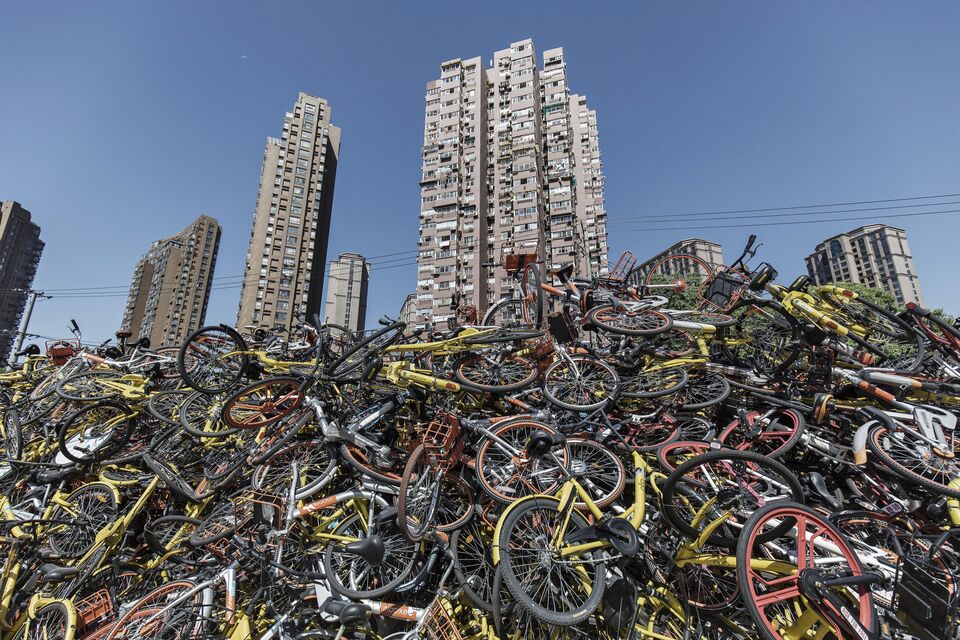 The demand helped juice an industry that has grown exponentially ever since. China is now the world leader in clean cars, producing around 6 million EVs and plug-in hybrids last year, or almost one in every three new cars sold domestically. It accounts for 60% of the world's current electric fleet, and has the most extensive EV charging infrastructure on Earth — also built with government support.
But that lightning-fast development also left behind plenty of casualties. Many of the ride-hailing companies that were early adopters of EVs have gone out of business. There are now around 100 Chinese electric-car makers, down from roughly 500 in 2019.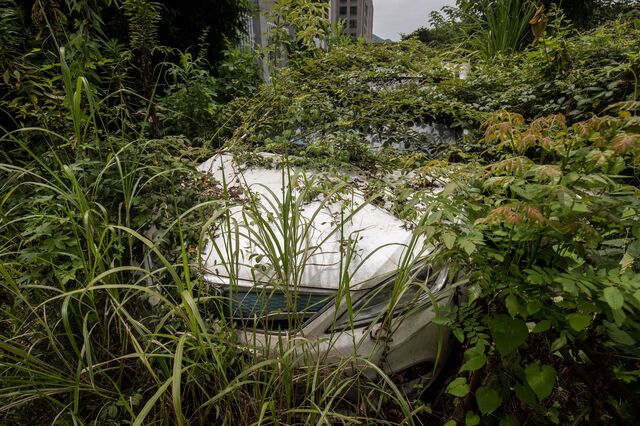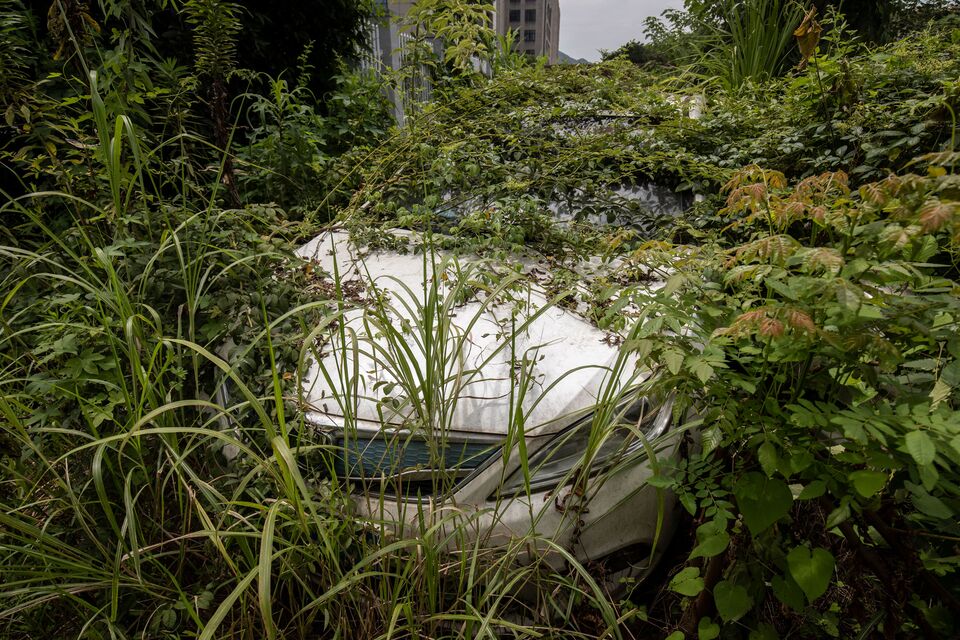 The graveyards are a troubling consequence of that consolidation. Not only are the sites an eyesore, getting rid of EVs so quickly reduces their climate benefit considering they're more emissions-intensive to build and only produce an advantage over combustion cars after a few years. Each of the vehicles' spent batteries also contain precious ingredients like nickel, lithium and cobalt — metals that could be recycled to make China's EV industry more environmentally friendly.
According to local media reports, the government of Hangzhou has vowed to dispose of the cars, which started to accumulate in 2019. But when Bloomberg News visited late last month, reporters uncovered several sites filled with abandoned EVs in the city's Yuhang and West Lake districts after scouring satellite images and hacking through overgrown dirt paths.
In one field, more than 200 white cars — mainly battery-electric compact vehicles manufactured by Chongqing Changan Automobile Co. — were parked haphazardly. Body paint showed most of the cars were once operated by ride-hailing companies Didi Chuxing Technology Co. and Faststep Automobile Management. Photographer: Qilai Shen/Bloomberg
All had blue plates, indicating they were made and registered before December 2017, when Hangzhou switched to green plates for new-energy vehicles. Registration stickers showed some would have been running on roads until as recently as 2021.
Before Tesla Inc. came to China and began making cars from its factory in Shanghai in early 2020, most EVs being produced in the world's second-biggest economy were small and low quality. They were hardly appealing to consumers faced with a plethora of good-looking combustion engine cars.
To kick-start EV adoption, the government in the late 2000s began offering rebates of as much as 60,000 yuan ($8,400) per vehicle and restricting the ownership of gasoline cars in several major cities. Automakers backed or founded several ride-hailing startups, which in turn filled their fleets with their electric offerings.
Geely got behind Caocao Chuxing, for example, which is still operating. But another car-sharing service called Panda, backed by Chongqing Lifan Auto Co., folded and Lifan Auto itself filed for bankruptcy in 2020. It was acquired by Geely a year later. A brand of EVs called Maple, made by a joint venture between Geely and Lifan, was spotted at one of the sites Bloomberg News visited.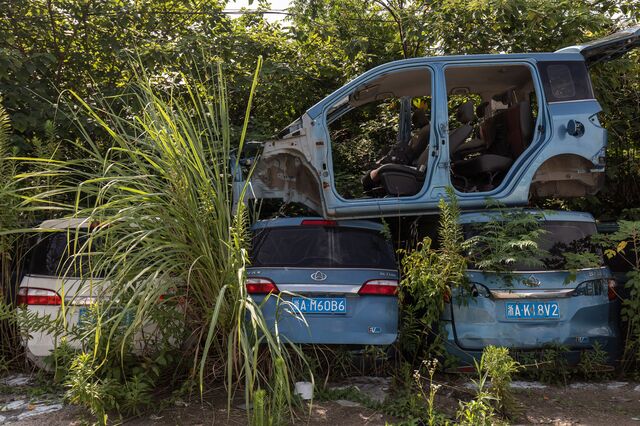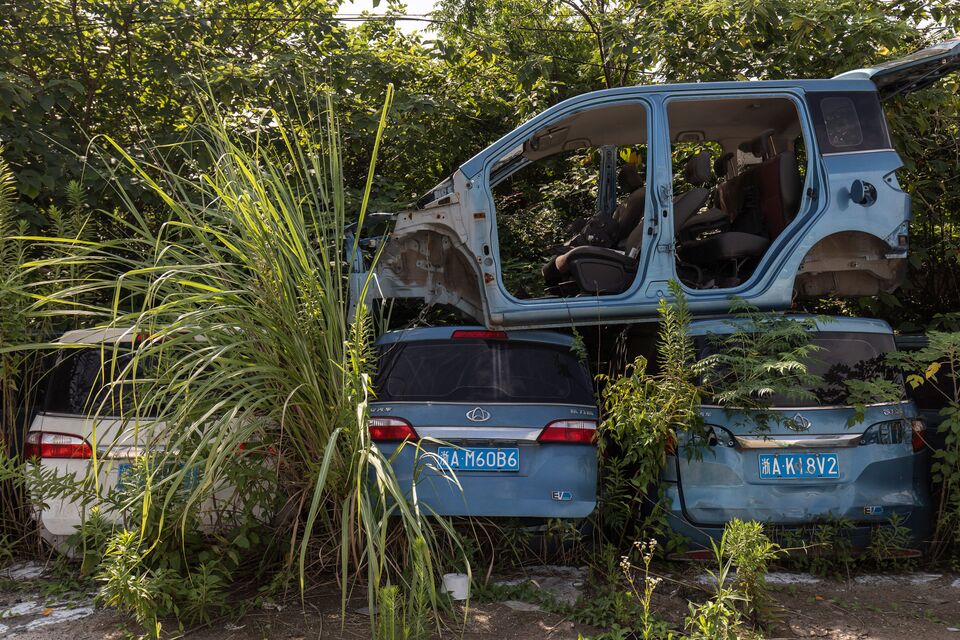 In the mid-2010s, China ramped up its push for EV adoption with a credit system that rewarded automakers for producing EVs and penalized the manufacturing of high fuel-consumption cars. A 2021 Fitch Ratings Inc. report raised the possibility that some companies started ride-hailing companies as an easy way to absorb their growing inventories of EVs that weren't being bought by the public.
Some companies also began cheating the subsidy program by falsifying records for non-existent EVs. For example, they could produce an empty chassis that didn't contain a battery, or make cars with batteries that didn't meet the correct specifications. The official People's Daily in 2016 cited estimates that dozens of companies had fraudulently claimed more than 9.3 billion yuan ($1.3 billion) in subsidies.
Beijing began slashing national subsidies for all electric car purchases in 2019. Many ride-hailing companies were unprepared for the policy change, which severely affected their cash flow. "Those players couldn't survive," Huang said.
The EV graveyards first started to draw public attention later that year, when internet users and local media reported on the phenomenon.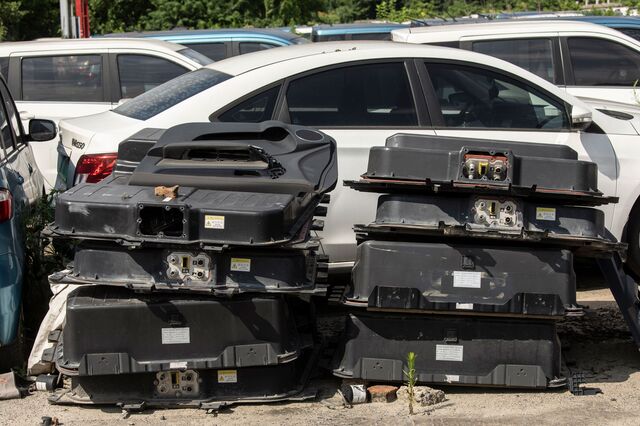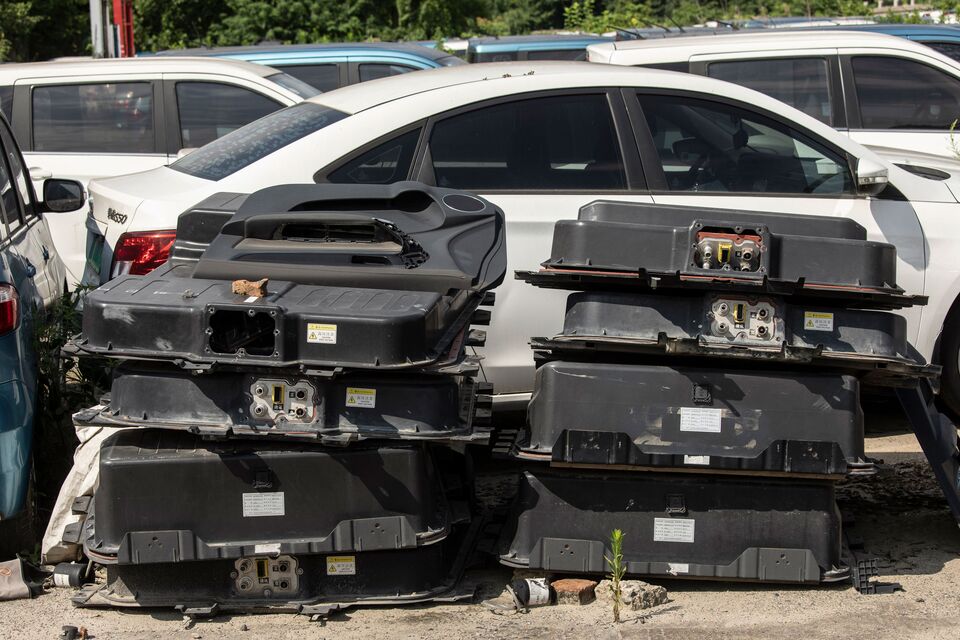 Fitch Ratings' director of China corporate research, Jing Yang, who was one of the authors of the agency's 2021 report, says now she's not surprised to hear the EV graveyards exist.
The adoption by taxi companies and fleet operators did a good job of educating consumers that EVs were safe alternatives, she said. It motivated manufacturers to invest in EV-related technologies at a time there wasn't really a consumer market for them, laying the foundation for wider demand.
"This phenomenon concludes the past of China's new-energy vehicle market, but speaks little for its future," said Yang.
Geely, which controls Youxing, said in a statement that only about 40 of the cars were owned by Caocao and it had paid the landlord of the plot to store the cars until Aug. 19. The company said the vehicles, which are still road-worthy, will be sent to other cities.
Didi, Changan and Dongfeng Forthing, whose Jingyi S50 model was also spotted at one of the sites, did not reply to questions. China's Ministry of Industry and Information Technology, which regulates EVs, did not respond to a fax. Calls to the Hangzhou government went unanswered.
A local media report from 2021 said Faststep's cars were waiting to be auctioned off. The company's official WeChat account has not been active since 2019 and phone numbers listed on an old post are no longer working.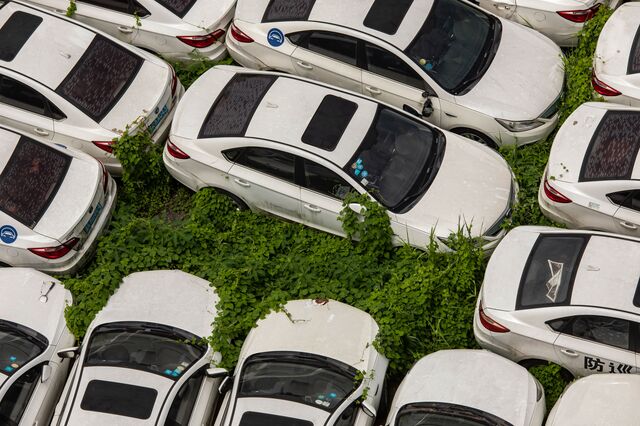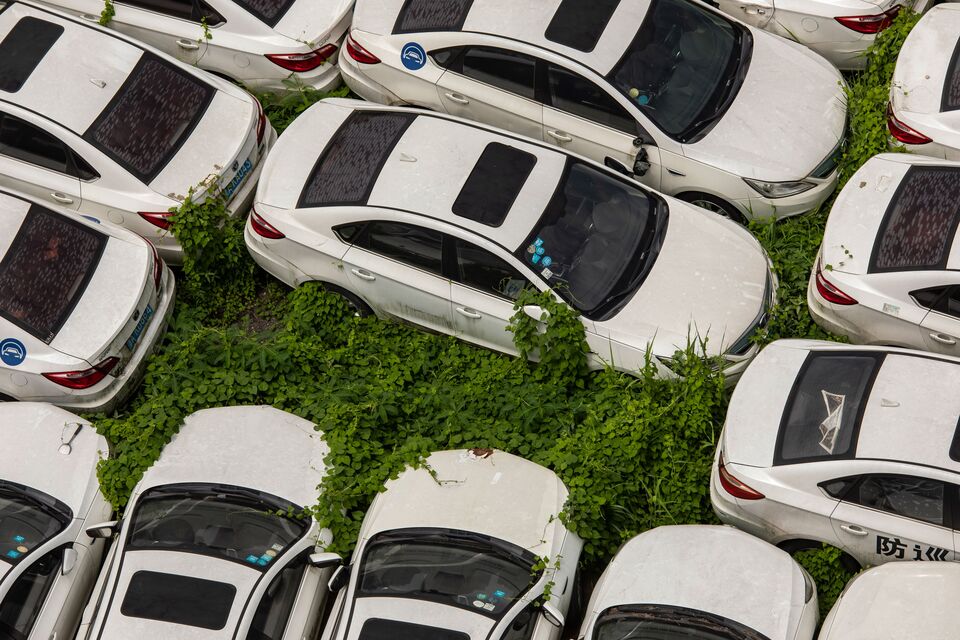 Shenzhen-based photographer Wu Guoyong was one of the first people in China to document the waste that results from frenetic development, taking striking drone shots of the piles of abandoned bicycles in 2018. In 2019, he filmed aerial footageof thousands of electric cars in empty lots around Hangzhou and Nanjing, the capital of China's eastern Jiangsu province.
China's capital market was small when the nation began opening up, he said in an interview, but now, unregulated financing is like a "tsunami."
"The shared bikes and EV graveyards are a result of unconstrained capitalism," Wu said. "The waste of resources, the damage to the environment, the vanishing wealth, it's a natural consequence."
—With Linda Lew, Chunying Zhang and Dan Murtaugh