China to Rein in Green Growth for First Time After Record Boom
Source: By Joe Ryan, Bloomberg • Posted: Monday, September 26, 2016
After installing more wind and solar farms than anywhere else on the planet, China is ratcheting back the pace of growth in an industry that's helped lower the costs of green energy worldwide.
Installations of new wind and solar farms in China is expected to drop 11 percent in 2017 from a record high this year, according to Bloomberg New Energy Finance. That would be the first decline in the history of the modern renewables business, now a little more than a decade old, for a nation that has provided about a third the investment for the industry.
After five years of breakneck growth in the supply, China's electricity demand is stagnating along with a pause in the nation's economic expansion. President Xi Jinping's government has started re-calibrating subsidies for the business, a move that's likely to hit the industry's leading manufacturers, Xinjiang Goldwind Science & Technology Co. and Trina Solar Ltd.
"China shapes the whole world market," Paolo Frankl, head of the International Energy Agency's renewable energy division, said in an interview.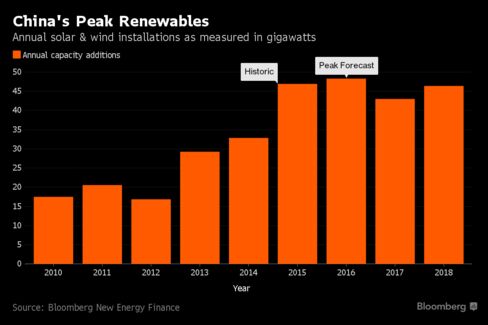 The move is crucial for renewables because China has been the single largest developer of the technology for eight years. Its demand for panels and turbines has pushed manufacturers to build factories throughout Asia, and the scale of its projects helped bring down the cost of electricity from low-polluting sources everywhere.
Record Slump
While global clean energy capacity is expected to swell 17 percent in 2017, it's still the slowest at least a decade, according to BNEF, a researcher based in London. China's wind and solar capacity will grow 41.8 gigawatts next year, down from a record 46.9 gigawatts in 2016, BNEF estimates. A gigawatt is about as much as a nuclear reactor produces.
"The insanity in China gave a false sense of security to manufacturers to ramp up new capacity," said Charles Yonts, an analyst at CLSA Asia-Pacific Markets in Hong Kong. "Now they need to slog it out."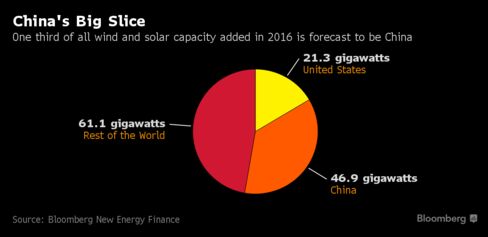 The slowdown could be short lived. China has a history of working to prop up its manufacturers, and if makers of turbines and photovoltaic panels stumble, authorities may unleash new incentives. China's current plans for investing in clean power suggest that installations will rise again by 7 percent in 2018, BNEF estimates.
'Low-Carbon Future'
"In the long run, there is no question where China is headed," said Jules Kortenhorst, chief executive officer of Rocky Mountain Institute, an energy consultant based in Boulder, Colorado. "China is committed to a low-carbon future."
Even so, the falloff expected for next year is notable because the industry has come to rely on China since it started its rapid expansion early in the last decade. Renewables manufacturers and developers are not accustomed to slow growth and now are facing tougher times, as highlighted by the bankruptcy of SunEdison Inc. in April.
China's easing stems from a shift in government green policies. In December, Chinese officials announced they would gradually start curtailing rates paid to wind and solar development starting in the middle of this year. The lower prices for clean electricity reflect declining construction costs and will be cut again in 2018. The move triggered a flurry of building in the first half by companies pushing to break ground before the lower rates kicked in.
"Policy is destiny," said Michael Liebreich, founder of New Energy Finance, said in an interview. "Markets ignite when the policy is alive."
Earnings Impact
Just how the slump will impact overall company earnings isn't clear yet. Shares of Goldwind, based in Urumqi, China, are down more than 14 percent so far this year. Trina shares are down more than 5 percent, and earnings estimates suggest the best quarter in the year ahead will produce earnings per share less than half of the best quarters in the past year, data compiled by Bloomberg show.
Based largely in China, the solar manufacturing industry, has been opening new factories in Asia and elsewhere, boosting capacity by 18 percent this year. Now the market is bracing for a glut, pressuring companies to cut prices.
"Everybody sees the slowdown coming," Xu Ying, chief financial officer at Trina, said in an interview at a conference in Las Vegas on Sept. 15. "We are very well positioned" with half of the business coming from outside China. In a reply to questions, Goldwind Vice President Ma Jinru said the company "holds a very positive view on China's wind power industry," noting that the government has targets for expansion in its five-year plan.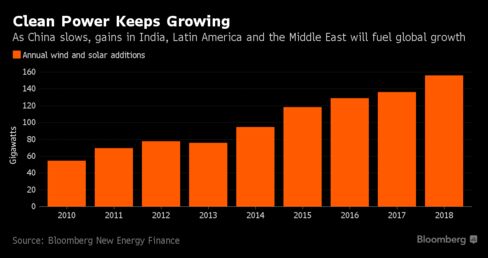 In past years, a handful of markets like China, Germany, Spain and the U.S. provided the bulk of renewable sales. Now, quicker growth in India, the Middle East and Latin America may minimize the risk that the entire industry takes a tumble because of what's happening in China, said Shayle Kann, senior vice president at GTM Research in Boston.
"There won't be a single savior market as there often has been in the past," Kann said.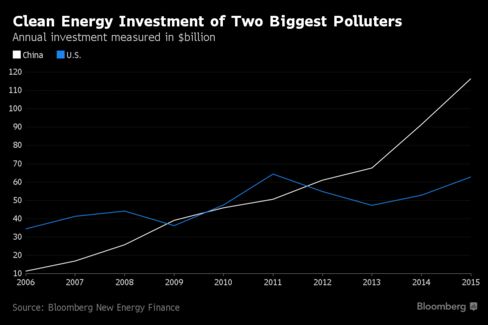 The lull may help China digest a building binge in clean energy. Developers have been adding more capacity than the grid can absorb. That left some unable to hook generators to the grid and others ordered to let turbines spin idly without a buyer for the power. The government is studying how to cut idle renewables capacity in the next decade, Nur Bekri, head of the National Energy Administration, said in June.
"There has been such breakneck growth that they need time to digest," said Scott Clausen, a research and policy associate at the American Council On Renewable Energy.
— With assistance by Joe Ryan, and Feifei Shen