California company submits plans to build solar facility in Nevada
Source: By Ben Botkin, Las Vegas Review Journal • Posted: Friday, August 11, 2017
CARSON CITY — A California company wants to build a 1,600-megawatt solar energy generation facility in Nye County.
Sandstone Solar Energy's preliminary plans for the facility on 20,000 acres of federal public lands were in a filing sent this week to the Nevada Public Utilities Commission.
The project will have eight solar towers, along with infrastructure that includes power blocks, transmission lines, access roads and water lines, according to the filing from the Santa Monica-based company. Sandstone officials did not return requests for comment Wednesday.
The proposed site is slightly north of Tonopah, a Nye County town of about 2,400 people located about 210 miles from Las Vegas.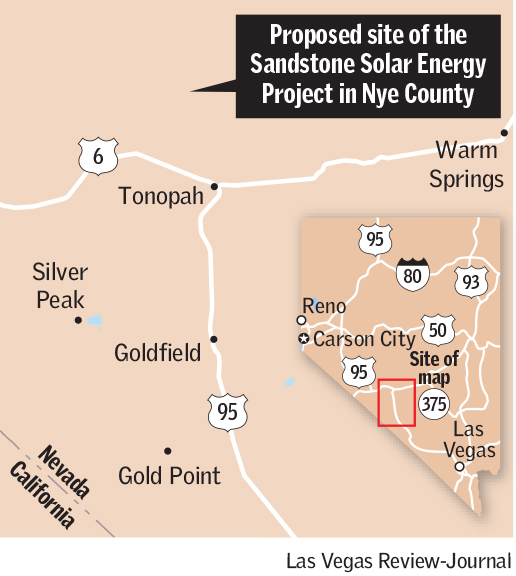 The company plans to start construction in early 2022. The project will stagger construction of the towers and take five and a half years to complete the facility, state records show. That schedule could change based on the permitting process.
Because the project is on federal land, the company needs approval from the Bureau of Land Management, a process that includes an environmental review and opportunity for public comment. The company has submitted its application with the BLM.
Once the BLM process is completed, the company will apply to the PUC for construction permits. Sandstone also has paid $10,000 to Nevada Department of Wildlife, which also must approve the application.
Contact Ben Botkin at bbotkin@reviewjournal.com or 775-461-0661. Follow @BenBotkin1 on Twitter.