Buffett's 'World-Leading' Deputy Abel Delivers With Oncor Deal
Source: By Noah Buhayar and Katherine Chiglinsky, Bloomberg • Posted: Sunday, July 9, 2017
If there's one thing
Warren Buffett
likes as much as making an acquisition, it's having a deputy land a deal for his Berkshire Hathaway Inc. and put some of his company's
huge cash pile
to work.
In recent years, Berkshire's McLane trucking unit expanded into wine-and-spirits distribution, and the Marmon manufacturing unit pursued takeovers in Europe. Just Thursday, the Clayton Homes subsidiary, known for making factory-built houses, announced the largest acquisition in its push into on-site homebuilding.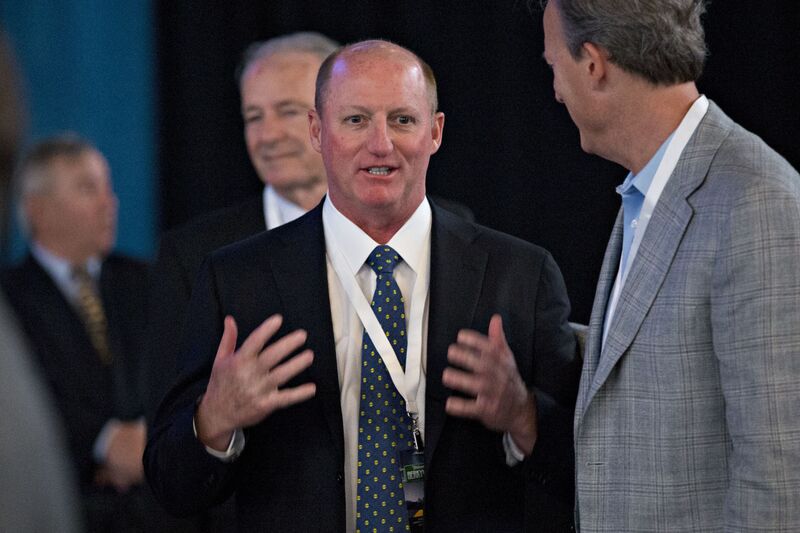 When it comes to such deals, however, there's one Buffett lieutenant that stands out: Greg Abel, the 55-year-old chief executive officer of Berkshire Hathaway Energy. BHE announced a $9 billion all-cash offer Friday to buy a reorganized Energy Future Holdings Corp., the parent company of Oncor Electric Delivery Co., Texas's largest electricity-transmission operator. That follows massive investments in wind power and other infrastructure in the U.S. and Canada over the past several years.
The latest deal "shows a lot of confidence in Greg Abel," said Jim Shanahan, an analyst at Edward Jones. "This would be a sizable bolt-on acquisition to BH Energy."
Abel's emergence takes on added importance because Berkshire is preparing for a new generation of leaders to eventually replace Buffett, 86, who has run the company for most of his adult life. The energy executive is also a director at Kraft Heinz Co., the packaged-food company controlled by Berkshire and 3G Capital.
In 2015, Berkshire Vice Chairman Charles Munger called Abel and Ajit Jain "world-leading" managers, stoking speculation that one could eventually lead Omaha, Nebraska-based Berkshire. Buffett hasn't publicly disclosed who is in line to succeed him.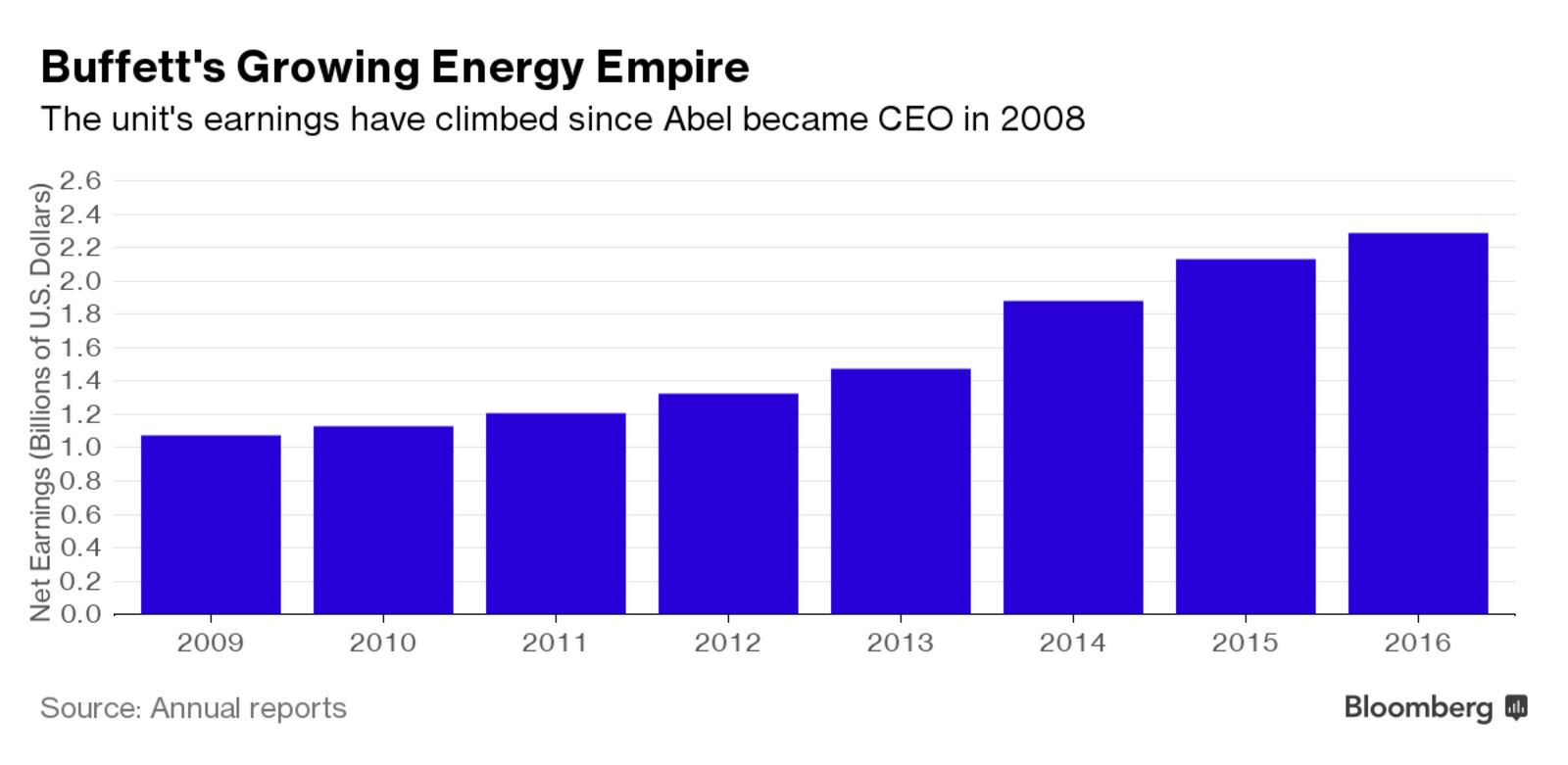 Jain, 65, specializes in deals where he takes on risk and premium revenue from other insurers, giving Buffett more funds to invest. Abel is known for his operational oversight. BHE had about 21,000 employees at the end of last year. It generated $2.3 billion of profit for Buffett's company in 2016, twice as much as in 2010.
Abel and Buffett didn't immediately respond to requests for interviews on the latest deal.
Buying Energy Future Holdings would add to that income and provide a broader base of assets on which Berkshire can earn a return. Oncor runs the largest network of electric distribution and transmission lines in Texas and delivers power to more than 3 million homes and businesses.
"This partnership combines the strengths of two companies that share a common goal of providing exceptional customer service and a commitment to invest in critical infrastructure," Abel said in the statement announcing the deal.
Capital Intensive
Bolt-on deals are not without risk. The Lubrizol unit last year had $365 million of pretax losses tied to the disposition of an oilfields solutions unit that was created partly to house businesses purchased from Weatherford International Plc. In April 2016, Buffett called that transaction a "big mistake."
Buffett has come to favor regulated capital-intensive businesses. Its utilities and the BNSF railroad give Berkshire the chance to deploy huge sums of cash in projects that generate steady returns and tend to be recession-resistant.
While the railroad industry consolidated long ago, ownership of electric utilities is more fragmented. That gives Berkshire opportunities to add to its stable. Berkshire has also become a major developer of wind and solar power, in large part because of valuable tax credits generated by the projects.
Buffett pushed into the utilities industry with the purchase of Des Moines, Iowa-based MidAmerican Energy Holdings Co. Abel was a rising executive at the power company. An accountant by training, he'd led the company's U.K. business in the late 1990s and worked on several of its acquisitions. He was named CEO of the operation in 2008.
Since then, he built the unit further with the purchase of Nevada's NV Energy for more than $5 billion and the acquisition of SNC-Lavalin Group Inc.'s AltaLink to expand in electricity transmission in western Canada. His operation was later renamed Berkshire Hathaway Energy, highlighting its growing importance within the conglomerate.
Buffett assured shareholders at his annual meeting in May that he'll continue to count on the energy executive for growth.
"I'd be surprised if 10 years from now we don't have significantly more money in, not only wind and solar, but we probably own more utility systems than we own now," Buffett said, citing the "extraordinary" job by Abel and his team. "It's hard to imagine a better-run operation."