Brooklyn Plans to Avoid Blackouts With Utility-Disrupting 'Microgrids'
Source: By Chris Martin and Alex Nussbaum, Bloomberg • Posted: Thursday, September 10, 2015
If you want to see how U.S. utilities could lose control of the electricity industry, keep an eye on Brooklyn's Red Hook neighborhood, which spent a week in the dark after Hurricane Sandy hit New York in 2012.
Red Hook is planning to use a mix of solar panels, battery storage and small wind turbines to create a "microgrid" that can power local apartment buildings, businesses and a community center, as well as ensure the neighborhood can successfully endure another big storm.
New York state has approved preliminary plans for 83 such microgrids. While most, including Red Hook's, remain in the planning stages, some have drawn support from companies that include General Electric Co., NRG Energy Inc., Siemens AG and Hitachi Ltd. It's an effort that may help erode the hold big utilities have had over U.S. power generation for more than a century.
"The time for pilots and studies is over," said Richard Kauffman, the state's chairman for energy and finance who was appointed by Governor Andrew Cuomo to oversee the transition. "We're now building the grid of the future today."
The growth of microgrids in North America may reach 2.8 gigawatts within five years, enough to power about 650,000 homes, up from about 1.2 gigawatts today. Most of that will come in states such as New York and California with higher than average power costs, according to GTM Research, a Boston-based clean-energy research company.
Power Shift
The emergence of small, local systems will reduce the need for massive power plants in faraway parts of the state, Kaufmann said. According to the Rocky Mountain Institute, this shift in the power model may eventually reduce utilities' annual spending on grid infrastructure by about $13 billion — expenses the power companies will no longer be able to pass on to customers. Instead, utilities will face increasing pressure to buy electricity and power-management services from the local suppliers that are taking on the task of installing microgrids, he said.
The growing focus on microgrids is also bound to attract new companies seeking to gain a share of the market, according to Audrey Zibelman, who chairs the New York Public Service Commission that regulates utilities. "I expect all solar companies will want to participate," she said. "We want lots of clean-energy solutions."
While the work is mostly being handled in New York by local developers, global power companies are starting to sign on. GE is advising projects in Croton-on-Hudson, which is outside New York City, and in Greenport on Long Island. NRG is helping design one for Long Beach.
State Grants
The Red Hook project has already won a $100,000 grant from the state for a feasibility study, said Gita Nandan, co-chair of the Red Hook NY Rising Community Reconstruction Planning Committee. Her group is preparing for the second phase of program, which will begin accepting proposals in November and provides grants of $1 million. The state may eventually provide as much as $6 million to build the microgrid, she said.
"We're looking to serve as a model for other communities," she said. Of the 83 proposals, the state expects about 10 to move to the second round and seven to advance to the third stage, and has budgeted about $40 million for the microgrid program.
At a recent meeting in Red Hook, two dozen residents listened as Nandan provided the first description of a project she said could provide much, though not all, of the electricity needed in the neighborhood. Depending on how many people it serves, the microgrid will offer 2 megawatts to 10 megawatts of capacity, Nandan said.
Essential Services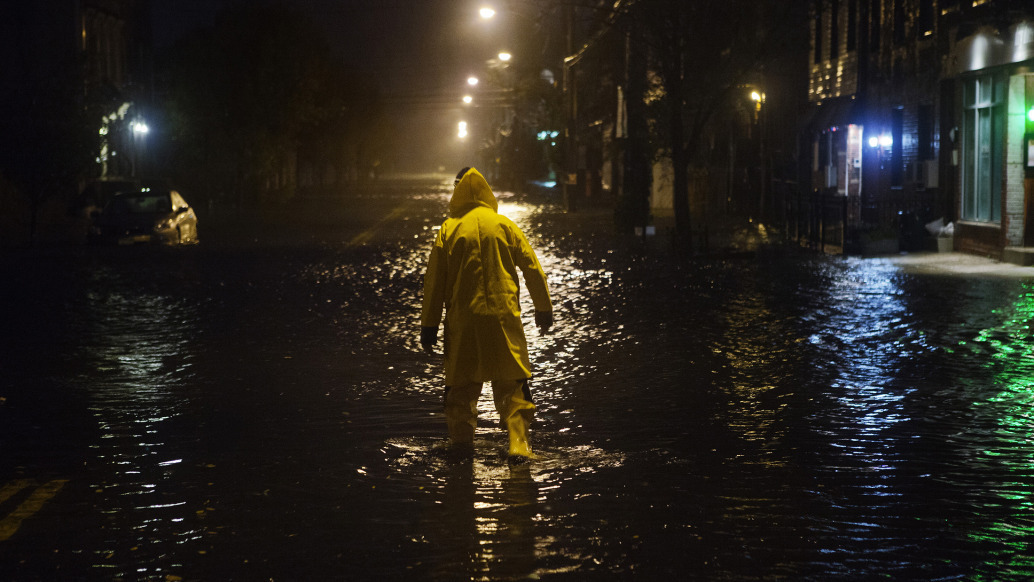 Additionally, if a storm knocks out the main grid as it did during Hurricane Sandy, the microgrid can ensure that local health clinics, community services and other essential services stay up and running, she said.
Some utilities are already joining in. While microgrids may reduce the amount of power utilities can sell, the shifting model also gives them the opportunity to compete for customers outside their normal service areas, said Ken Daly, president of New York operations for National Grid Plc, a utility serving customers in New York, Massachusetts and Rhode Island. For example, a growing number of utilities are starting to provide rooftop solar systems or energy-efficiency services.
"Our industry will be transformed by technology and regulatory changes over the next three to five years," he said. His company is already advising customers on a microgrid project in Freeport, Long Island.
"The opportunities are greater than the risks," Daly said.
In Freeport, a shoreline community hit hard by Sandy, officials envision a 10-megawatt system that could keep lights on across Long Island's south shore during an emergency. Utilities should see microgrids as an important backup for their services, Mayor Robert Kennedy said in a telephone interview.
"Every surrounding village in Nassau County, they'd be able to tap into this immediately," Kennedy said. "We're looking to get as close as we can to uninterruptable power."