Brent Oil Tops $70 With Bullish Demand Outlook Spurring Rally
Source: By Alex Longley, Bloomberg • Posted: Tuesday, May 18, 2021
Brent oil topped $70 a barrel with optimism building about the demand outlook in key regions such as the U.S. and Europe.
The global benchmark added as much as 1.1%, reaching its highest level since March 8, but eased slightly later. Brent hasn't closed above $70 since May 2019.
Oil has joined other commodities in a blistering rally this year, emerging as a hedge against inflation, and with demand rebounding from the depths of the pandemic. In the U.S. even the lagging aviation industry is showing signs of picking up. There's optimism in Europe too with transport gauges recovering and helping offset the spread of the coronavirus in parts of Asia, most notably India.
Also see: $70 Oil, $200 Iron, $10,000 Copper: Commodities Smash Milestones
Crude's gains though are having an impact on pump prices. Aided by last week's stoppage on the Colonial Pipeline system, U.S. gasoline topped $3 a gallon recently for the first time since 2014.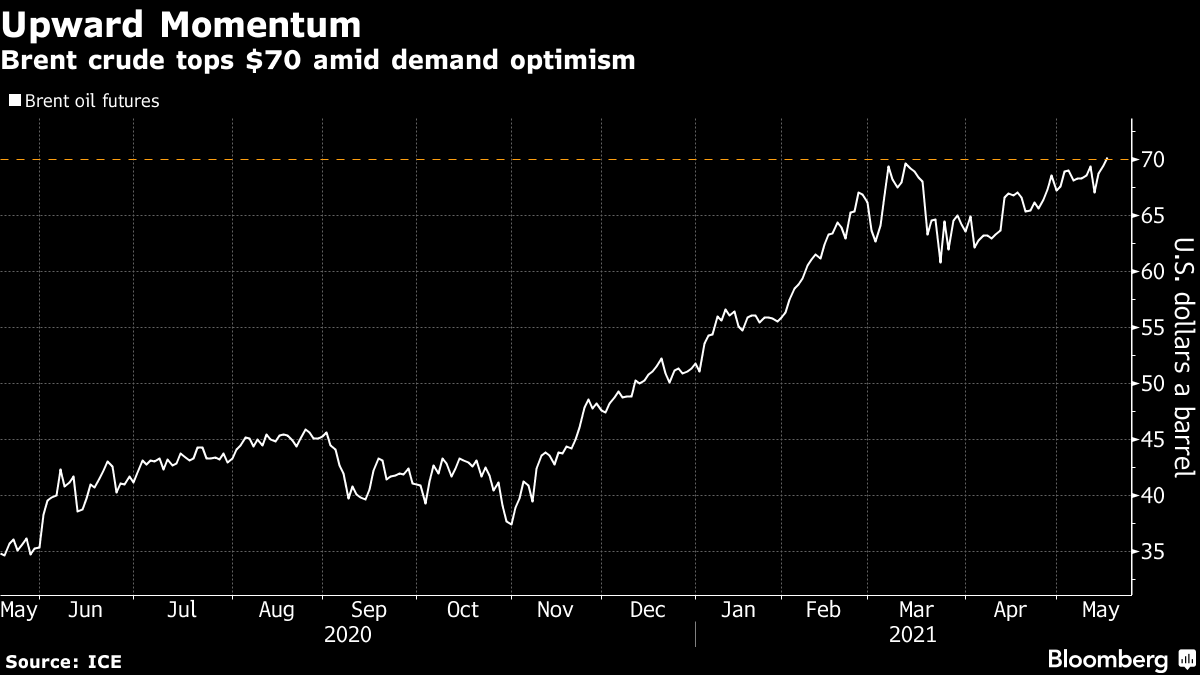 Traders are optimistic about a bullish next few months. Much of Wall Street is calling for higher prices, with Goldman Sachs Group Inc. talking up the prospects of $80 a barrel. On Tuesday, a weaker dollar also helped drive crude higher. At the same time, the Organization of Petroleum Exporting Countries and its allies are boosting supply to meet rebounding demand.
"Hopes of a rise in demand and a weaker dollar are pushing oil prices higher," said Hans van Cleef, senior energy economist at ABN Amro. "Fundamentally there are no reasons for a further rally. There is more than enough supply available to meet any rise in demand for the coming two-three years."
Last week, the International Energy Agency marked a major moment in the market's recovery, saying that the surplus stockpiles that have built up since the pandemic began have cleared.
That's reflected in the oil market's structure which is now largely trading in a bullish backwardation — where nearby contracts are more expensive than ones further out. The pattern generally indicates tight supply.
— With assistance by Keith Gosman, and Saket Sundria