Big Money Rushes Into Carbon Capture. Can It Deliver This Time?
Source: By Akshat Rathi, Bloomberg • Posted: Tuesday, May 16, 2023
From the US climate bill to the United Nations COP summit, leaders in government and business are pushing for the technology like never before.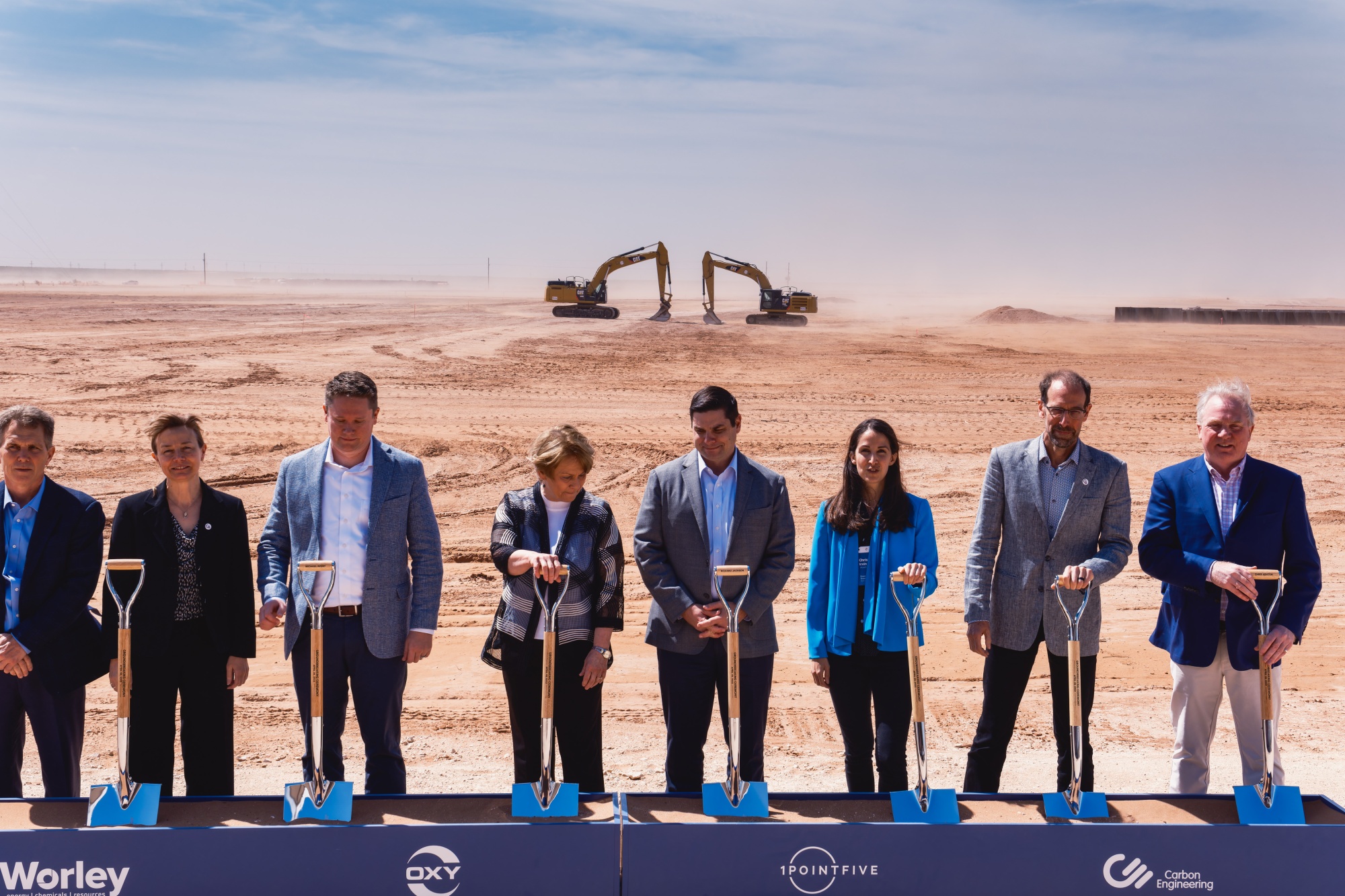 The prospect of trapping carbon dioxide and storing it away so it can't warm the planet has always been tantalizing. Now governments and companies are throwing their weight behind the technology as a way of solving the climate problem like never before.
The oil and gas industry has long argued that real emissions reductions can be delivered by removing CO2 from smokestacks and burying it deep underground — an approach known as carbon capture and storage (CCS). But after decades of failing to reach the scale needed to make a real difference, the people responsible for approving generous subsidies and directing billions in investment want proof that this time it will really work.
As part of rules proposed last week to lower carbon pollution from US power plants, President Joe Biden will require some plants to build CCS or shut down. The regulation comes after incentives in the form of tax credits of up to $85 a ton of captured CO2 were allocated in Biden's landmark climate bill, alongside infrastructure legislation with $8.5 billion to boost CCS technology. Those steps will see the US host nearly half of the world's CCS capacity by 2030, according to BloombergNEF.
Earlier this month, COP28 President Sultan Al Jaber signaled that CCS will also  play a major role in the annual United Nations climate summit to be hosted by the United Arab Emirates.
Private companies are also jumping in. JPMorgan Chase & Co., Alphabet Inc., Meta Platforms Inc., McKinsey & Co. and others have contributed to a $1 billion fund that will buy carbon-removal credits to support technologies that draw down CO2 that already exists in the atmosphere. Microsoft this week announced a deal to buy similar credits from the Danish energy giant Orsted A/S. These technologies to remove existing carbon pollution from the air will be needed at scale in the latter half of the century to keep global warming below 1.5C, but they are much more expensive than trapping emissions from smokestacks.
"It's an exciting year for the industry," said Jessie Stolark, executive director of Carbon Capture Coalition, a US lobby group. "But we're not suggesting it's a silver bullet. It's important to deploy carbon-management technologies alongside a full portfolio of emissions-reduction strategies."
CCS is not just one thing. It's an umbrella term for a set of technologies that separate CO2 — the main greenhouse gas — from a mixture of gases and then find a way to ensure it does not enter the atmosphere. Depending on the mixture of gases involved (if the facility burns coal or making cement, for example) and depending on where the gas is stored (if it's buried underground or turned into commercial products), the cost of building CCS plants can vary a lot.
The first large-scale carbon capture plant was built in the 1970s. Its job was to separate CO2 from natural gas, then inject the greenhouse gas underground to extract more oil from a depleting reservoir. That's what the vast majority of the world's captured CO2 is currently used for, according to the Global CCS Institute. Using CCS specifically to help mitigate global warming only started in the 1990s, and still remains on a smaller scale.
Despite its 50-year history, all the CCS plants deployed globally capture only about 40 million tons of CO2 each year. That's less than 0.1% of global greenhouse-gas emissions. If every plant in the pipeline collated by the Global CCS Institute gets built, that would grow to about 0.5%. But will the boom happen? The past decade is littered with CCS plants that were announced to great fanfare but were never constructed, along with some multibillion-dollar failuresafter building began.
The majority of CCS plants in the world are operated by oil and gas companies. That's because the industry has developed the expertise needed to safely handle large volumes of gas. However, unless CCS was tied directly to revenue in the form of oil or carbon taxes, few plants found viable business models thatjustified significant investment.
Listen to Occidental Petroleum's Vicki Hollub on the Zero podcast talk about how carbon capture is crucial for the US oil company's future.
On the other hand, there is a growing demand for carbon-removal credits that help global corporations credibly meet net-zero goals. That has, in turn, led to a large number of startups developing these technologies and shows that CCS can thrive with alternate business models outside the confines of large fossil-fuel corporations.
The failure of CCS to live up to its grand promises is why the support this time also comes with a stronger note of skepticism. "We can't sit here and just pretend we're going to automatically have something we don't have today," US climate envoy John Kerry told the AP. "Because we might not. It might not work."
Al Jaber, who also heads the UAE's oil giant Abu Dhabi National Oil Co., has said that COP28 should focus on getting the world on track to halving emissions by 2030. But serious COP watchers, including former United Nations climate chief Christiana Figueres, aren't sure whether Al Jaber's push for CCS will get us there. "We do not have carbon capture commercially available and viable over the next five to seven years," she said on the podcast Outrage and Optimism. "So just from the timing issue… [it] cannot be where you put your eggs into that basket."
In a world on track to reach net-zero emissions by mid-century,  global CCS capacity needs to reach 1.3 billion tons of captured carbon annually by 2030, according to the International Energy Agency. That's roughly 30 times the capacity today. The goal is ambitious and the industry has to show progress, according to IEA chief Fatih Birol wrote in a LinkedIn post last week. "This year is a unique opportunity for the oil and gas industry to show it's serious about tackling climate change," he said.
Akshat Rathi writes the Zero newsletter, which examines the world's race to cut emissions. You can email him with feedback. His book Climate Capitalism will be published later this year.