Biden Touts Union Jobs in $2 Trillion Plan to Build Clean Energy
Source: By Jennifer Epstein, Bloomberg • Posted: Thursday, July 16, 2020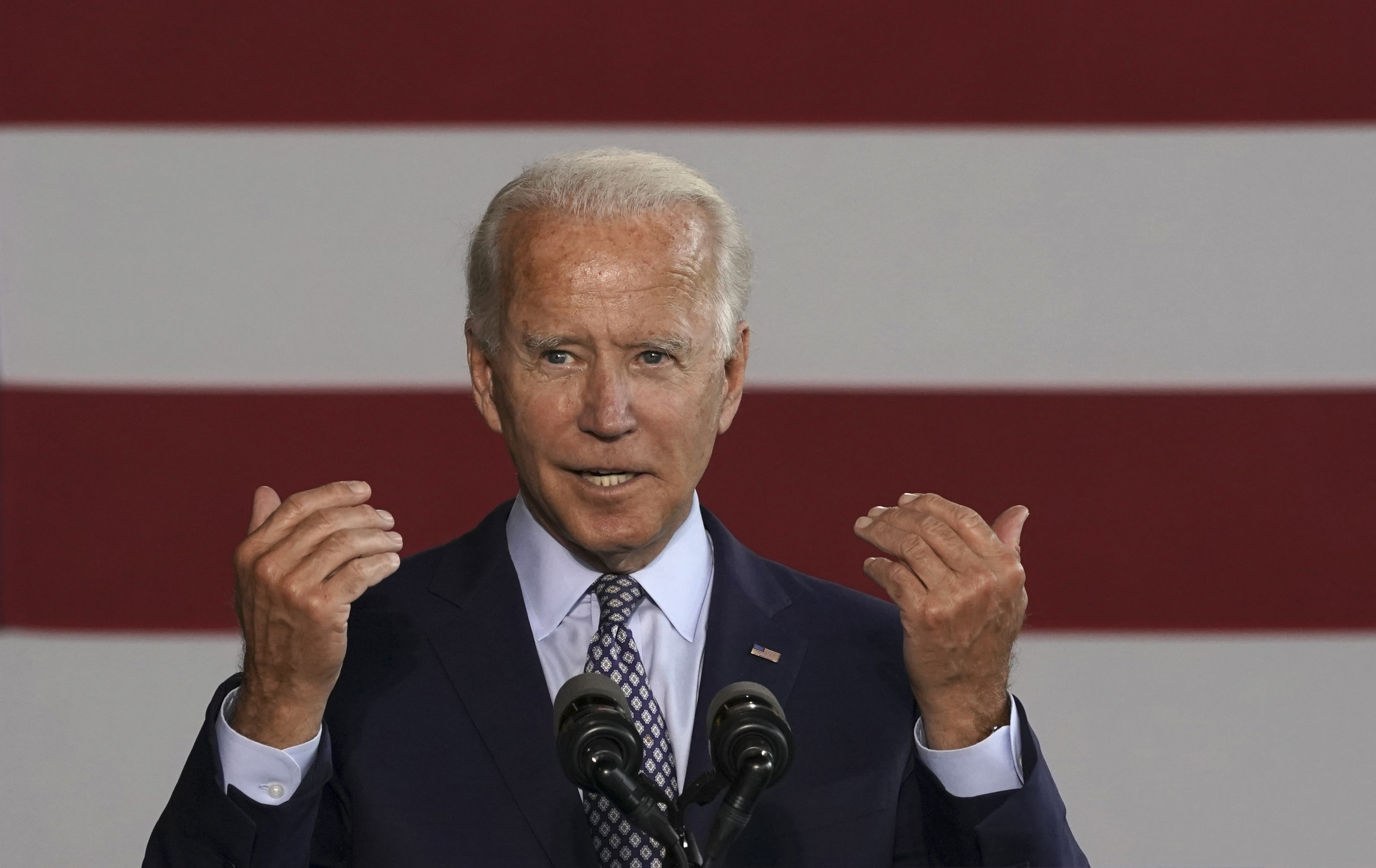 Joe Biden unveiled plans Tuesday to spend $2 trillion creating a clean energy economy, with ambitions to spur millions of union jobs building the wind turbines, sustainable homes and electric vehicles needed to rapidly throttle U.S. greenhouse gas emissions driving climate change.
"These investments are a win, win, win for our country — creating jobs, cutting energy costs, protecting our climate," the Democratic presidential nominee said as he outlined a blueprint to spur economic growth through investments in clean energy and infrastructure, building on proposals he released earlier in his campaign.
Part of his larger economic plan to pull the U.S. out of a pandemic-prompted recession, Biden's clean energy plan co-opts a hallmark of President Donald Trump's re-election efforts by focusing on rebuilding the nation's infrastructure.
"Here we are now, with an economy in crisis, but with an incredible opportunity not just to build back to where we were before, but better, stronger, more resilient and better prepared for the challenges that lie ahead. And there's no more consequential challenge that we must meet in the next decade than the on-rushing climate crisis," he said in the speech, which was carried live by CNN, MSNBC and Fox.
Biden's plan seeks to balance the desires of progressive Democrats who are demanding bold action to confront climate change while also protecting swing-state and manufacturing jobs — and Biden repeatedly stressed that his policies would create well-paying, unionized jobs.
The former vice president made clear Tuesday that he wasn't shying away from the desires of the left, saying his ideas aren't "pie-in-the-sky" and adopting former primary opponents Elizabeth Warren's and Bernie Sanders's language about fellow Democrats "tinkering around the edges" with moderate policy proposals — comments that were perceived as jabs at Biden at the time.
"If I have the honor of being elected president we won't just tinker around the edges. We're going to make historic investments that will seize the opportunity and meet this moment in history," he said.
The Sunrise Movement, a progressive environmental group that frequently opposed Biden during the primary, suggested that his plan was a start.
"It's no secret that we've been critical of Vice President's Biden's plans and commitments in the past. Today, he's responded to many of those criticisms," the statement from Sunrise Movement co-founder Varshini Prakash said. "Vice President Biden must build on these commitments and make these actions an immediate and urgent priority on day 1."
Biden also outlined a goal of "a carbon pollution-free power sector by 2035" — a move that would require rapid acceleration in the deployment of renewable wind and solar power as well as electricity storage, while continuing to rely on emission-free nuclear power. That rapid transition will enable the country to meet the threat of climate change while creating millions of jobs, according to campaign documents.
Biden has set a goal of spending the $2 trillion over four years on renewable energy infrastructure, getting cleaner cars on the road and creating zero-emission mass transit systems. The spending would also boost sustainable home building, clean energy innovation and conservation.
That pledge replaces an earlier initiative to dedicate $1.7 trillion over 10 years to fighting climate change, and it adds to the $3 trillion Biden committed last year to spend on infrastructure and clean energy, as well as the $700 billion in new spending to spur manufacturing and innovation that he laid out last week.
Earlier: Biden Plots Energy Path With Eye on Left Flank, Swing-State Jobs
A campaign official promised more details on how Biden would pay for his new proposals as well as the other pieces of his Build Back Better economic plan after the speech. The official, who asked not to be identified prior to Biden's announcement, said that tax increases on corporations and the wealthy that Biden has already proposed would be part of the plan. The campaign has said those tax increases would raise $4 trillion over a decade. Additional spending would likely be treated as one-time stimulus, meaning that Biden wouldn't need to find a way to pay for the costs, further adding to the deficit.
Representative Steve Scalise, the House Republican whip from Louisiana, called Biden's plan "Solyndra on steroids," a reference to the solar manufacturer that received a $535 million loan guarantee as part of the 2009 recovery package and later declared bankruptcy. In a call with reporters Tuesday, Scalise predicted more such cases as a result of Biden's plan.
The Trump campaign also slammed the Biden plan, saying it would "devastate American families and businesses."
Senior Biden campaign officials emphasized that his proposals cannot be easily undone by a successor, unlike Trump's deregulatory agenda.
Washington state Governor Jay Inslee, who first charted the 2035 carbon-free power target Biden is now adopting, applauded the initiative in an emailed statement, saying it showed Biden is "serious about defeating climate change, and has a road map to become the climate president that America needs."
Labor is a key ally
Some arms of organized labor, key allies for Democrats, seemed to like the plan, while others could emerge as an obstacle. Biden's emphasis on addressing climate change risks alienating blue-collar workers in Pennsylvania, Ohio and other swing states now producing natural gas and refining oil into gasoline.
The United Auto Workers welcomed the plan, calling it in an unsigned statement a "win-win" that "will ensure that the industry will thrive for decades to come with good paying union jobs."
The Biden campaign says he would create 1 million new jobs in the American auto industry. Spending on transit would ensure that American cities with more than 100,000 residents would have access to zero-emission public transportation, built by union workers. Organized labor would also be employed upgrading 4 million buildings and weatherizing 2 million homes over the next four years.
Environmental Justice
The initiative also seeks to emphasize environmental justice, creating special divisions of the EPA and Justice Department dedicated to ensuring protection for front-line communities that are most exposed to the effects of pollution including criminal charges.
Gina McCarthy, head of the Environmental Protection Agency under President Barack Obama and now president of the National Resources Defense Councilapplauded the plan as "the most ambitious we have ever seen from any president in our nation's history."
Fracking
Environmentalists have pressured Biden to shut down hydraulic fracturing, the technique used to extract oil and gas from some 90% of U.S. wells, but Biden has been cool to the idea, telling Pennsylvania's WNEP-TV last week that "fracking is not going to be on the chopping block."
Nevertheless, Biden has promised to curtail oil and gas development on federal lands and waters managed by the U.S. government, and a senior campaign official said Tuesday Biden is committed to no new fracking on federal lands.
(Updates throughout with quotes, details)