Battle over wind energy line heads to Missouri Senate
Source: By Kurt Erickson, St. Louis Post-Dispatch • Posted: Tuesday, April 5, 2022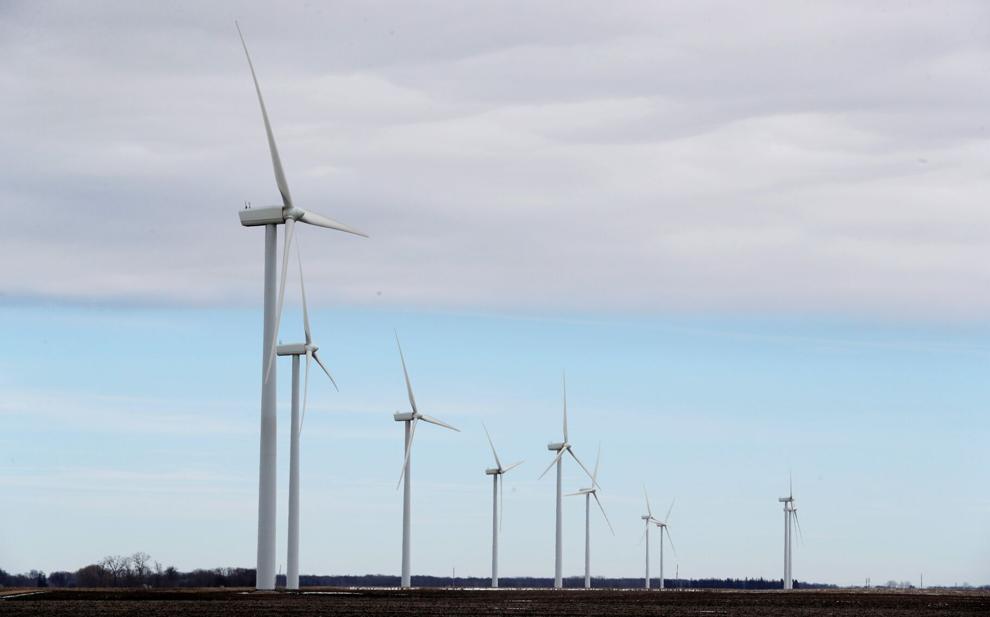 JEFFERSON CITY — A top Senate leader is predicting Missouri lawmakers will pull the plug on a controversial wind-energy power line before they adjourn next month.
"We're going to push that through," Rowden said.
His prediction comes as a Senate panel is set to hear testimony Tuesday on a House bill taking aim at the power line, which would carry wind energy from Kansas across Missouri and Illinois before hooking into a power grid in Indiana that serves eastern states.
The House bill is designed to hamper the project's developers, Invenergy Transmission, from pursuing condemnation if landowners won't sell easements, which means allowing a piece of their land to be used for the power line.
Invenergy spokesman Patrick Whitty slammed the House bill, calling it "an astonishing move in the wrong direction" at a time when global energy is in a security crisis.
"Among its many other impacts, the bill would unconstitutionally and retroactively kill Missouri's largest energy infrastructure project, the Grain Belt Express, a project essential to American energy security that will connect millions of consumers to domestically produced, affordable, and reliable clean energy," Whitty said. "The energy from the Grain Belt Express is the equivalent of 15 million barrels of oil annually, produced and delivered right here in the Midwest."
The project also has garnered the support of Sen. Bill White, R-Joplin, who says it will invest millions of dollars in the state's rural areas, boost the local energy supply and help ensure energy independence.
White said Monday he had not yet reviewed the latest House bill, which moved out of the House last week on a 102-41 vote. But, he said retroactively targeting the company after it has already started buying land would be unconstitutional.
The company has been moving forward under the cloud of the legislative efforts to kill the project.
"Grain Belt Express has now completed voluntary right-of-way acquisition on 71% of the route in Missouri and Kansas and paid out over $10 million in upfront payments to signed landowners, and we look forward to continuing to advance this project for the benefit of all Missourians and American energy independence," Whitty said.
Out of 1,700 total parcels, Grain Belt Express has filed 12 eminent domain lawsuits in Missouri and Kansas "as a last resort." Two of those have already reached a voluntary settlement and the rest are pending.
Grain Belt Express said it is paying landowners 110% of the market value of the land. Additionally, the company pays landowners $18,000 for every transmission structure sited on their property, which is not typical for Missouri transmission projects, Whitty said.
All of the state's major agriculture lobby groups support the legislation.
During a hearing in February, Matt Arthur, who operates a flower growing operation west of Columbia, urged lawmakers to stop the project by approving the House bill.
"As a farmer in central Missouri I strongly oppose the use of eminent domain when agricultural land is involved. We should prioritize keeping our farmland productive and raise the bar for any utility installations that would cross or impinge upon ag land," Arthur said.
Labor unions, environmental groups and the Missouri Association of Municipal Utilities oppose the changes.
Jake Hummel, a former state senator from St. Louis who now oversees the Missouri AFL-CIO, said the project will create jobs as it crosses the property of 570 landowners in eight northern counties.
"The quest for American-made energy, while creating 1,500 Missouri jobs, is an opportunity our state cannot afford to pass up," Hummel said.
Michael Berg of the Sierra Club's Missouri chapter said the legislation is short-sighted in a time when energy production is evolving.
"More legal barriers for wind energy transmission give an unfair advantage to the highly polluting fossil fuel industry," Berg told members of the House Judiciary Committee.
In addition, Berg said more than a dozen communities have signed up to purchase power from the line, including Kirkwood, Columbia, Hannibal and Farmington.
"The power delivered along this line is expected to save dozens of rural Missouri communities more than $12 million annually," Berg said.
As an added benefit, Invenergy says it will use the power lines to also offer broadband service that could bring improved internet to over one million rural Missourians, including 250,000 within 50 miles of the transmission line.