Automakers Say They Won't Let Tesla Steal the Truck Race
Source: By David Welch, Bloomberg • Posted: Monday, January 17, 2022
They're fielding electric Silverados and F-150s to defend the most profitable part of their market.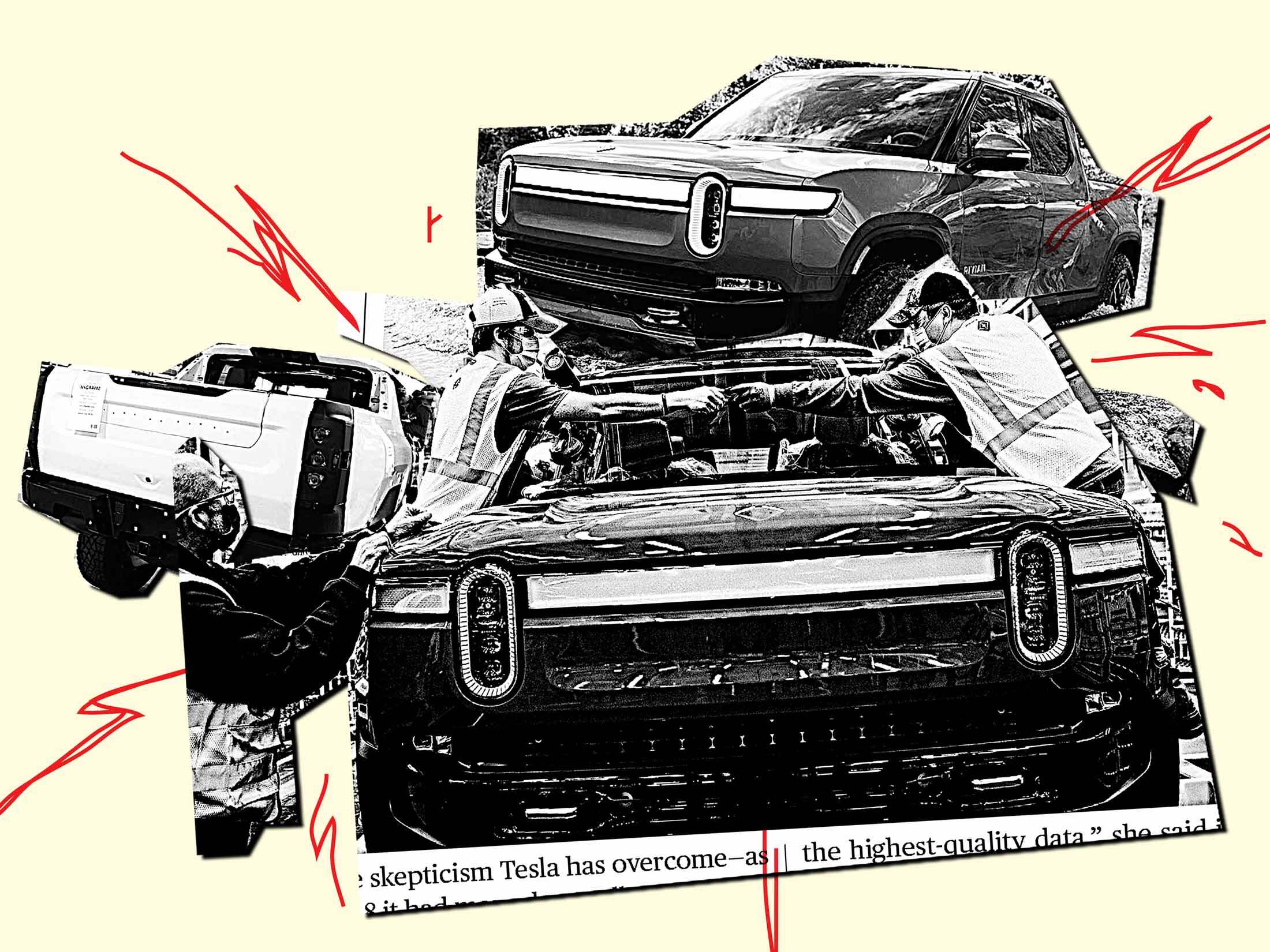 In the summer of 2019, General Motors Co. President Mark Reuss teased out the idea that the company's first electric pickup wouldn't necessarily be designed for the job site but would be something with "more style and capability for off-road." The implication then was that electric trucks, with their high cost and heavy batteries, weren't quite ready for work duty. True to Reuss's word, GM's first plug-in pickup was the $110,000 Hummer EV, a high-end ride that went into production in November.
On Jan. 5, GM Chief Executive Officer Mary Barra told the world a different story. The new Silverado she showed off virtually at the CES 2022 electronics show will start selling in the spring of next year, beginning with a $39,000 work truck version that's ready for towing and hauling. A more expensive version aimed at weekend trail riders and suburban cowboys will hit showrooms in the fall of 2023.
Why the turnabout? Batteries have gotten cheaper and better, for one, which means it's easier to sell plug-in pickups such as a Silverado or Ford Motor Co.'s F‑150 Lightning for around $40,000. The other reason is that truck owners are telling GM and Ford researchers they're ready to plug in. Battery power has captured the imagination of retail buyers, and commercial customers are increasingly lured by the lower cost of operation and environmental, social, and governance benefits of adding zero-emissions trucks to their fleets, says Steve Majoros, Chevrolet's marketing director.
Majoros, citing GM's consumer research, says pickup truck buyers show the fastest increase of any segment in considering an electric vehicle for their next purchase. The Silverado announcement generated lots of interest, and the $105,000 fully loaded version of the Chevy sold out in just 12 minutes, he says.
Ford has said that almost 200,000 customers put down $100 to reserve the electric F-150 Lightning pickup, set to go on sale this spring. Demand is so strong that the company says it will nearly double planned production, to 150,000 a year.
GM is hinting that it may need more production capacity for the electrified Silverado than it has at Factory Zero, its EV plant in Detroit, which also builds the electric Hummer pickup, and will churn out a battery-powered Hummer SUV; the Cadillac Escalade; Chevy and GMC pickups; and the Origin driverless shuttle. "Silverado is a priority of the company, and Silverado EV will be a priority for the company," Majoros says. "Knowing the kinds of volumes that we expect and knowing what's going to happen in this market, Factory Zero is the beginning."
GM and Ford, which every year vie for the lead in full-size pickup sales, expect competition in the form of an electric Ram from Stellantis NV (formerly Fiat Chrysler Automobiles) plus a growing convoy of newcomers. Tesla Inc. is preparing to build its Cybertruck, and startup Rivian Automotive Inc. began production of its $67,500 R1T pickup in October.
Expert insight into the future of carsGet Bloomberg.com's Hyperdrive newsletter.
Sign up to this newsletter
Ford started manufacturing the Lightning before the electric Silverado, so it has a head start, but the GM truck can go 400 miles on a charge, vs. the Lightning's 300 miles, an issue for buyers with range anxiety. The Cybertruck is promising up to 500 miles, which could give it an edge since trucks lose range when hauling and towing. Still, the huge base of pickup owners already driving Chevys, Fords, or Rams could help the established truckmakers in the battle against Tesla and other upstarts.
Analysts see growth, but less than what the automakers expect. Jeff Schuster, LMC Automotive's president of Americas operations and global vehicle forecasting, predicts sales of 125,000 electric pickups next year. Ford alone could be building more than that.
AutoForecasting Solutions predicts 300,000 electric pickups sold in 2024, with 40% of them being Tesla Cybertrucks. That means Ford, Rivian, and GM—which will be selling the electrified Hummer, Silverado, and GMC Sierra by then—would be fighting for the rest.
"There's a lot of production being built up," says Sam Fiorani, vice president for global vehicle forecasting at AutoForecasting Solutions. "The problem is we don't know how deep this pool is. When you start building tens of thousands or hundreds of thousands, then you learn how many people are willing to pay."
More e-trucks are coming. Ford will have even larger pickups for heavy towing and hauling. The Silverado initially will tow 10,000 pounds and eventually get up to 20,000 pounds, which is more than what most versions of Chevy's gasoline-powered pickups can haul. Besides, says Majoros, electric pickup trucks are just better on the road. All-wheel steering makes for tighter turns. The placement of the battery pack means the weight of the vehicle is better balanced—eliminating the fishtailing that occurs on gasoline-fueled trucks because almost all the weight is in the engine bay up front. "The days of an ill-riding, poorly mannered, low-tech utilitarian thing is not really a thing anymore," he says. "We struck on something that will go after barriers to EV adoption and truck adoption."
 
Read next: Your Next Car Will Probably Be an Electric Pickup Truck