Automakers Plan Electric Car Blitz Even as Tesla Burns Billions
Source: By David Welch, Bloomberg • Posted: Monday, October 2, 2017
Here are two facts that defy logic: By the end of the year, electric-car maker
Tesla Inc.
will have burned through more than $10 billion without ever having made 10 cents. Yet companies around the world are lining up to compete with it.
Almost 50 new pure electric-car models will come to market globally between now and 2022, including vehicles from Daimler AG and Volkswagen AG. Even British inventor James Dyson is getting into the game, announcing last week that he's investing two billion pounds ($2.7 billion) to develop an electric car and the batteries to power it.
The reasons for chasing Tesla are part city hall, part show business. Regulators in Beijing have laid out a plan to mandate electric vehicle production in China, while California requires carmakers to build more EVs or be forced to buy credits from rivals. At the same time, Tesla Chief Executive Elon Musk and his sleek cars have captured the imagination of Americans to the point where consumers and investors are throwing money at his Silicon Valley company.
"Nobody doubts that the future will be electric," said Erich Joachimsthaler, founder and CEO of brand-strategy firm Vivaldi, which works with German luxury carmakers. "The car companies dragged their feet with electric. Now they are being dragged into it by Tesla and by regulations."
Crowded Field
In North America alone, the number of electric vehicles will soar to 47 by the first quarter of 2022 from 24 in the third quarter of this year, according to data from Bloomberg New Energy Finance. China's EV market will go to 80 from 61, and European buyers will have 58 electric choices, up from 31. Globally, there will be 136 EVs on the market by the end of that year, and that doesn't even include the hybrid models or fuel cells.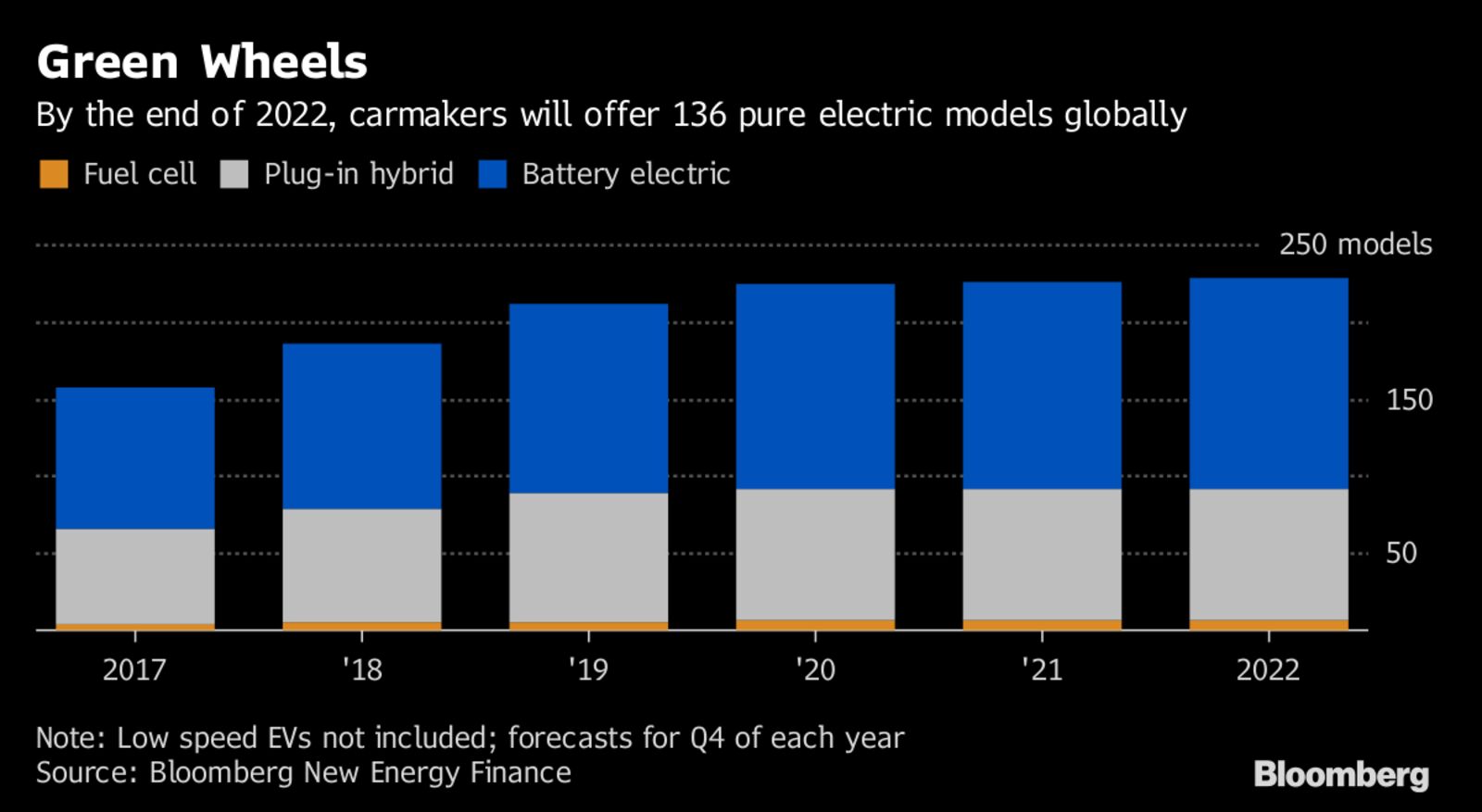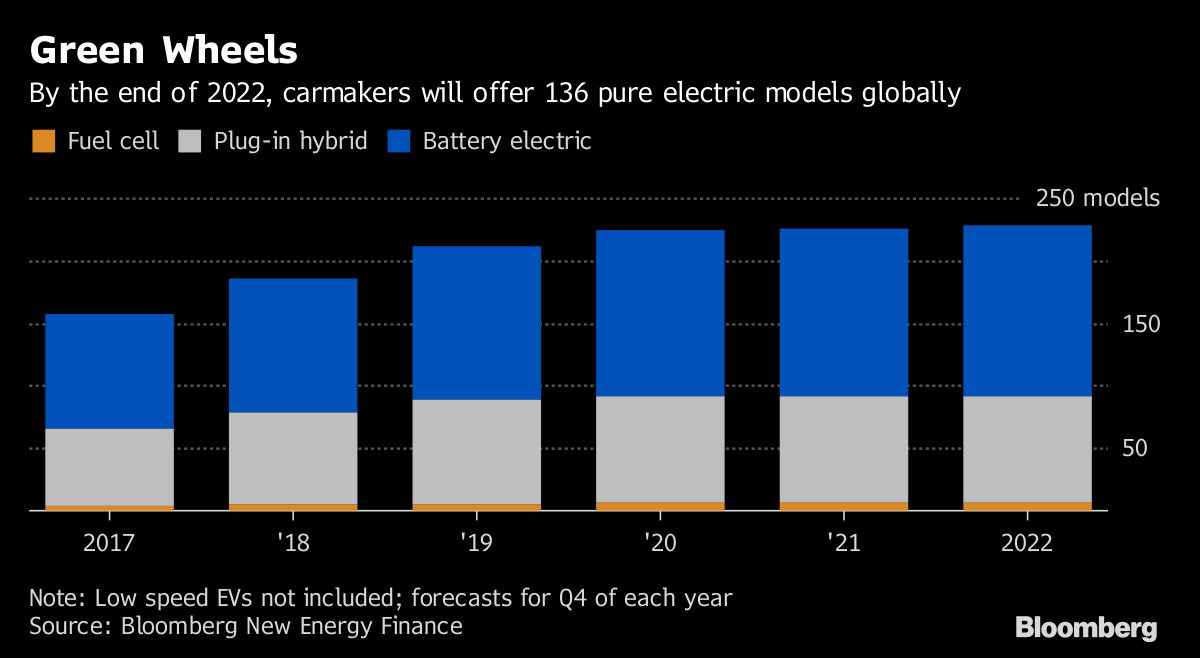 That will make for a very crowded field in a nascent zero-emission car market that most consumers have yet to embrace and where financial losses loom large. In the U.S., electric car sales were less than 1 percent of the market last year, according to the International Energy Agency. They were 1.4 percent in China and in the U.K.
"Companies are committed to electric cars, but there is little evidence that there is a lot of consumer demand for it," said Kevin Tynan, senior analyst with Bloomberg Intelligence.
At this point, expensive battery technology still makes them money drains. General Motors Co. loses about $9,000 on every Chevrolet Bolt electric car it sells. Tesla had record sales of its EVs last year — and still lost $675 million on $7 billion in sales.
China Factor
So why bother? China is a big reason. Electric cars got a regulatory boost when the world's most populous nation released a set of regulations meant to cut carbon emissions and pollution by 2030. Carmakers must produce a certain share of so-called new-energy vehicles — which include electric cars — to obtain credits so they can keep selling gasoline-powered ones.
Because China is now the world's largest car market, automakers are stepping up development. GM, the top-selling foreign automaker there, will offer electrification technology — hybrids or pure electric — in almost all of its models in China by 2025 as it looks to hold its lead.
Many of the electric models today are luxury cars, and Tesla's Model S sedans and Model X sport utility vehicles often sell for more than $100,000. It's easy to bury the expensive price of electric drive in the fatter sticker prices of high-end vehicles. The Model 3, which just started production, will sell for more like $35,000 before options and incentives. Tesla said that more than 450,000 people have put down $1,000 deposits to reserve a Model 3.
Musk has poached buyers from German luxury brands and will continue to do so, said Salim Morsy, an analyst with Bloomberg New Energy Finance.
"What was seen as a minimum requirement for regulations has shifted to an opportunity for market share and profit," Morsy said. "In the luxury segment, the Germans see the opportunity to take market share back from Tesla."
Here are some of the significant new models coming to market:
VW's Audi brand will start building the e-tron Quattro, a luxury SUV, in 2018, followed by the Sportback coupe in 2019 and a third, unnamed vehicle by 2020.
Porsche AG will sell a production version of its Mission E sports sedan concept car starting in 2019.
In addition to BMW's current electric i3 compact and i8 sports car, the German automaker will have an electric Mini in 2019, an X3 compact SUV in 2020 and 10 others by 2025, Chairman Harald Krueger said in a speech in September.
Daimler's Mercedes-Benz brand plans 10 battery-powered vehicles in its EQ sub-brand through 2022, while Volvo Car Group, which is owned by China's Geely Automobile Holdings Ltd., has said any new models launched in 2019 or later will be offered only as hybrid, plug-in hybrid or all-electric versions.
Tesla plans to build the Model Y small SUV in 2019 or 2020.
The good news for carmakers is that the cost of batteries is coming down. GM said on its first-quarter earnings call that its lithium-ion batteries cost about $145 per kilowatt hour to produce. The goal is to get that below $100 in the next few years.
BNEF forecasts that battery costs will get down to $109 per kwh in 2025 and $73 by 2030. That's why global electric car sales will likely surpass sales of vehicles that burn fossil fuels by 2040, BNEF said in a July report.
The list of companies piling in added an unusual name last week when Dyson, who made billions making high-end vacuum cleaners, announced his foray into the electric car market. Dyson said his car will be radically different from the vehicles being designed by Tesla and the established carmakers.
Since Dyson doesn't compete with Tesla or need to meet rules faced by traditional automakers, the planned car may be more of a flight of fancy, said Joachimsthaler of Vivaldi.
"More likely, this is an Icarus complex," he said. "He will realize he flew a little too close to the sun."