Another day, another wind turbine order for Vestas' Colorado factories
Source: Cathy Proctor, Reporter-Denver Business Journal • Posted: Tuesday, December 24, 2013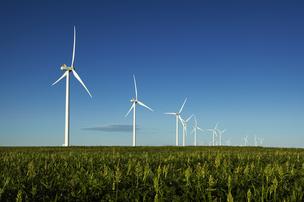 Photo by Renewable Energy Systems Americas Inc. (RES Americas)
Vestas Wind Systems turbines, built in Colorado, spin at the Cedar Point wind farm in eastern Colorado near Limon. The wind farm was developed and is operated by RES Americas of Broomfield.
Vestas Wind Systems is continuing its recent run of customer orders, with an announcement Monday that the Danish manufacturer will supply 75 wind-power turbines to a company called First Wind for a wind farm in Texas.
Vestas said its four Colorado plants will be involved in the order — making blades, nacelles and towers for First Wind's Route 66 wind farm near Amarillo, Texas.
Vestas said the order was part of a larger "master-supply agreement" with First Wind to supply up to 568 megawatts worth of wind turbines for several projects developed by the company across the United States.
Based in Boston, First Wind operates 16 wind farms in Maine, New York, Vermont, Utah, Washington and Hawaii that can collectively generate 980 megawatts of electricity, enough to meet the needs of about 343,000 homes.
The Route 66 wind farm will use 75 of Vestas' V110-2.0 megawatt turbines, capable of generating up to 150 megawatts of energy, or enough power to support the needs of about 52,500 homes. Deliveries of the turbines are expected to occur in early 2015, with operations starting in mid-2015.
The order is the third Vestas has announced in the last week as wind project developers aim to beat an end-of-the-year deadline to qualify for the federal wind Production Tax Credit that's worth about $23 per megawatt of energy produced.
To qualify for the credit, developers can either start site preparation on a project, or spend at least 5 percent of the project's total budget, before Jan. 1, 2014.
So far this year, Vestas has announced 1,570 megawatts worth of wind turbine orders for wind farms in the United States and Canada, up from 252 megawatts worth of orders in 2012. The tax credit expired at the end of 2012, but was extended by Congress in January 2013.
To meet the increased demand, Vestas has said it will hire "hundreds" of new employees in the first half of 2014 at its plants in Windsor and Brighton. The new jobs are primarily at the company's blade factories in the two towns. More information on the jobs is available here: ElwoodWindJobs.com
"We began working with First Wind a few years ago and have developed a strong partnership with one of the leading U.S. energy developers," said Chris Brown, president of Vestas' sales and service division in the United States and Canada.
"The first project we did with [First Wind] in Maine has achieved 99 percent availability since it was commissioned last year. We're confident we can continue that kind of success with our proven products and services," Brown said.
Vestas supplied turbines to First Wind for two projects — Palouse Wind in eastern Washington state, which includes 58 of Vestas' V100-1.8 megawatt turbines, and Bull Hill in Maine, which has 19 of Vestas' V100-1.8 megawatt turbine. Both wind power plants started operation in 2012.