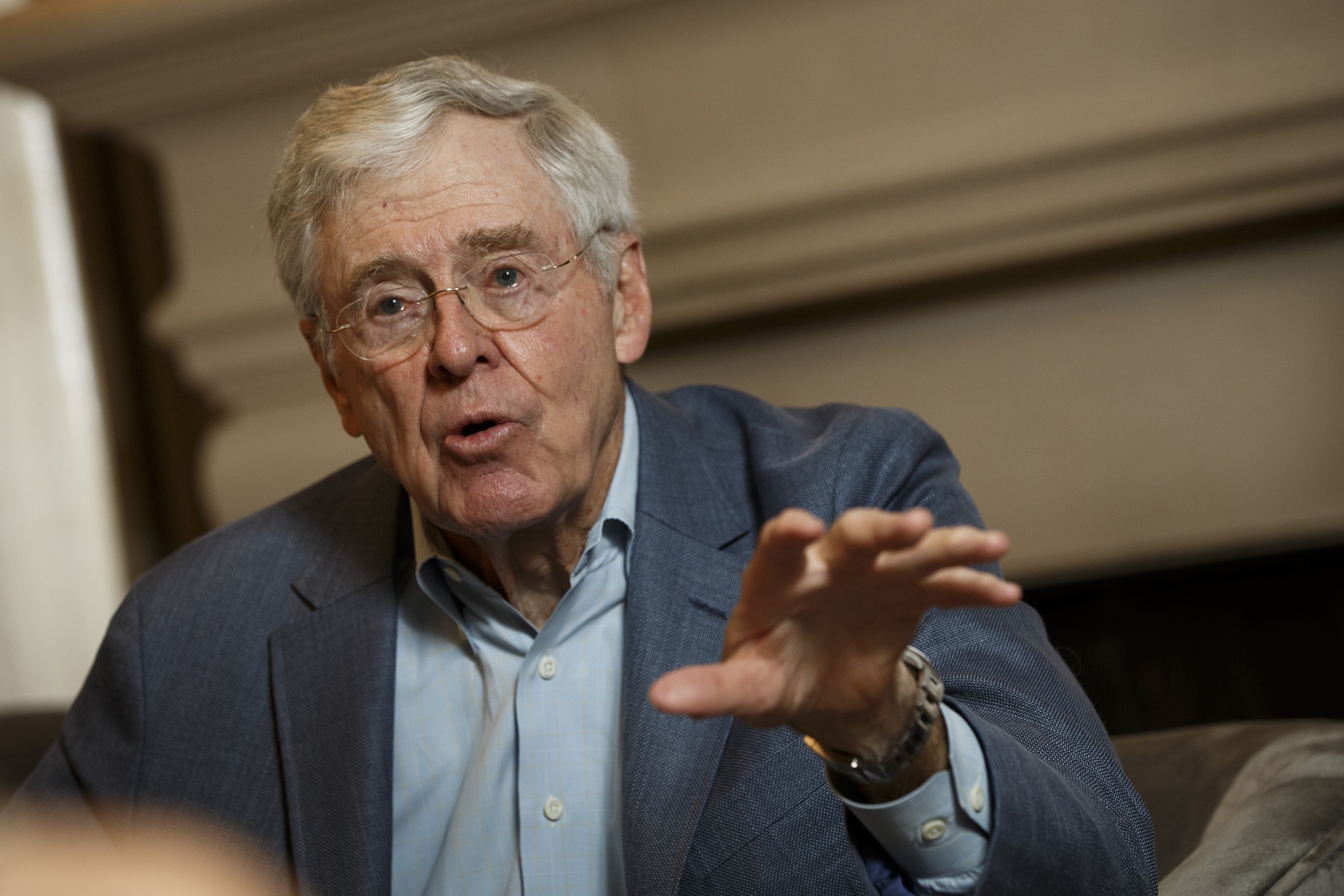 The pair, normally at odds over energy issues, have both found elements to rail against in the "Ohio Clean Air Program," which passed a key hurdle Thursday in the state House of Representatives. The Republican bill would scuttle wind and solar quotas and create an annual fund of about $190 million, primarily to bail out reactors owned by bankrupt FirstEnergy Solutions Corp.
The move would be unprecedented. While New York, New Jersey and Illinois have all begun subsidizing nuclear power as part of their clean-energy strategies, Ohio would be the first to do so by directly yanking support from renewables. Environmentalists decry the move as an assault on wind and solar, while fossil fuel advocates warn it will drive up power prices and unfairly tilt markets. Both say it's a blatant corporate "bailout."
"It is cronyism on full display," Micah Derry, Ohio director for the Koch-backed group Americans for Prosperity, told lawmakers at hearing earlier this month.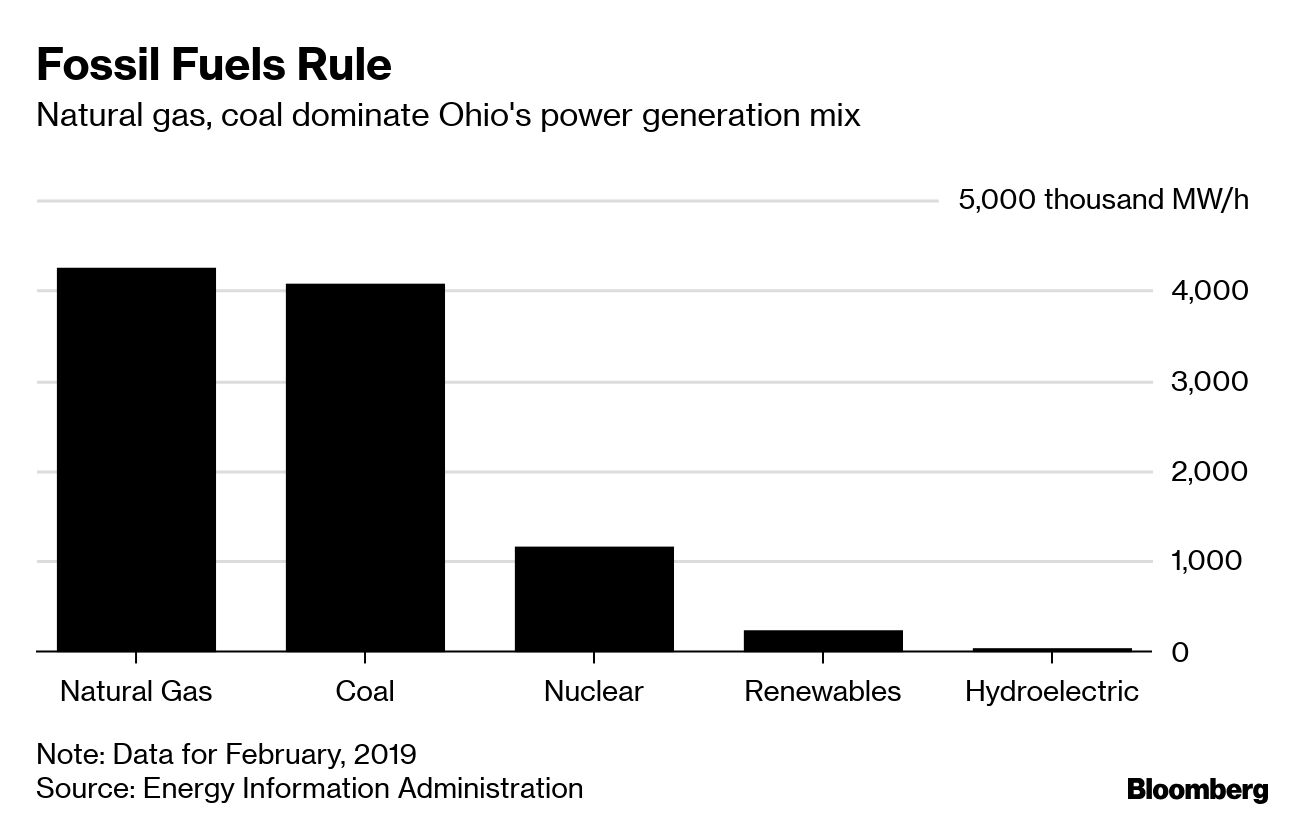 The stakes are high. Ohio has the fourth-highest retail power sales in the nation. But the state's two reactors, which account for about 12% of its power generation, are struggling to stay afloat as cheap natural gas pulls down wholesale power prices. Without subsidies, FirstEnergy Solutions has said it will close the plants, which employ 2,200 people. FirstEnergy gained by almost 2% on Thursday, closing at the highest level since 2013, after the bill advanced.
Republicans, who control both house of the Ohio legislature, say the measure will boost the state's commitment to clean energy. Akron, Ohio-based FirstEnergy Solutions, which filed for Chapter 11 last year, heralds it for putting nuclear on a "level playing field" with wind and solar. The reactor would enjoy subsidies for seven years through 2026, according to the measure.
Environmentalists, meanwhile, blast the measure for scrapping the state's goal to get 12.5% of electricity from renewables. The American Petroleum Institute says it would shortchange natural gas plants. And Ohio's largest utility, American Electric Power Co., warned that a bailout for a single company wouldn't benefit customers at large.
"Bill sponsors put together a package that is massively unpopular for many different reasons,'' said Neil Waggoner, an Ohio representative for the Sierra Club.
Walkout
Debates have been so contentions that Democrats briefly walked out of a hearing earlier this month after they were barred from questioning a witness. Nonetheless, the bill was approved Thursday by the Ohio House of Representatives' Energy and Natural Resources Committee. It now heads to the full chamber for further debate.
In a push to shore up support from Republicans and utilities, the bill's sponsors expanded the measure this week to provide support for two coal plants operated by the Ohio Valley Electric Corporation, whose owners include American Electric Power.
"This dramatic shift in strategy shows that House Speaker Larry Householder has lost hope in getting Democrats on board and is opting to bolster support with powerful utilities to attract additional Republicans,'' Height Securities analyst Josh Price wrote in a research note Thursday.
Ohio has never fully embraced renewable energy. Wind and solar account for less than 3% of power generation in the state. And its goal of pushing that up to 12.5% pales in comparison to the 100% renewable-energy targets in California, New Mexico and elsewhere.
State Representative David Leland, a Democrat from Columbus, said in a Tweet Wednesday that the bill 'has gone from bad to worse."
 The bill "now goes to the full House, where we think House Speaker Larry Householder has sufficient political capital to move the bill forward," Timothy Fox, vice president at ClearView Energy Partners LLC, wrote in a research note Thursday. "The Ohio Senate may represent a higher, but still surmountable, hurdle to enactment."