America's Power Grid Still Hangs Tough in Face of Winter Wallop
Source: By Tim Loh, Bloomberg • Posted: Friday, January 5, 2018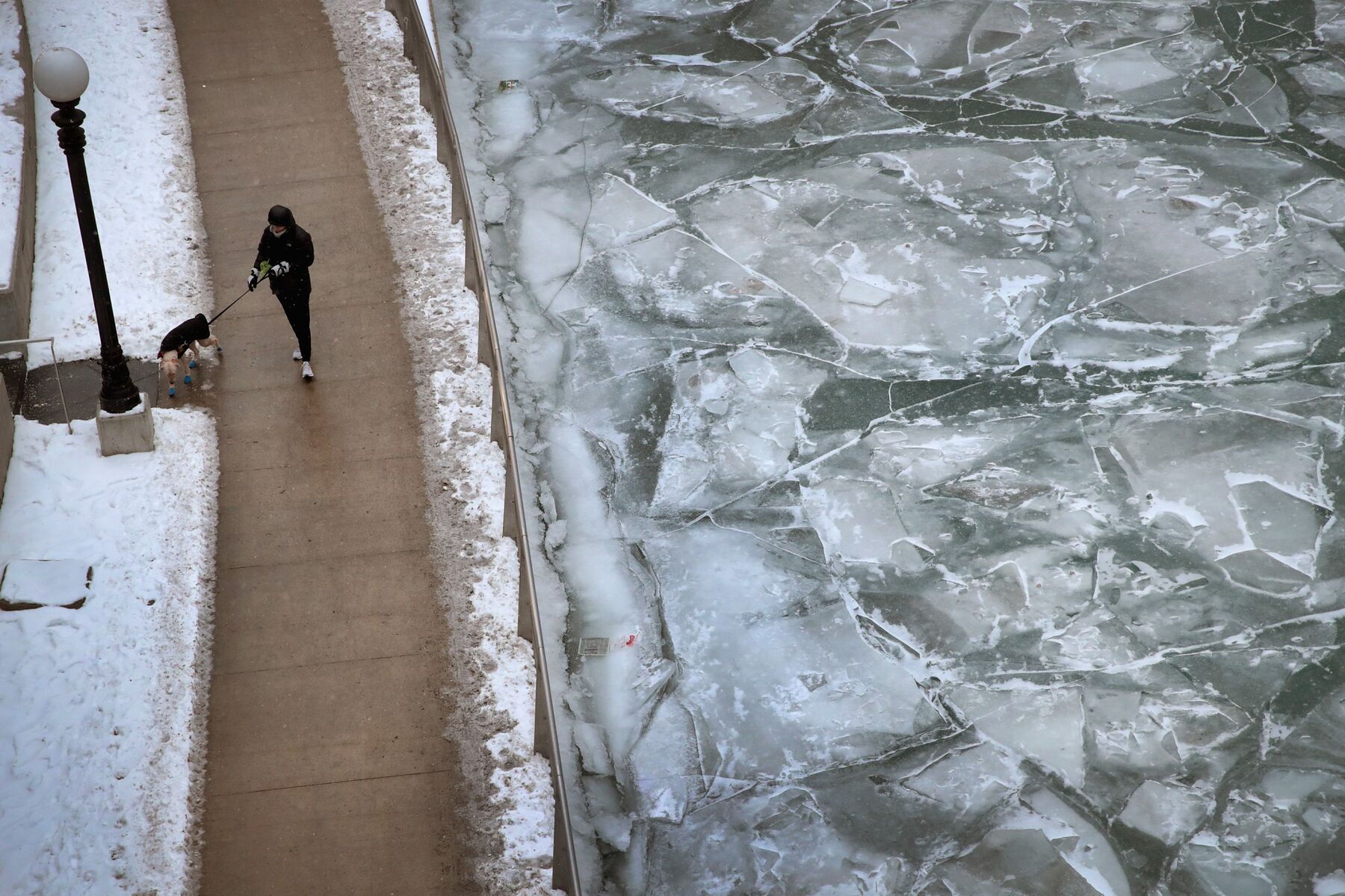 Ice collects on the Chicago river. Photographer: Scott Olson/Getty Images
The past week's arctic freeze has already battered the U.S. power system, threatening fuel supplies from the Midwest to the Northeast. Now, with a one-two punch of heavy snow and bone-rattling cold on the way, grid operators say this: We're good.
"Everything looks to be on track to remain reliable," Chris Pilong, director of dispatch for PJM Interconnection LLC, which stretches from Illinois to Washington D.C., said on a conference call Wednesday. "Maybe Sunday and into Monday of next week, we should get ourselves back to at least the freezing mark."
Some Midwest gas plants have reported trouble getting supplies for the second day in a row, forcing outages and increased use of fuel oil, according to Derek Wingfield, a spokesman for Southwest Power Pool Inc. "All things considered, though, we've not experienced any operational issues that we've been unable to mitigate."
It's a similar story for Midcontinent Independent System Operator Inc., which spans part of central Canada and down to the Gulf Coast. While some plants have failed to run because of pipeline constraints, the "outages have been captured and accounted for in real time operations," Mark Brown, a spokesman for the grid manager, said by email.
In New England, which will probably face the brunt of the winter storm currently barreling up the Atlantic coast, there should be enough fuel at power plants to make it through the weekend without major problems, said Marcia Blomberg, a spokeswoman for ISO New England Inc.
'Sufficient Capacity'
While there are concerns about oil supplies and restrictions governing air emissions this winter, Blomberg said, "through this weekend, we expect to have sufficient capacity and fuel available to meet demand, and emissions limitations are not expected to be a significant factor."
Oil, a scant contributor to the nation's power supply in normal weather conditions, has accounted for about 30 percent of New England's electricity in recent days after temperatures plunged below freezing. A lack of pipeline capacity has constrained gas supplies to the region in recent years, causing prices to surge during severe cold snaps.
In New York, where dual-fuel power plants have also turned increasingly to oil this week, there should be enough supplies to get through the coming storms, said David Flanagan, a spokesman for the New York Independent System Operator.
Across the PJM region, the load exceeded 136,000 megawatts in the hour ending at 8 a.m., the highest since February 2015.
PJM is preparing for problems that may result from the storm's combination of snow, ice and strong winds forecast to hit Virginia, Delaware and New Jersey. Then, with temperatures plunging again in the storm's wake, power demand by Friday morning will probably return to the multi-year highs that came on Wednesday morning, Pilong said on Wednesday's conference call.
Mechanical Issues
This week, PJM has operated with as much as 19,000 megawatts of outages, mostly due to mechanical failures — though a small portion of that resulted from plants having trouble procuring gas. PJM still has more than 25,000 megawatts of reserve margin, Pilong said. "From a generator performance perspective, we've seen very consistent performance this entire week."
One company that operates in the Midwest, American Electric Power Co., has experienced "a few intermittent" issues at power plants, including with gas supplies, but the problems have been resolved, spokeswoman Melissa McHenry said by email.
"So far, the weather is not creating significant issues for our generating units," McHenry said.
— With assistance by Chris Martin, and Jim Polson