America's Long, Tortured Journey to Build EV Batteries
Source: By Gabrielle Coppola, Bloomberg • Posted: Tuesday, June 13, 2023
The fall of startup A123 still haunts the US decades later—and reveals everything that's wrong with this country's approach to innovation.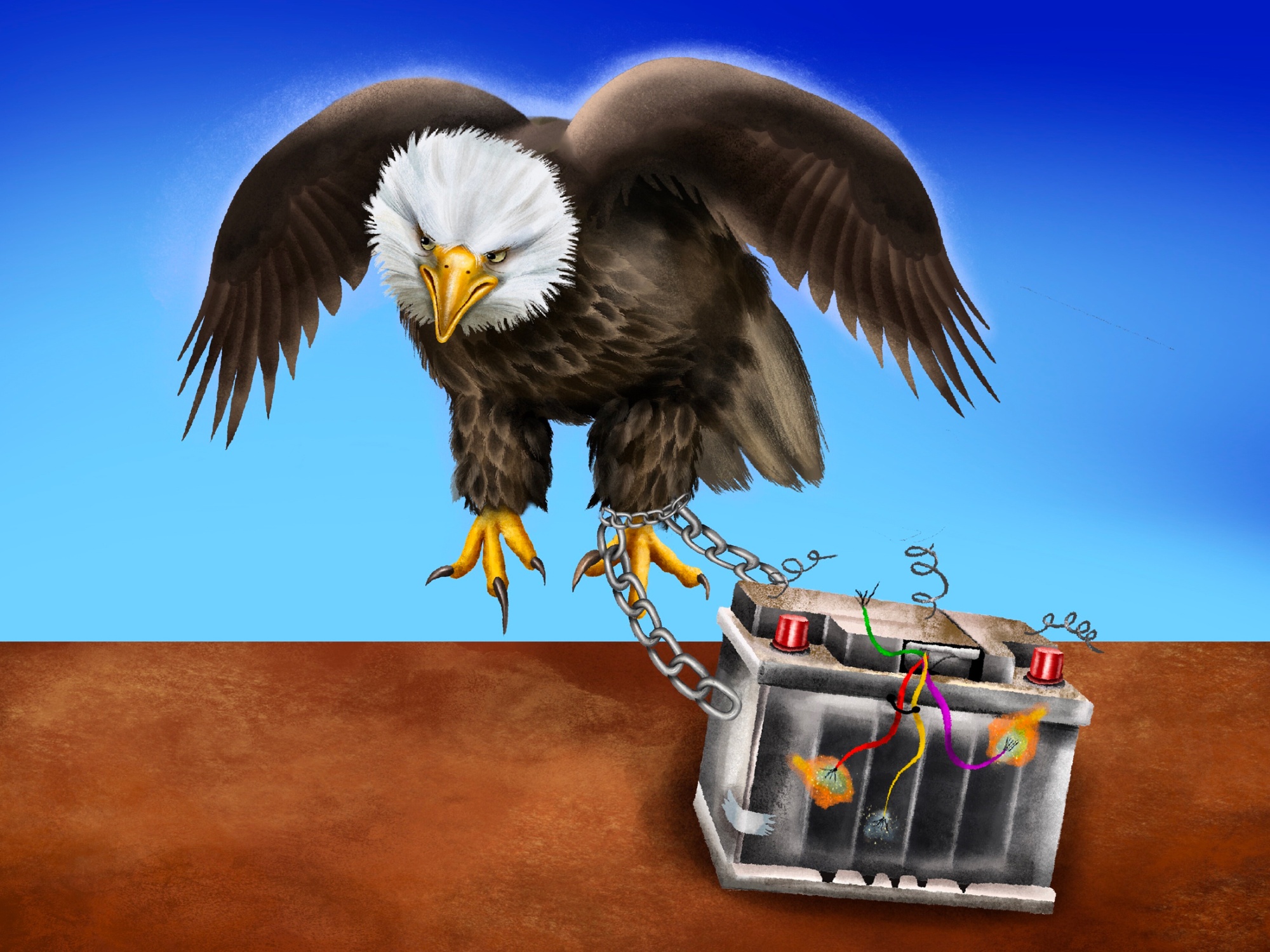 On a 3-mile stretch of farmland in southwest Michigan, Ford Motor Co. is building a battery factory. The technology Ford needs to make cheap, stable batteries to power electric vehicles will come from China's Contemporary Amperex Technology Co. Ltd., better known as CATL, the world's biggest battery manufacturer. By most measures, Ford's deal with the Chinese giant is a coup for the state—it's getting a $3.5 billion investment in a 2.5-million-square-foot factory, thousands of new jobs and the ability to produce enough batteries annually to power 400,000 electric vehicles when the plant opens in 2026. But for anyone who's been paying attention, it's a devastating moment of irony for the US: The deal could have been the other way around.
In the mid-1990s, a compound called lithium iron phosphate (LFP), the primary battery chemistry now used by CATL and most battery companies in China, was discovered by scientists at the University of Texas at Austin and commercialized a few years later by the startup A123 Systems LLC in Watertown, Massachusetts. In 2009, A123 was awarded hundreds of millions of dollars by the Barack Obama administration with the great hope that it would help kick-start production of electric cars in the US. But it was too early. There wasn't demand for EVs, and car companies making vehicles that use less gas didn't want to risk relying on an unproven startup.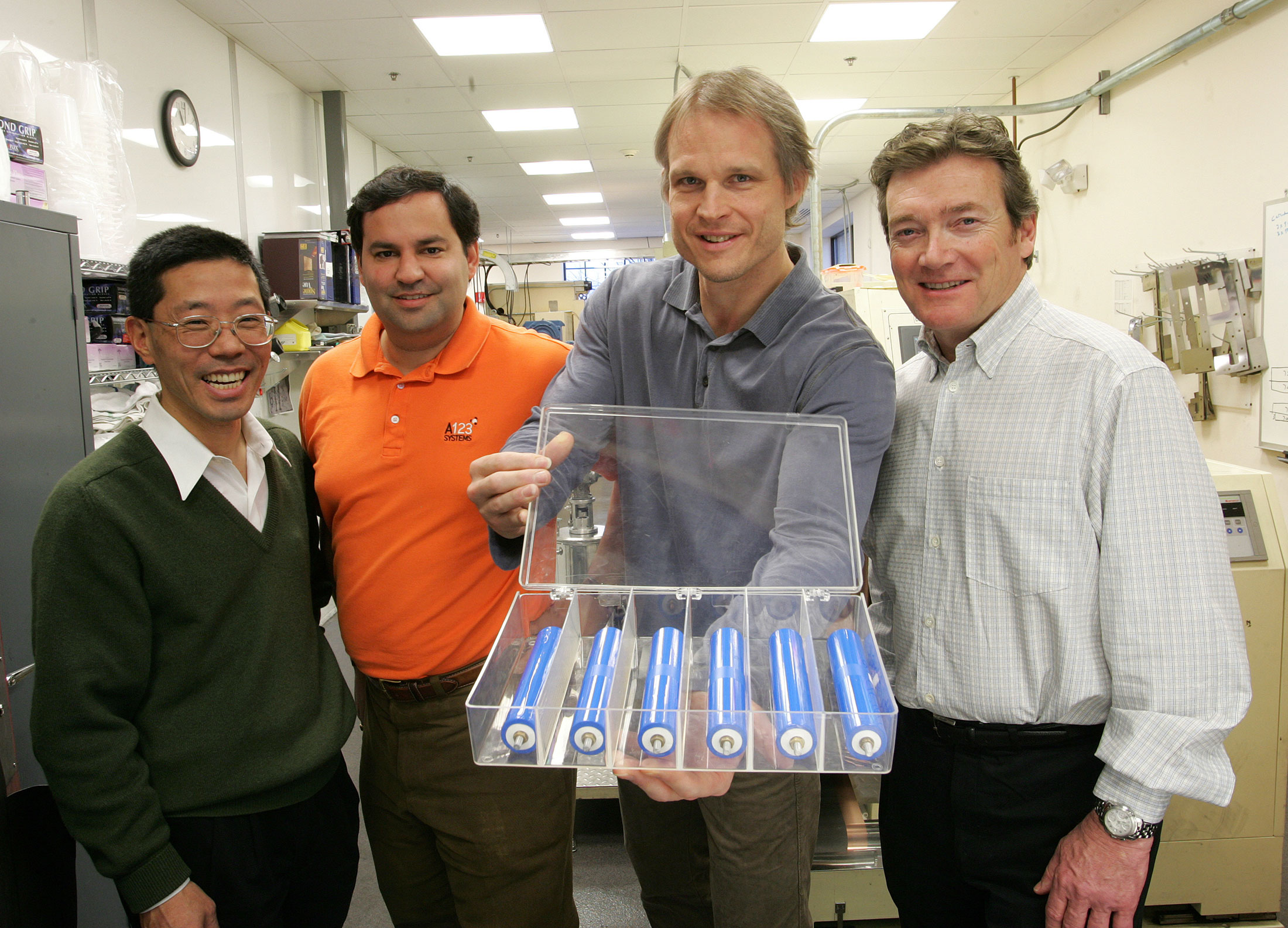 By 2012, A123 had filed for bankruptcy and become a symbol of government waste often mentioned in the same breath as Solyndra, the California solar-panel makerthat filed for bankruptcy in 2011 after receiving a half-billion dollars in federal loan guarantees. To this day, Dave Vieau, A123's former chief executive officer, is dogged by occasional finger-wagging when people learn he ran the company. "You're the A123 guy who stole all the government money" is a line he's gotten more than once.
Now, almost 30 years after the discovery of LFP, the US is scrambling to build its own battery supply chain, and the pioneer of the modern assembly line is turning to China to learn how to make the engine of the 21st century. It's an unsubtle reminder that America learned the wrong lesson from A123. Rather than letting a potentially breakthrough technology, or a young company trying to commercialize that technology, live or die by the whims of the free market, the US could have been committed to a much longer game. And rather than allowing a battery discovery to slip through its fingers and into the hands of what's now its greatest economic and geopolitical rival, the US could have figured out how to nurture and protect a nascent industry that was inevitably going to encounter trial and error. With the wisdom of hindsight, A123 is a case for tweaking the orthodox rules of American capitalism in the age of competition with China.
In 2013, China's then-biggest auto parts company purchased A123 out of bankruptcy. That year the Chinese government also began implementing its plan to build a domestic EV market at a breathtaking pace. A decade later, China accounts for 58% of the world's EV sales and 83% of all lithium-ion battery manufacturing, according to BloombergNEF. Even if all of President Joe Biden's climate policies succeed in reviving American manufacturing, the US is now at least a decade behind China when it comes to battery manufacturing, in terms of both the necessary technology and the capacity, industry experts say. "China has just marched ahead with a very consistent strategy over the past 20 years," says Brian Engle, president-elect of NaatBatt International, a trade association that advocates for battery development in North America. "We create all kinds of really cool technology, and then we abandon it."
Soon after A123's collapse, some of its engineers answered the call of China's young and booming battery industry. One eventually became the billionaire chairman of a Chinese maker of carbon materials. A few of A123's former executives still wonder what would have happened if, at the time, the US had found a way to keep the company going—a government supply contract or even a sale to another American business. Given time and support, could A123 have eventually become a billion-dollar American battery behemoth, the linchpin in a homegrown battery supply chain?
"The US has an industrial policy. Here's the policy: We don't have one," says Jeff Chamberlain, who spent more than a decade at Argonne National Laboratory trying to commercialize battery tech before starting a venture capital firm in 2016. "I'm not saying we should become socialist or communist, but other countries that have decades-long industrial policies, they're gonna eat our lunch."
In early 2001, a 26-year-old entrepreneur named Ric Fulop started knocking on doors at the Massachusetts Institute of Technology, hoping to find someone to help him start a battery company. One of the people who answered was Yet-Ming Chiang, a professor of materials science, who invited his friend with a doctorate from Cornell University, Bart Riley, to meet with them regularly. They narrowed in on Chiang's idea for a "self-assembling battery." Batteries have three basic components: two electrodes—a cathode and an anode—that store and release a charge, and an electrolyte that helps shuttle the charge between them. The materials used to make batteries determine how much energy they store and at what cost. Chiang's dream was to find three materials that would, under the right conditions, fall into the exact structure of a battery.
That summer they hatched A123, and soon raised $8 million, along with recruiting Vieau, an executive from a Rhode Island power equipment company, to be CEO. But six months in, the team realized that making the self-assembling battery a reality would take a long time. Meanwhile, Chiang's lab was publishing science papers on LFP as a superior material, and he convinced Vieau that A123 could use it to pursue a commercial battery instead.
LFP was discovered by a team of researchers led by professor John Goodenough in 1995. Goodenough, who would win the Nobel Prize decades later, had given his lab researchers at UT Austin an assignment: Take a lithium-ion battery cell and swap out different metals to see if they can hold more energy without catching fire, as journalist Steve LeVine chronicles in his book The Powerhouse, which profiles the pioneers of modern battery chemistry. Goodenough's team chose an iron-and-phosphorous compound and made a test cell. When they charged it, the compound formed an atomic crystal structure that easily shuttled lithium ions back and forth. They had stumbled onto a new cathode material, one that would prove to be cheaper and more stable than existing technology.
Initially, LFP batteries were slow to charge and discharge. Scientists affiliated with a Canadian electric utility company solved that by coating LFP cathode particles with carbon, an innovation that could make the material commercially viable. Around the same time, A123's Chiang published an article in the scientific journal Nature Materials, stating that "doping" an LFP cathode, or injecting tiny amounts of metallic compounds, including an element called niobium, helped electrons travel faster so the battery could produce even more instantaneous power. This discovery, which A123 would later brand "Nanophosphate," became the company's key innovation, enabling batteries to produce two or three times more immediate power than any other similarly sized cell on the market.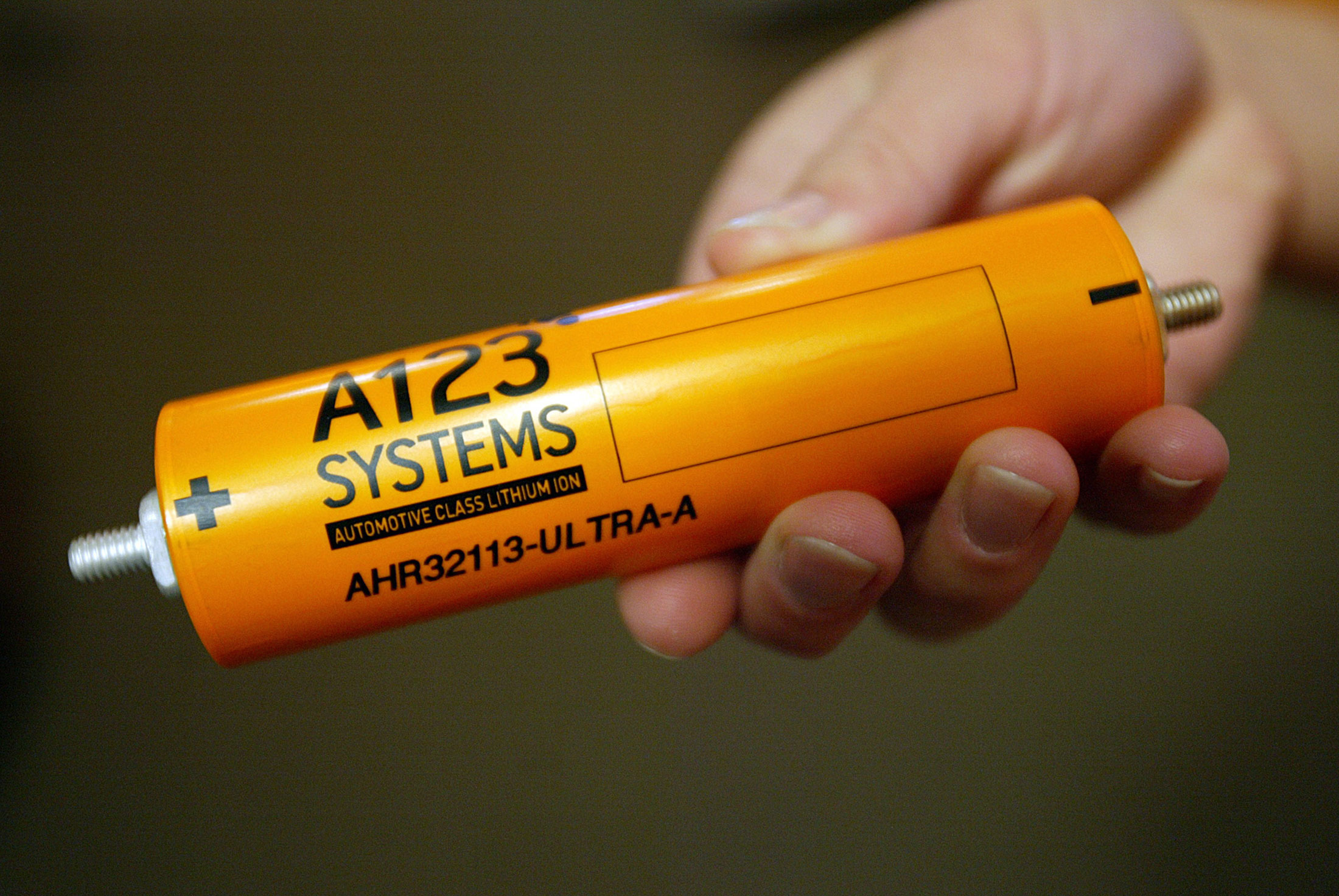 It didn't take long for A123 to find applications for it. Within a few years, the startup secured a contract with Stanley Black & Decker Inc. to provide batteries for a new line of power tools and raised another $32 million. Staring down an 18-month deadline with limited cash, A123 decided to outsource to lower-cost countries. They hired a company in Taiwan to make electrodes and cells, later shifting the electrode work to Korea. China, racing to match the electronic manufacturing prowess of its neighbors, was also eager to accommodate the US startup. A123 built its cathode plant in a low-tax economic processing zone outside Shanghai, set up by the Chinese government to help foreign companies lower production costs while creating local jobs.
Despite the financial perks, intellectual property theft was a constant concern. A123 executives visiting from the US would return to their hotel rooms to find screws loose on their laptops. A staffer at A123's offices in Changzhou found an envelope in the outgoing mail basket addressed to a competitor. They opened it to find blueprints of the cathode operation, along with the résumé of an A123 production engineer, who was promptly fired.
To protect A123's proprietary LFP cathode powder, the factory was divided into two buildings with limited access so no single Chinese employee could see the entire process. Larry Beck, a chemistry professor at the University of Michigan who became A123's lead cathode materials scientist, rented a building behind a scrap metal yard and turned it into a low-profile chemistry lab, plucking iron from the heaps of sheet metal and dissolving it in acid to produce purified crystals needed to make LFP.
As the Chinese government nurtured a domestic EV industry by converting city bus fleets and offering tax breaks for EV purchases, local entrepreneurs emerged to capitalize on state support. Zeng Yuqun, now the 41st richest person in the world according to the Bloomberg Billionaires Index, founded CATL in 2011 while running a company that made batteries for consumer electronics. CATL cut its automotive teeth producing cells for BMW AG and its local Chinese partner and would later recruit engineers from the West to sharpen its manufacturing skills. "My job as an older guy was to apply experiential learning so they could learn faster," says Bob Galyen, an American battery engineer Zeng hired in 2012 who later became CATL's chief technology officer.
CATL wasn't the only juggernaut to emerge from China's EV push. BYD Co., which is already outselling Tesla Inc. with its combined EV and hybrid models, also started out making batteries for cellphones. Its founder, a chemist named Wang Chuanfu, bought a car company in 2003. Five years later, at the Beijing auto show, BYD introduced the E6, an EV with an LFP battery that could go 186 miles on a single charge. Today, its Han sedan, with its own BYD-made battery, can go 410 miles.
As Chinese entrepreneurs built companies that would turn the Communist Party's EV dreams into reality, executives at A123 were riding their own wave of electric euphoria. The performance of the A123-powered Black & Decker drill had attracted other potential customers. Gillette Co. wanted to put A123's batteries in electric razors. Mattel Inc. wanted them for high-end toys. But Fulop, then vice president of business development, knew that to take on Asian battery giants, A123 needed to move into cars. In January 2008 he called Mujeeb Ijaz, an engineer who was running Ford's EV skunkworks in Dearborn, Michigan.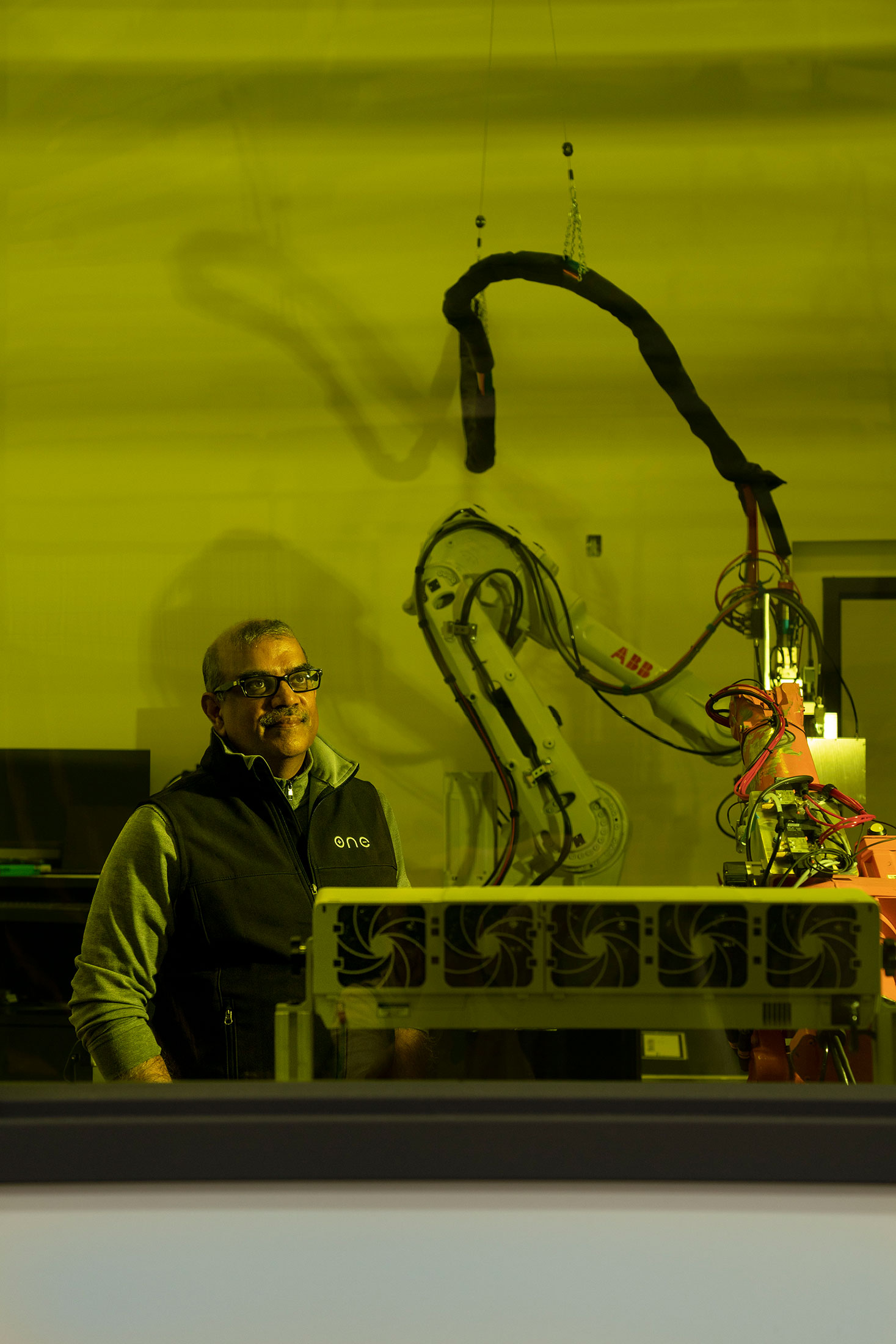 When Ijaz got the call from Fulop inviting him to lunch, the engineer was still reeling from the news from his bosses. A year earlier at the auto show in Washington, DC, Ford had unveiled his breakthrough: the Edge, a plug-in hybrid SUV that ran on hydrogen and battery power. Now, as the Big Three girded for a recession, he was told Ford was cutting off funding for his department.
Ijaz could get reassigned to another group within Ford—after all, he'd been with the company for 15 years. But he was intrigued by Fulop's proposition; working on batteries was something he'd always seemed destined for. The son of Pakistani immigrants—a nuclear physicist and a solar panel entrepreneur—Ijaz was born and raised in Virginia, where his father was a professor at Virginia Tech and his mother graduated from the school with two doctorates. Dinner table conversation often revolved around the 1970s oil embargo and how energy access was at the root of global conflict. After participating in a General Motors Co.-sponsored solar-car race as a college student, he was hooked.
Within a week of Fulop's call, Ijaz was leading A123's automotive business, and several members of his Ford team soon joined him. The startup already had deals to build prototypes for BMW and Daimler Truck AG, and it was competing against LG Chem Inc. to supply batteries for the Chevy Volt, GM's new hybrid sedan. Chrysler had a new electric car division, and A123 was vying to become its supplier, too.
As the economy crumbled in late 2008, everything started to align for A123. Four months after President George W. Bush agreed to throw GM and Chrysler a lifeline, Chrysler executives announced they would build an EV lineup with A123 batteries. By June 2009 the federal government had taken ownership stakes in GM and Chrysler, and Obama sought to pump hundreds of billions of dollars of stimulus money into the economy. A123 won a piece: a $249 million grant from the US Department of Energy to support construction of two manufacturing facilities in Michigan. That government backing, along with the Chrysler EV deal, helped propel A123's $380 million initial public offering that September. The startup wasn't profitable, but it was in promising talks with automakers in China, Europe and the US, and now had enough money to invest in high-volume battery production, giving it the chops to compete with global manufacturers.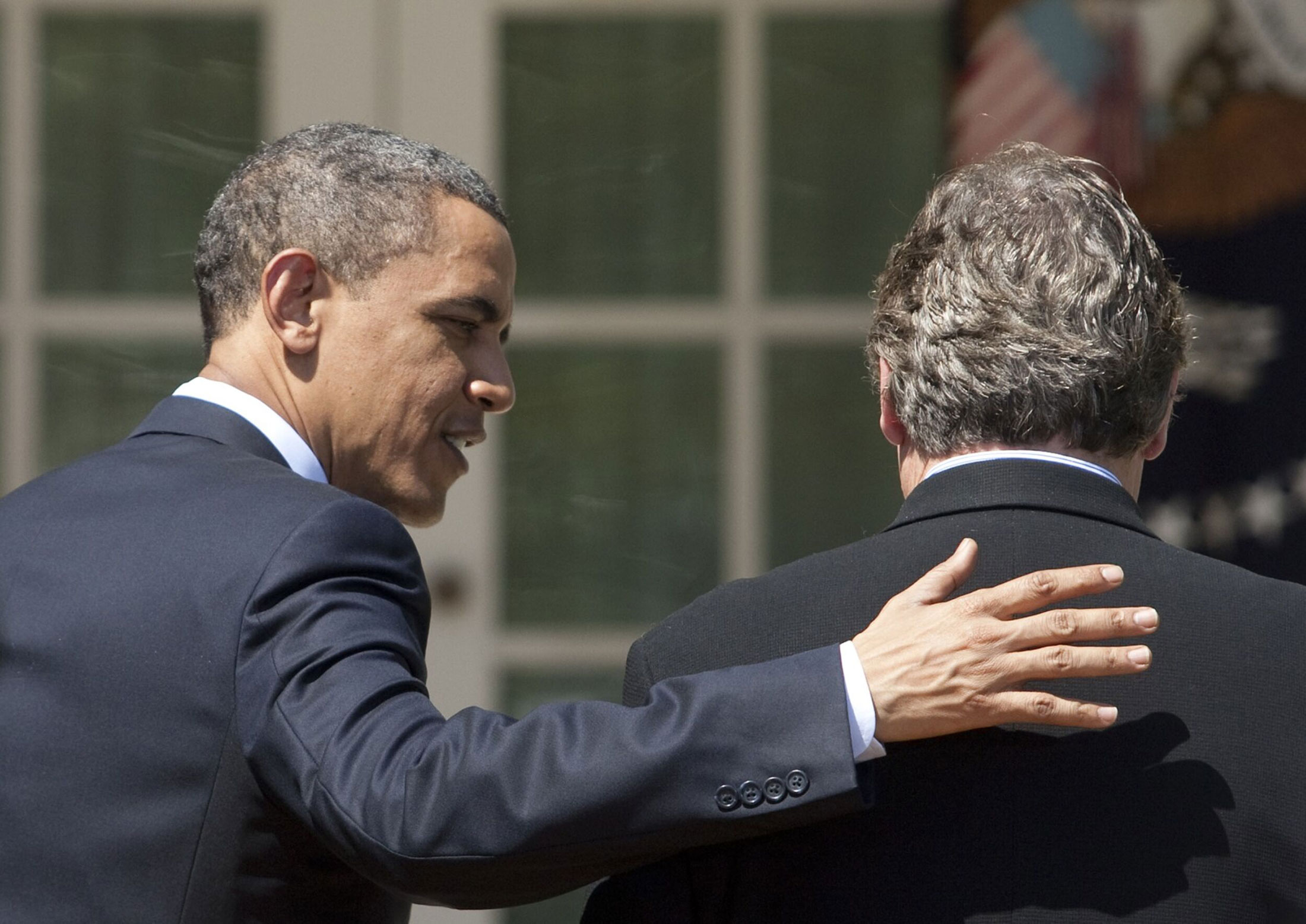 But it didn't take long for A123's bet on EVs to start looking shaky. Sergio Marchionne, CEO of the Italian car company Fiat Automobiles SpA, had taken Chrysler off the US government's hands at a hefty discount, with a promise to make small, fuel-efficient cars. Marchionne was a master negotiator and strategist who would bring Chrysler back from the dead, but he was not a fan of electric cars. By late summer 2009 he shut down Chrysler's EV division. Vieau, A123's CEO, still held out hope that a program to bring an electric Fiat 500 minicar to the US would survive. It did, but despite the public declarations and almost two years of development work, Chrysler awarded the production contract to Samsung Electronics Co. and Robert Bosch GmbH, a global supplier with whom it had existing contracts.
Without Chrysler or GM—which went with LG on the Chevy Volt—A123 had to scramble. Its new plants were set to open in September 2010, and it pieced together enough business to keep its Michigan factories humming. It had a deal to start making batteries for stationary power grids, a small contract with the US Department of Defense and a joint venture with a Chinese car company. GM agreed to use its batteries for the electric version of the compact Chevy Spark. The company's business prospects looked decent, but its survival was contingent on EV sales taking off. (Around this time, it also settled a yearslong legal battle with some LFP patent holders who accused the company of copying their carbon-coating process.)
Then, in March 2012, A123 ran into a problem. It was under contract to build battery packs for the Fisker Karma plug-in hybrid, a $100,000 sedan created by famous Aston Martin designer Henrik Fisker. During a test drive for Consumer Reportsmagazine, a Fisker Karma abruptly shut down. Ijaz, now A123's vice president for cell engineering, was dispatched to the factory to investigate. He traced the issue to a handful of pouchlike cells that hadn't been sealed properly, allowing electrolyte fluid to leak out, which could cause an electrical short. The Fisker Karma's battery management system, sensing the problem, was shutting down as a safety measure.
Out of an abundance of caution, and perhaps a fear of litigation, Vieau decided to publicly disclose the problem and issue a full recall and replacement of all battery packs shipped to Fisker. It would be painful, but he hoped the recall would burnish A123's reputation as an honest supplier. Instead, it tipped the company over a cliff.
With product quality in doubt, financing for A123's other projects dried up. The recall cost much less than feared and never triggered a battery fire, but it didn't matter. Fisker, a key customer, was in turmoil. In Washington, Obama's clean energy agenda was taking a beating after Solyndra filed for bankruptcy in September. The 2012 presidential election was less than a year away, and Republicans made sure to turn the administration's flailing bets into a handy rhetorical prop. A123 was decried as a loser, along with Tesla, which had received a $465 million loan from the DOE. Vieau appealed to the White House for a lifeline and was rebuffed. The response was essentially "We did our part—you're on your own now," he recalls. Seven months after the defective Fisker batteries were discovered, and a decade after its founding, A123 filed for bankruptcy.
A123 turned to Johnson Controls Inc., a Milwaukee-based auto supplier with its own battery business, to open the bidding for its assets, but Johnson Controls and its partners were outbid by Chinese auto parts giant Wanxiang. Several congressional Republicans objected to the idea of a taxpayer-funded tech startup going to a foreign company, but A123's creditors wanted whoever could offer the most money.
The acquisition still had to be approved by the Committee on Foreign Investment in the United States, or CFIUS, an interagency group led by the Department of the Treasury that reviews mergers and acquisitions for national security concerns. As CFIUS analyzed the deal, Admiral Dennis Blair, a retired US Navy commander and former director of national intelligence under Obama, reviewed the transaction. On Dec. 20, 2012, Blair published an op-ed in Politicosupporting Wanxiang's bid, as long as CFIUS found no fault. He urged policymakers to recognize the importance of allowing the deal for both national security and international commerce. "There are many sensitive technologies that the United States should protect," Blair wrote. "The manufacture of lithium-ion batteries is not one of them."
Almost all of A123's assets, patents and technology breakthroughs went to China after the sale—as, briefly, did Ijaz. Wanxiang's own battery business was rolled up under the A123 name, and the new A123 pivoted from focusing on pure electric and hybrid vehicles to batteries for engines that shut off at stop lights to save gas. Ijaz was named CTO and visited Wanxiang's headquarters in Hangzhou.
On the trip, his new boss asked Ijaz to check out a company—an outside supplier of cathode material—that was seeking to do business with Wanxiang. Wanxiang says it wanted Ijaz to kick the tires on the prospective supplier "to protect A123's intellectual property and also" its own "commercial interests." The secret of A123's cathode powder was not only the list of ingredients but also how they were processed. It required special mixing equipment and magnetic filters to remove contaminants. Using the wrong length of pipe or type of machinery could throw off the whole batch. As Ijaz toured the supplier's factory, he noticed the process looked familiar—very familiar.
Ijaz finally came out and asked the new supplier if he was using A123's blueprints. To his surprise, the man retrieved a three-ring binder with his mugshot from when he'd been arrested for IP theft. It had all been a big misunderstanding, he said. Intellectual property rights were loosely enforced in China at the time, and some judges were inclined to favor Chinese companies. The government's 10-year plan to dominate the EV industry was in full swing; to start a battery company was to heed a collectivist call for a new national industry. Instead of punishing him, the Chinese government had provided subsidies to help him build his own business. The man began thanking Ijaz profusely. A123 had changed his life, he said.
When the visit was over, the owner took Ijaz out to his car and popped the trunk. He wanted to give him a gift as a token of thanks. "It was bedsheets—the weirdest damn gift—with horses on them," Ijaz recalls. "I found out, before he had come into A123's IP, he had a bedsheet factory."
Ijaz stayed at A123 for another year before leaving in 2014 to work on Apple Inc.'s secretive electric-car project. Six years later, while in pandemic lockdown with his wife and grown kids in Los Altos, California, he began thinking about the three barriers to mass EV adoption: Until batteries could go further on a single charge, range anxiety would persist; lithium-ion batteries with nickel in them were more prone to catch fire; and America still didn't have a homegrown battery giant to compete with CATL, LG and Panasonic. If Ijaz could hatch a company that focused on LFP batteries—cheaper and more stable than the nickel-based ones dominant in the West—he could solve all three problems.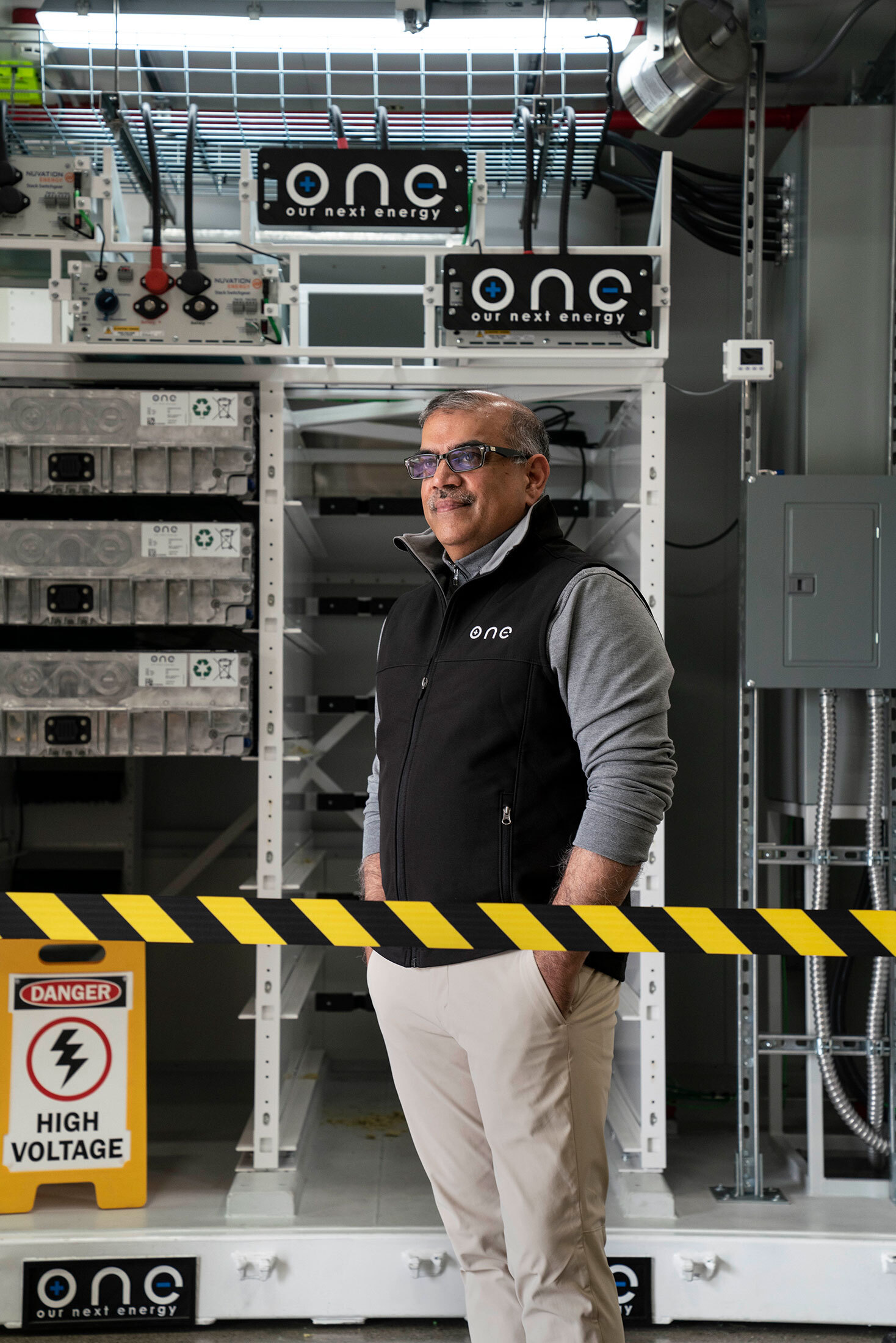 By July 2020, Ijaz left Apple and founded Our Next Energy, dubbed "One" for short. In many ways he was picking up where A123 left off. He moved back to Michigan, his startup office in the suburbs of Detroit standing only a mile away from A123's current US engineering center. Almost a sixth of One's 315-person staff are A123 alumni, including the chief operating officer. Ijaz's goal at the moment: trying to improve LFP batteries' range, something CATL and BYD have been trying to crack with legions of battery scientists and a decade of high-volume manufacturing experience. So far, One has designed a streamlined battery pack that has the same size and energy specs as a nickel-cobalt battery, without the higher price and spotty human-rights record. A more ambitious product, called Gemini, aims to deliver 700 miles of range to passenger cars—double the 350 miles a long-range Tesla Model S offers.
The early excitement about One is eerily familiar. It's raised $355 million from investors including Bill Gates's Breakthrough Energy Ventures LLC, BMW i Ventures Inc. and Franklin Templeton, with a valuation of $1.2 billion. Last fall the state of Michigan awarded it at least $220 million in cash and tax breaks to build a $1.6 billion cell manufacturing plant in the Detroit suburbs, where it plans to hire 2,100 people after it starts production in 2024.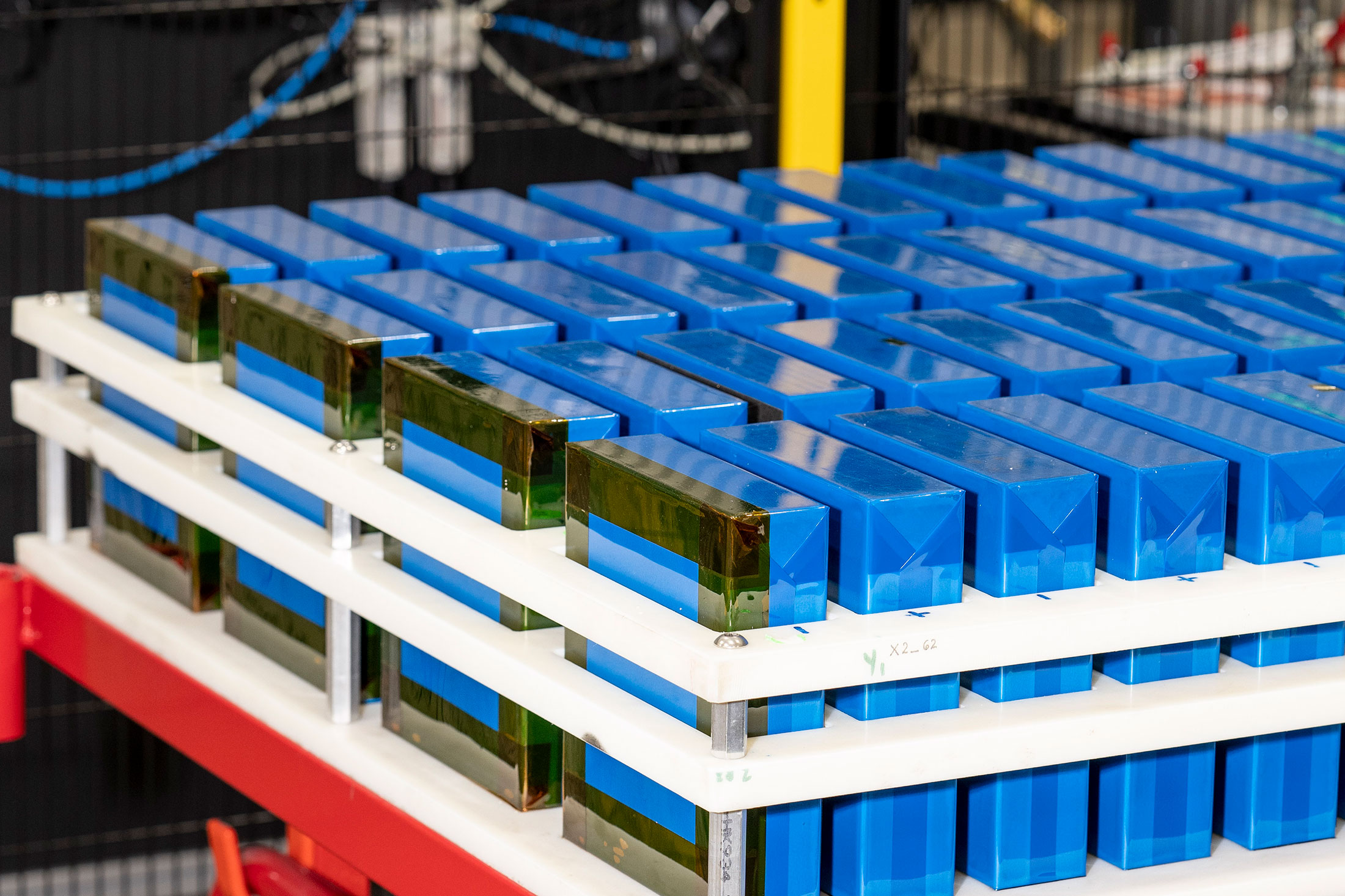 Former House Speaker Nancy Pelosi and Michigan's Democratic Governor Gretchen Whitmer have visited One's offices, as have members of the state's congressional delegation. With the Inflation Reduction Act, the federal government will pay One as much as $6,500 for every 105-kilowatt-hour battery pack the startup produces in Michigan. The IRA is also creating incentives for car companies to do business with One, thanks to rules West Virginia's Democratic Senator Joe Manchin inserted that require batteries be made in North America, with raw materials sourced domestically or from US allies, to qualify for consumer EV credits. If there was ever a poster child for what Biden is trying to achieve with his climate bill, One is it.
After more than three decades in the industry, Ijaz, now 56, finally seems to have momentum on his side. Detroit and the rest of the global auto industry are all-in on EVs, even if it's out of desperation. Western carmakers who dragged their feet are now losing share in China. Tesla proved Americans will buy EVs, and Ford and GM have introduced hit products such as the Mustang Mach-E and Cadillac Lyriq. Electric and plug-in hybrid vehicles are forecast to make up about half of US new-car sales by the end of the decade, compared with a share in the high single digits last year.
But there are no guarantees that a gambit to spur an American battery champion will work. One's success may depend as much on its founder's tenacity as on America's overcoming its tendency to get in its own way. In the risky, low-margin battery business, a single manufacturing defect—as Ijaz experienced with A123—can be lethal for a startup. CATL, LG and the world's other battery giants have major backing in the form of government subsidies or a gigantic conglomerate behind them. That's why LG was able to absorb a $1.9 billion hit for the Chevy Bolt battery recall in 2021 and keep on ticking.
Even though the national security threats posed by China seem like one of the few areas of bipartisan agreement left in Washington these days, the idea of government taking a more muscular role in commercializing technology doesn't sit well with many Americans. In a replay of 2012, Republicans in Congress are already taking aim at Biden's clean energy agenda as a waste of taxpayer money and a misguided attempt to pick winners and losers. They argue that the price tag for the IRA seems grossly underestimated, and they're scrutinizing Energy Department loan recipients to find the next Solyndra.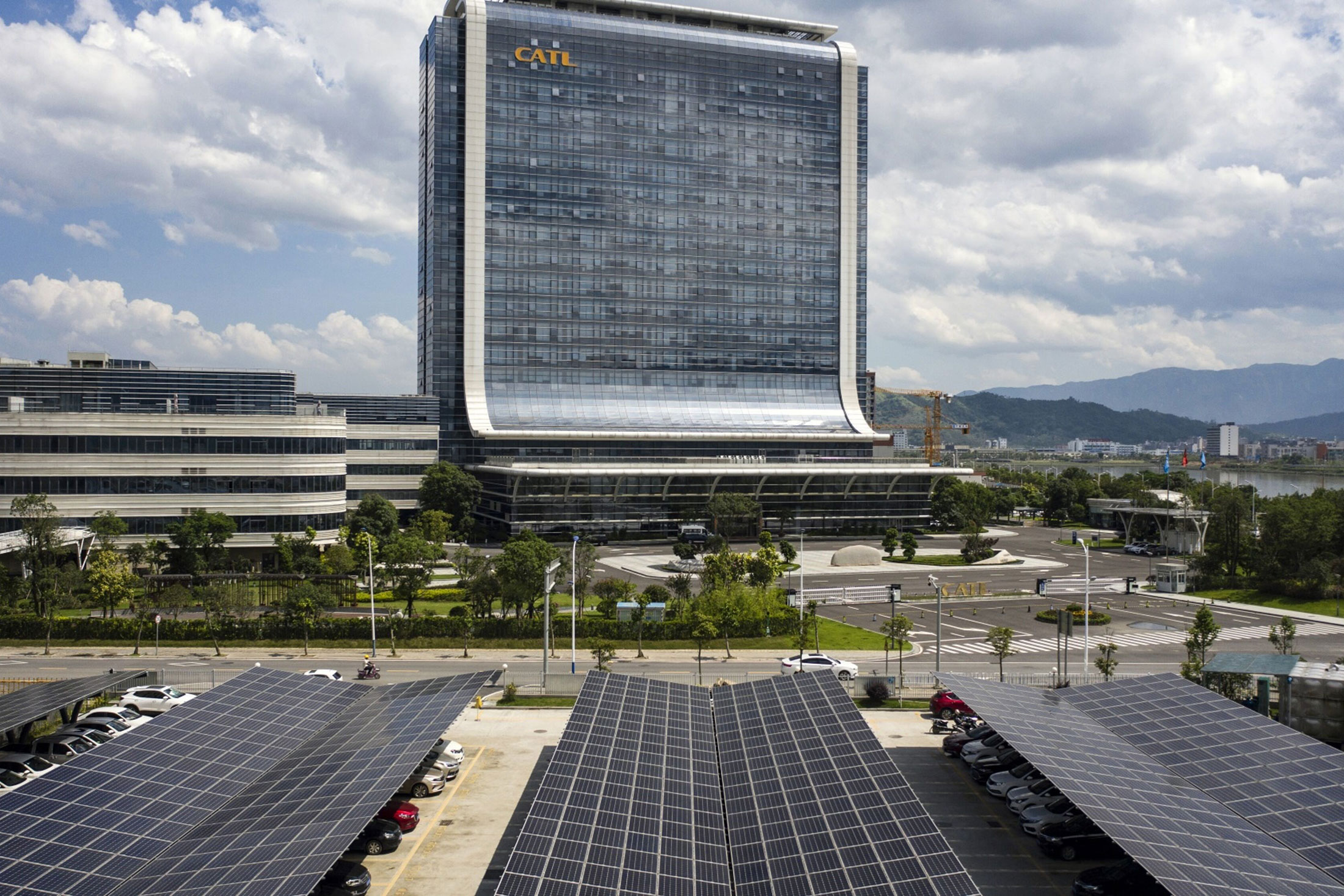 And for all the fury over China's brazen plunder of American intellectual property, the consequences of our unchecked outsourcing don't attract nearly as much political scrutiny. All these years later, it's still unclear who had access to the spoils of the A123 IP or how widely they were shared. But there are still traces of A123's technology inside China's vast battery supply chain. One of the top suppliers of LFP cathode material in the world today, Hubei Wanrun New Energy Technology Co., started out as a supplier to A123 in Changzhou. Beck, the A123 materials scientist who worked closely with the company to develop battery-grade iron phosphate material, says Wanrun was an honorable partner. After the bankruptcy, though, the Chinese upstart was freed of any nondisclosure agreements. Meanwhile, CATL and BYD, which haven't been accused of infringement by A123, invested billions in capital to create the scale and cost efficiencies they have today. (CATL and BYD declined to comment. Wanxiang says its operations of A123 have been run "in a manner not detrimental or damaging to the US battery industry nor the Sino-US relationship.")
The US has long thought of itself as an innovation machine powered by the virtues of shareholder capitalism. "We stick with this belief, largely oblivious to emerging evidence that while free markets beat planned economies, there may be room for a modification that is even better," wrote Andy Grove, legendary CEO and co-founder of Intel Corp., in this magazine 13 years ago. If the US neglects to alter its industrial policy, he warned at the time, it will fall behind in every technological revolution. "If what I'm suggesting sounds protectionist," he wrote, "so be it."
Ijaz has been watching the repercussions of this inaction unfold for years, ever since his first trip to China in 2007 to show off his plug-in hybrid Ford Edge. Back then, it was a new battery technology never seen before in China. Now, China controls the means to make it.
Even if the US does stay the course, Ijaz concedes, it won't be enough to compete on EVs. Chinese companies, already pushing into new markets in Europe and South America, can lower costs by achieving scale faster than anyone. Even if Ford, his former employer, wanted to tap a homegrown supplier such as One instead of a Chinese behemoth like CATL, it's simply not realistic yet. The car company, just like most major car companies, is under the gun to pump out EVs, and it's already desperately behind. It doesn't have the luxury of waiting for Ijaz's young startup to get its footing. "The amount of money that we're putting in is better than I've ever seen before, and the IRA is a better step than I've ever seen before. With the right policy and the right decision, we can move the needle here," Ijaz says. "But, boy, is it gonna take a lot more than what we're doing." —With Danny Lee and Chunying Zhang