A Warren Buffet Company Held Liable for Wildfires Is Spooking Utility Investors
Source: By Joel Rosenblatt, Bloomberg • Posted: Wednesday, July 19, 2023
PacifiCorp was found grossly negligent in Oregon jury trial 'It woke a lot of people up, looking at their portfolios'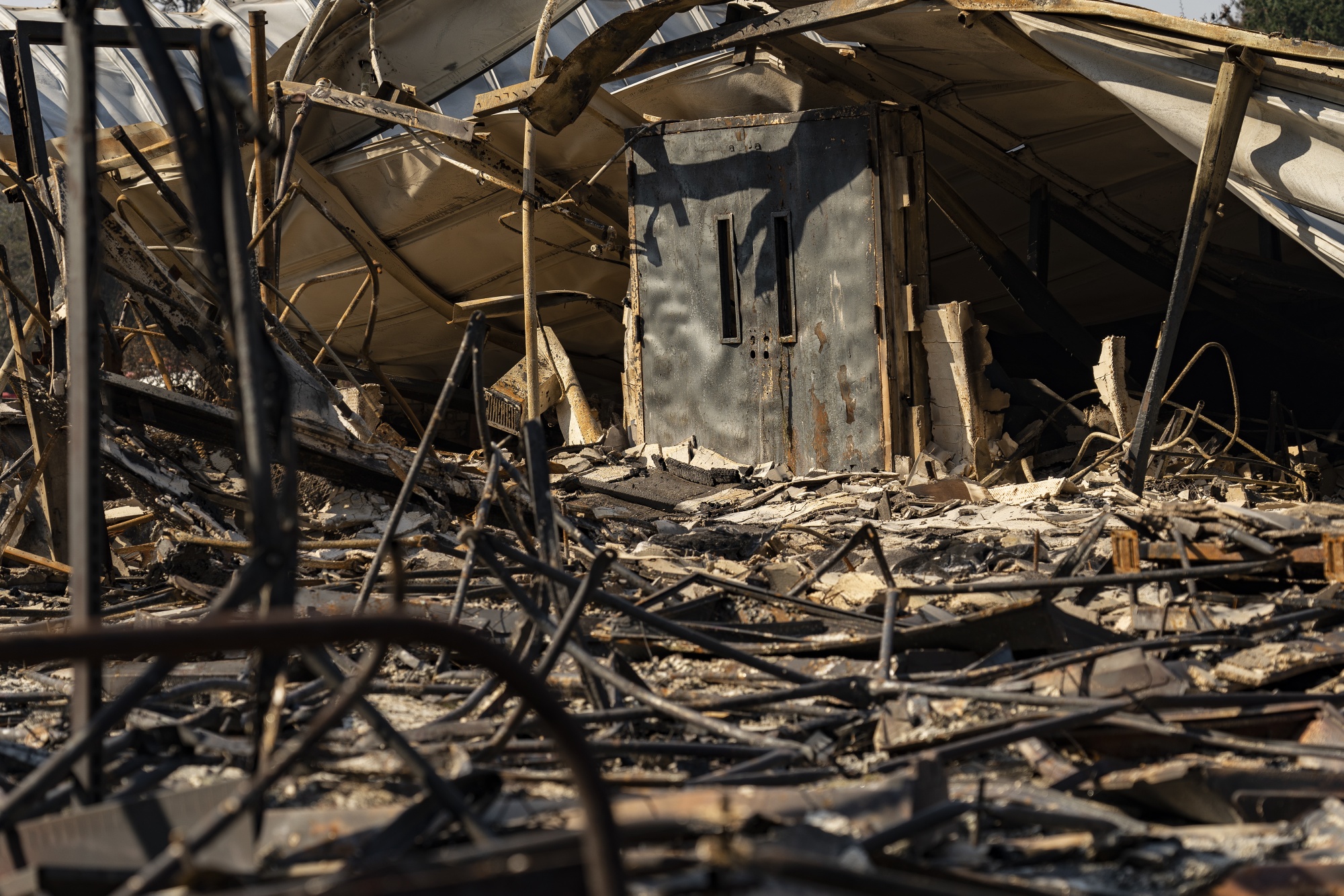 Destructive wildfires are now an almost routine part of summer in the American West, and electrical utilities have likewise become used to having their power lines and equipment blamed for igniting the blazes.
But a jury verdict last month ordering Warren Buffett's PacifiCorp to pay 17 owners of properties destroyed by a series of 2020 Oregon fires an average of $5 million each — setting up total liability for thousands of others in the billions — took investors by surprise and raised new fears about the scale of exposure utilities may be facing, and whether they will all survive.
At trial, Portland-based PacifiCorp itself estimated its potential liability at $11 billion. Oakland, California-based PG&E Corp., which agreed to settle a much larger group of victim claims over California wildfires for $13.5 billion in 2020, may have gotten off easy by comparison.
PacifiCorp still faces another wildfire trial in January and several other pending suits, including complaints filed last week by Oregon wineries which claimed fires destroyed their grape harvests. And some of the same lawyers who brought the class action against PacifiCorp sued Public Service Co. of Colorado and its parent company, Xcel Energy Inc., last week over the largest wildfire to hit the Rocky Mountain state.
"It's not just PacifiCorp, it's not just Pacific Gas and Electric, it's not just Public Service Company of Colorado, it's every utility in every mountain — that's the risk," said Andy DeVries, a utility analyst at CreditSights. He said investors need to understand that utilities in the Western US are operating with "significantly more business risk than they have in the past."
PacifiCorp, which denied responsibility for the fires and blamed lightning and climate change instead, said it's confident it will get the verdict overturned on appeal. The company stressed that it was committed to operating safely in six states but also said its ability to provide electricity was "being threatened by excessive wildfire damages."
Liability on the scale imposed by the Oregon jury presents an existential threat to an industry that faces increasing wildfire risk from from more extreme weather fueled by climate change. DeVries said that, by his calculations, if PG&E had been ordered to pay similar amounts to California claimants, its total damages would be $1 trillion.
As a part of Buffett's Berkshire Hathaway Energy, PacifiCorp isn't publicly traded, but its bonds have taken the hit from the verdict that its shares might otherwise have. S&P Global downgraded PacifiCorp's issuer credit rating two notches, and its outlook for the utility and its parent company to negative from stable.
Berkshire Hathaway Energy is one of the largest US utility owners with 5.2 million customers. The unit, which also owns natural gas pipelines, renewable power plants and a UK utility, booked net income of $3.1 billion last year based on $26.3 billion in revenue — about a fifth of it from PacifiCorp.
"We're very concerned about those risks," Gabe Grosberg, an S&P credit analyst, said in an interview. "There's always an assumption that every parent values every asset it has. To the extent that liabilities rise for that asset, there's a level, for every parent, where they just don't view that asset as having value anymore."
The liabilities PacifiCorp faces from both the June verdict and other similar lawsuits led S&P to conclude that it won't, under all "foreseeable circumstances," get a lifeline from Berkshire Hathaway Energy. Grosberg said S&P is re-assessing the risks that other utilities face.
PacifiCorp took the calculated risk to go to trial rather than settle claims over the 2020 fires. A central issue was that the company allegedly failed to turn off power in the affected service areas after being warned of hazardous weather conditions.
The jury found the company grossly negligent and voted to compensate 17 test plaintiffs well beyond their property losses, adding millions of dollars more for pain and suffering than their lawyers requested. Collectively, they actually got 15 times as much for emotional distress as they were awarded in economic damages.
Those 17 plaintiffs were awarded $90 million, but damages for as many as 5,000 other residents and business owners will be determined in a later proceeding.
"No one on the bond side was looking at the potential for these huge amounts over actual economic damages – it just caught everybody off guard," DeVries said. "It woke a lot of people up, looking at their portfolios, wondering what's going on."
PacifiCorp's appeal of the verdict could take years. Marisa Miller, a lawyer who has defended companies in wildfire suits but isn't involved in the case, said it will be tough for the utility to persuade an Oregon appeals court to overturn the jury's conclusion that it's liable for the fires, but the company has a stronger argument that the case shouldn't have been allowed to proceed as a class action.
PG&E filed for Chapter 11 protection in the face of wildfire litigation, emerging from bankruptcy in 2020. If Berkshire doesn't step in, that's a possibility for PacifiCorp as well, according to DeVries and Grosberg.
PacifiCorp said in a statement that, in the face of growing legal liabilities, being part of Berkshire Hathaway Energy offers competitive advantages including flexibility of dividend payments and capital spending. Berkshire Hathaway Energy didn't respond to a request for comment.
The company could also try to pass the cost along to consumers. PacifiCorp has asked the Oregon Public Utility Commission to let it track costs from the litigation so that it can decide later whether to seek reimbursement of the June verdict in its electric bills.
"This is outrageous," said Bob Jenks, executive director of the Oregon Citizens' Utility Board. "Customers should not pay a dime of these costs."
PacifiCorp said it remains open to settling outstanding legal claims. It "has resolved — and will continue to resolve — wildfire damage claims when they are reasonable, and the damages were caused by Pacific Power," according to the statement.
Settlement talks in the case going to trial in January have not been fruitful, according to Robert Julian, a lawyer in that case who also represented PG&E fire victims. He said 17 of his clients have died waiting for their cases to go to trial.
Julian said his understanding was that, in the case decided in June, PacifiCorp could have settled for between $300,000 and $500,000 per household, or less than a tenth of what the jury ordered it to pay. He said that amount would be on top of damages for plaintiffs' property losses. PacifiCorp didn't respond to requests for comment on settlement talks.
"We're going to end up owning this company, and destroying all of Berkshire Hathaway Energy's equity in it, if they don't sit down and deal with us," Julian said.
— With James Crombie and Mark Chediak