A Greenwashing Lawsuit Against Delta Aims to Set a Precedent
Source: By Kendra Pierre-Louis, Bloomberg • Posted: Wednesday, June 14, 2023
A class-action lawsuit targets the airline's claim to carbon-neutrality, which has in the past rested in part on its use of carbon offsets.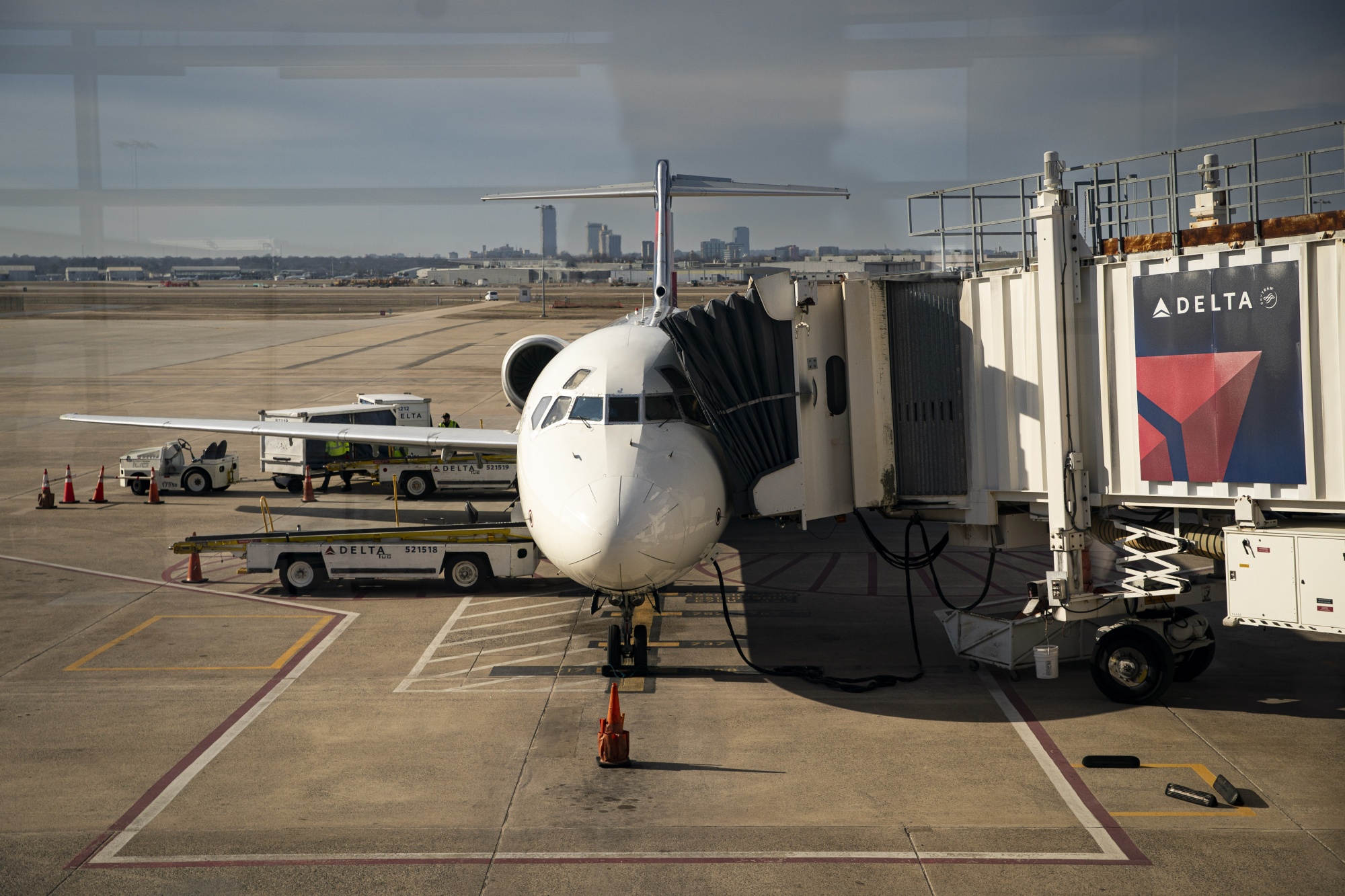 As tranquil instrumental music plays over gauzy images of nature, a woman's voice-over begins. "Isn't it a paradox," she wonders aloud, "that the love for this world that gets us out in it, sometimes leaves behind the things that can harm it? Flight by flight, we broaden our views. We gain new perspectives. And now, flight by flight, we can make a difference."
The commercial, released by Delta Air Lines Inc. in 2021, goes on to tout the company's commitment to "becoming the world's first carbon-neutral airline on a global basis." It's a pledge Delta debuted in February 2020, alongside a plan to spend $1 billion over the next decade mitigating its greenhouse-gas emissions. Now that pledge is the focal point of a class-action lawsuit arguing that Delta's carbon-neutrality claims amount to little more than greenwashing.
"Delta's representations of carbon neutrality are provably false and misleading," reads the lawsuit filed on May 30 on behalf of any California resident who has flown on Delta since March 2020. Plaintiff Mayanna Berrin, a writer at Nickelodeon, told The Associated Press last week that she had "felt comfortable paying more" for a Delta flight "because I was neutralizing [the CO2 emissions] I needed to travel for work or to see my family."
In a statement, Delta described the lawsuit as lacking legal merit.
At the center of the suit is the airline's claim to carbon neutrality, which rests in part on its use of carbon offsets. The goal of an offset is to essentially cancel out carbon emissions by funding projects that either absorb CO2 or prevent carbon emissions in the first place. Several investigations have exposed issues with the market for carbon offsets, and the suit against Delta claims the airline overstated or miscalculated the benefits of the projects it supports.
Delta is an apt defendant because "they're suggesting that it's okay to take this airplane flight in light of the global challenge of climate change, because we're buying these offsets," said Shelley Welton, a professor of law and energy policy at the University of Pennsylvania. "It's potentially creating a sense in its customers that it has dealt with its share of the problem, when in fact, I don't think that is a claim that's very well aligned with science." Whelton described the lawsuit as "one of the first of its kind that we've seen in the US."
Delta said in a statement that it is working towards achieving net-zero carbon emissions by 2050, and since March 2022 has "fully transitioned its focus away from carbon offsets toward decarbonization of our operations, focusing our efforts on investing in sustainable aviation fuel, renewing our fleet for more fuel-efficient aircraft and implementing operational efficiencies."
According to Delta's 2021 ESG report, the company spent $137 million that year on offsets to balance roughly 30 million tons of emissions from operations, including flights. The report says that its carbon offset portfolio included investments in projects such as renewable energy, landfill gas and preventing deforestation.
Globally, aviation is responsible for around 2% of greenhouse gas emissions, and Delta's own analysis finds that 98% of its emissions come from the use of its aircraft. Under pressure to address that footprint, many airlines are exploring decarbonization strategies, but most of those approaches — including sustainable aviation fuel and battery-powered planes — are not yet ready for primetime.
Delta is also far from the only company to rely on offsets. "When you look at the statistics on this, 40% of company [climate] pledges are explicitly using these offsets," said Welton. "Only 2% explicitly rule out their use. So that means you have basically 98% of companies that are using exactly the kind of offsets that are at issue in the Delta lawsuit."
Last year, a Bloomberg Green analysis of more than 215,000 offset transactions over the past decade found that many companies, including some airlines, relied heavily on offsets tied to renewable energy projects. The shifting economics on renewable energy mean that many such projects would have happened regardless of an offset purchase — thus failing to meet a crucial requirement known as "additionality." A carbon project is considered additional only if it would not have happened absent the offset. The suit against Delta, which cites the Bloomberg Green investigation, claims the airline took credit for projects that lack additionality.
"It really is meaningless to state that you offset emissions if you're gaining credit for things that would have happened anyway," said Jonathan Haderlein, a lawyer for the plaintiff.
Investigations into offsets geared at preventing deforestation have also found issues. In some cases, protected forests were deforested anyway, while some projects overestimated the amount of protected land and others achieved no actual CO2 reductions.
Offsets tied to deforestation also rest on the assumption that the trees absorbing the carbon will be around forever. While those trees are standing, "they will hold CO2 out of the atmosphere," said Freya Chay, who leads the carbon removal program at the data nonprofit CarbonPlan. "But as soon as those forests disappear — fire, droughts, harvest — that carbon will re-enter the atmosphere."
The suit against Delta comes amid a broader backlash against greenwashing, including from regulators focused on consumer protection. In the UK, for example, the Advertising Standards Authority has banned ads from Lufthansa, HSBC and Shell, among other companies, for touting their sustainability initiatives without mentioning the polluting parts of their business.
"The idea that presenting consumers with false marketing statements about climate is a consumer problem, I think is absolutely correct," said Danny Cullenward, a research fellow with the Institute for Carbon Removal Law and Policy at American University.
In the US, Cullenward pointed to efforts by the Federal Trade Commission to update its Green Guides to specifically address marketing claims related to carbon offsets and climate change. The Green Guides are designed to help marketers avoid making claims that are considered "unfair or deceptive acts."
Greenwashing is often painted as a "hippies in the public interest thing," Cullenward said. "The practical reality is that lots of people in the US and around the world care about these issues and want to do something about it. And if somebody sells them a false bill of goods, that's consumer deception."
Companies targeted by regulators over greenwashing often counter that they're being punished for actually trying to do something about climate change. "On the one hand, [lawsuits like these] only target companies that have made net-zero pledges, and there are companies out there that haven't," Welton conceded. "On the other hand, it could be quite problematic for the climate movement to have a bunch of companies putatively saying, 'we've got climate covered, don't worry, we made net-zero pledges,' if they're not actually doing anything."